Concerning our home set up, it was a gradual process initially with me placing a few things here and there for them to utilize independently. I started with tooth brushing (which used to be where my current hair care is). Then I added their little fridge so they could access their morning smoothies. Next I think I added the water dispenser. Somewhere in there I purchased two shelves and placed activities on the shelves. But, my home overall was still for us. Their room at the time still had cribs, a large recliner, and a tall changing table!
Finally, we decided to overhaul our home. It was bittersweet saying goodbye to our old heirloom piano (irreparable), but that allowed us space to rearrange all the rooms in our house. While we didn?t move houses, the process of discarding, rearranging, and repurposing felt just as difficult as a move would have been (if not harder!). We lived in chaos for weeks, and that was very very hard on all of us.
These pictures are the result of an ongoing effort to streamline our home to be usable to everybody of all ages. There are more changes to come, but if I wait to share photos, then nobody will ever get to see. Plus, it?s important for people to understand that adapting your home for independence of all ages is an ongoing process needs and abilities change, new babies come, toddlers get bigger, stools break, etc.
The biggest impact changing our home has had on us is that there is a more harmonious temperament. As Christians, we believe it?s the Holy Spirit in us that lays this foundation and guides us, so we couldn?t have harmony without Him but living in chaos or an environment with constant whining x 2 because of not being able to ?do it myself does a lot to dampen my hearing the Lord! My toddlers are proud that they can do things on their own, they are eager to learn and contribute to the family as a whole, and parents are pleased to no longer be directly in charge of all minutia!
This is a brief tour of some of the ways we've streamlined our home to support and encourage child independence and curiosities. ?It is ever changing and even in sharing these pictures, I see things I'd like to modify. ?But here it is, in it's current glory!
EDIT: ?Since this post, we read The Life Changing Magic of Tidying Up by Mari Kondo and was it ever! ?Besides developmental changes the girls experienced, we got rid of probably half of our belongings. ?It was and is very freeing! ?And the girls are enjoying have less, as well! ?I'm updating with pictures here, but keeping the old pictures up so you can see the change. ?Besides getting rid of stuff, I've also changed things as their development has changed, as I've seen a need for limits, and as I've just plain wanted to.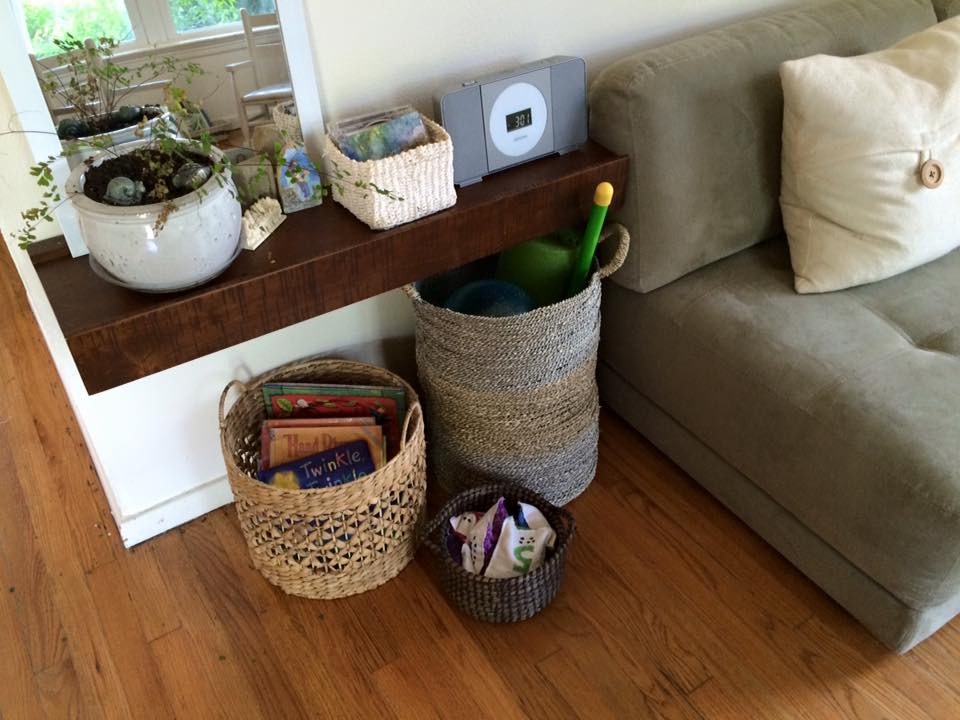 This is in our living room. This ledge has 4 CDs, their CD player (buttons shaded red/green with sharpie for start/stop), our "guest" books (library books stay in the lr because guests stay in the lr – I don't want them mixed/lost with our personal books), an indoor gross motor basket (yoga blocks, foam roller, stick, a ball, a jump rope for stuff besides jumping), bean bag basket. They also are welcome to water the plant.
UPDATE: You'll notice how wimpy the fern looks above – I finally figured out the girls were picking the leaves off! ?I've switched to a less-attractive-for-picking leaf plant, as well as one that now needs leaves polished. ?The gross motor basket is moved and I've put a stool in place. ?I was concerned the stool would impede music changing, but it has not and the girls have enjoyed having a new indoor climbing opportunity.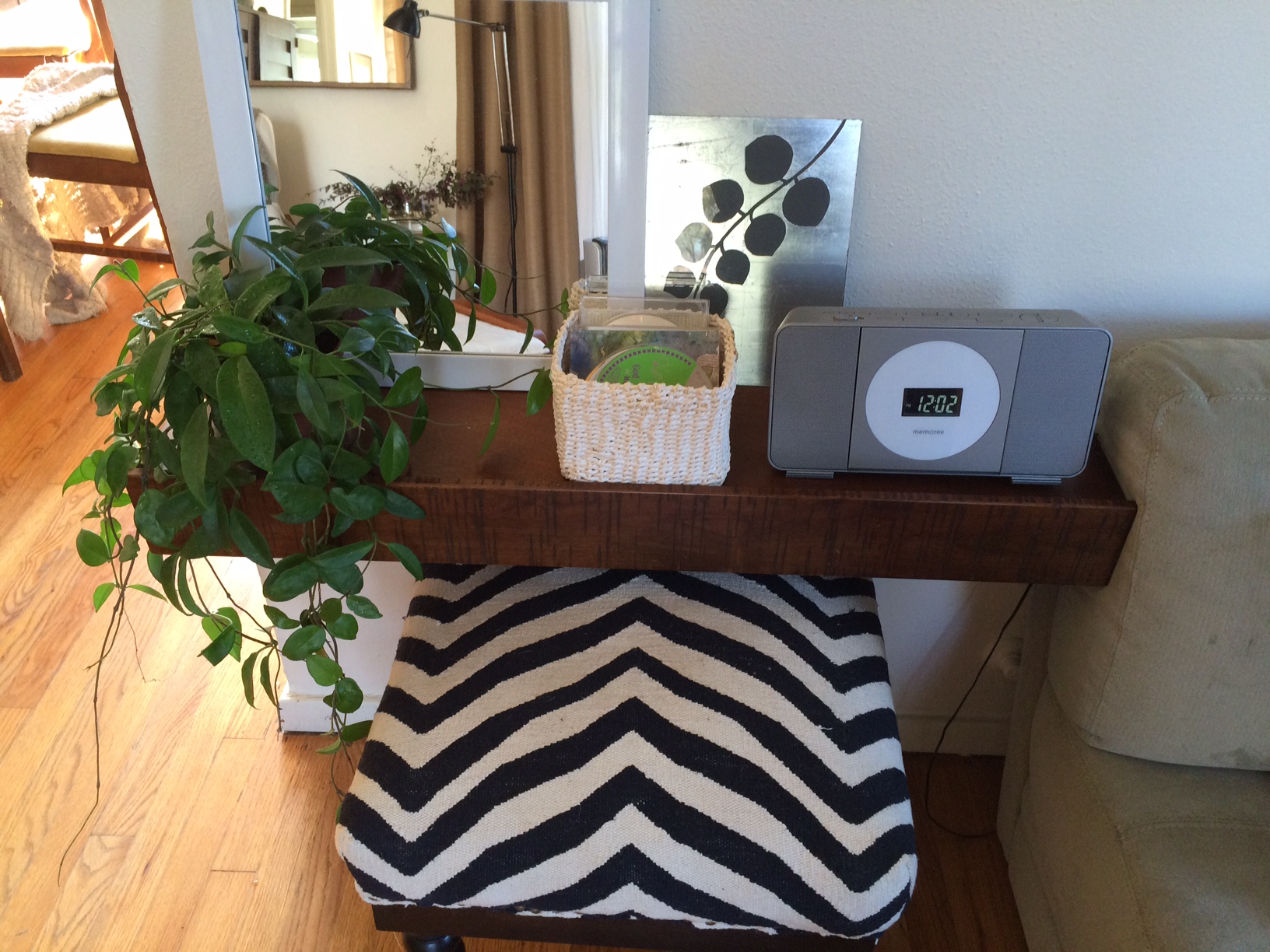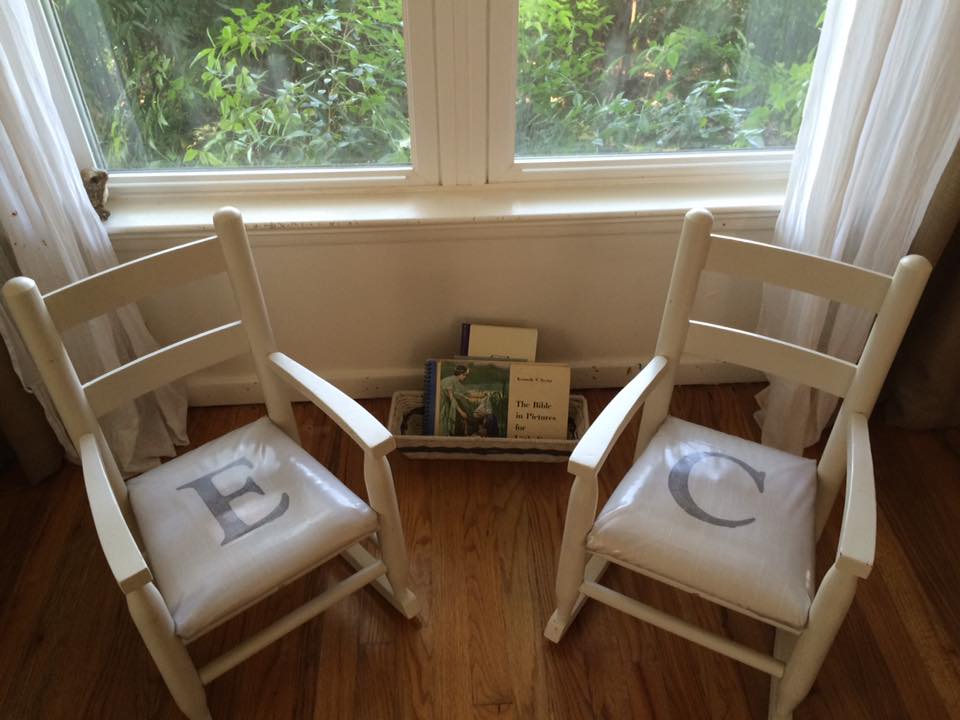 Living room rocking chairs and book basket I?ll likely put an ikea ledge under window for books rather than basket one less thing to pick up when we sweep. ?UPDATE: This part of our living room is now empty. ?The girls weren't enjoying the chairs in this spot, nor was I as they were scraping my floor.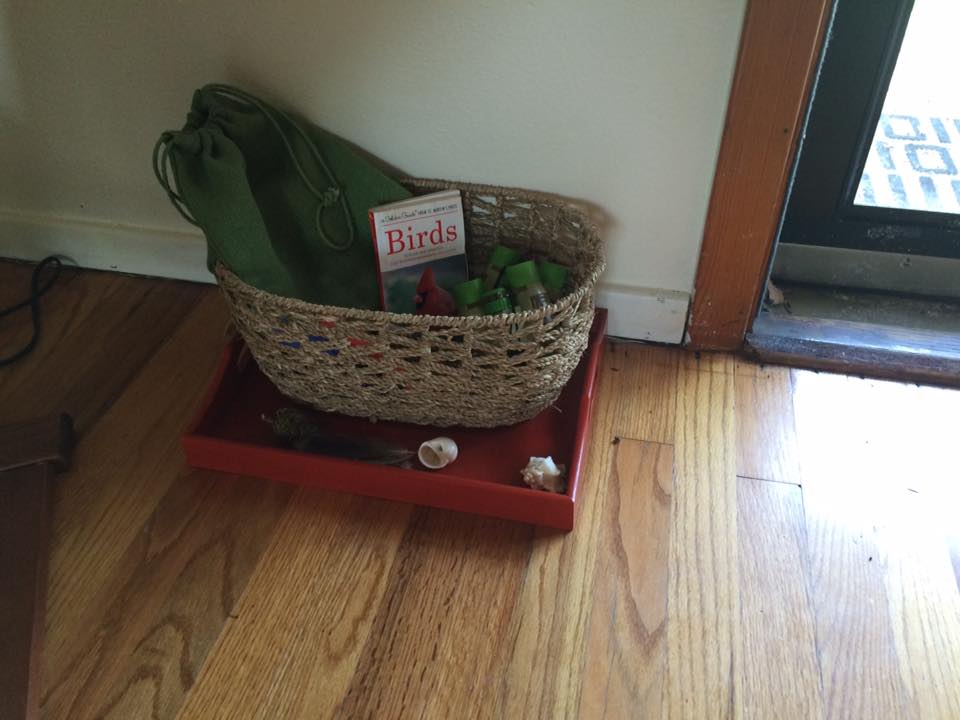 Nature basket by the door for our daily nature walks. We grab bags and binoculars and sometimes books. When we return, we dump our treasures into the tray and have a good look with our magnifying glasses. ?UPDATE: We added some hanging bird seed ornaments and the girls love grabbing the binoculars and bird book to watch and identify!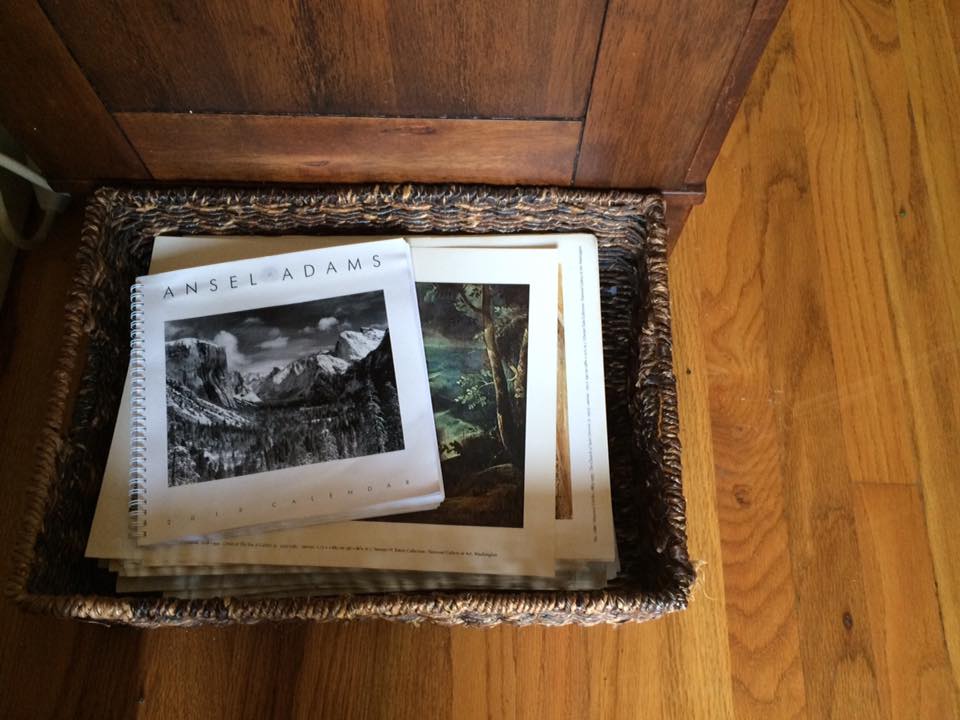 Beautiful art/photography we like to pull out and examine from time to time. ?UPDATE: This is gone. ?We weren't using it much and it was irritating to move when I swept.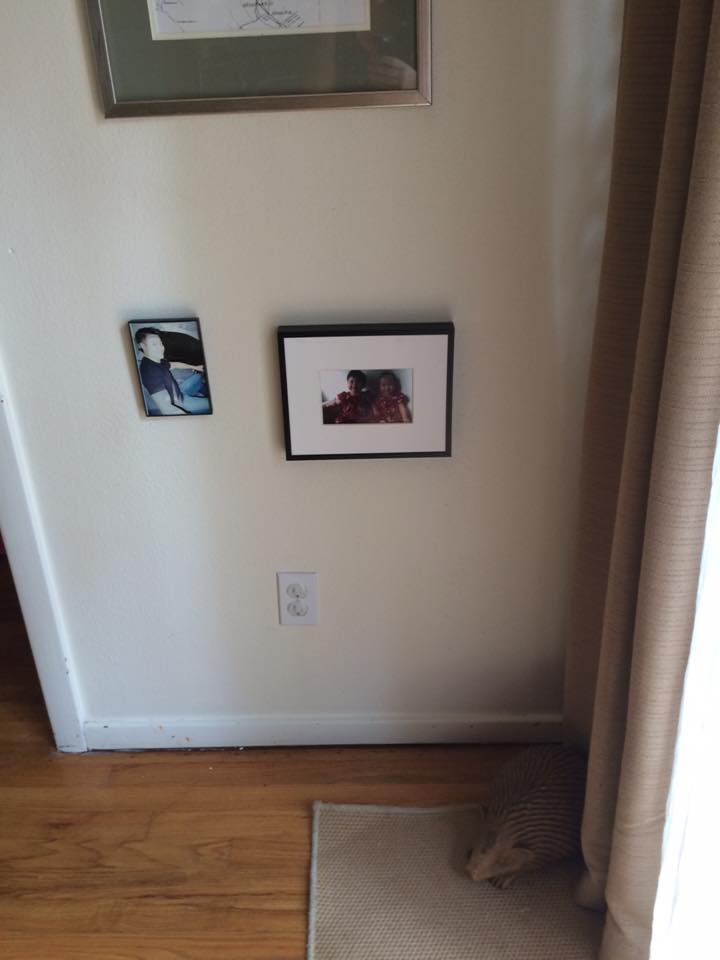 Rotated low photos of famil is a lot of fun. ?UPDATE: the mat and hedgehog are gone (an irritant when I swept) and we have additional low photos now that continue to be rotated.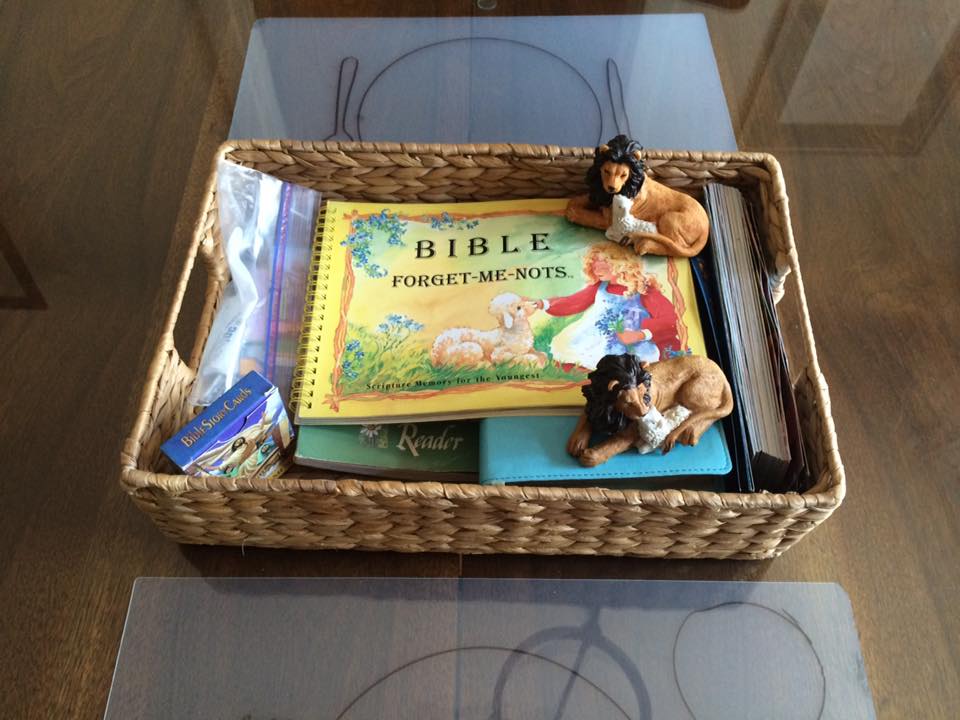 Bible basket has a variety of things for discussion during meal times.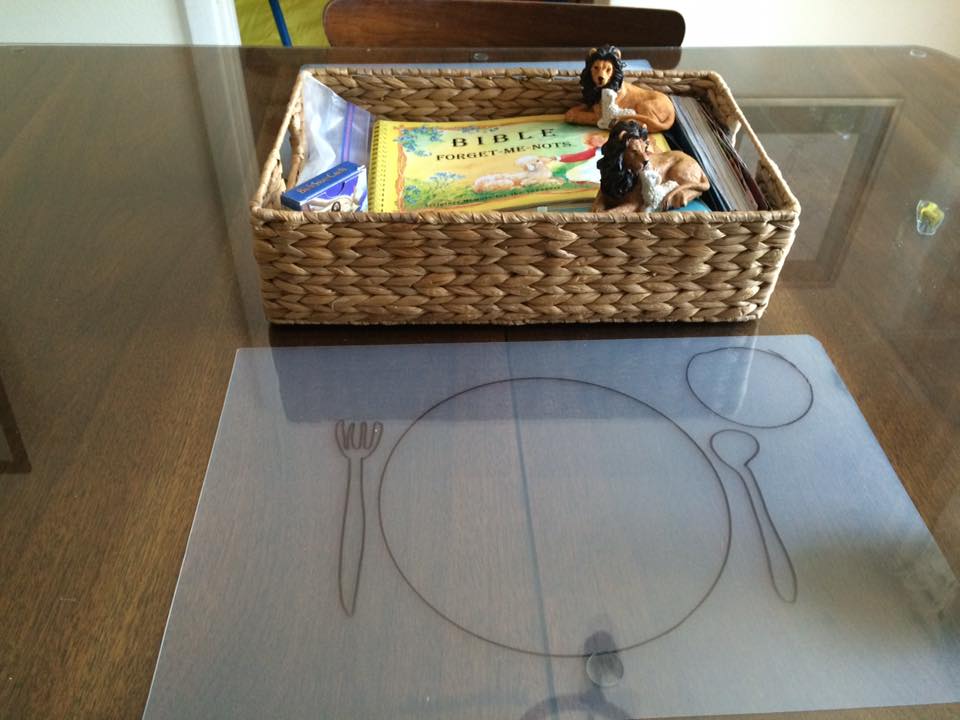 Place mats stay below the glass top.
UPDATE: The Bible basket stays in the cabinet and we now use it only after eating and at other designated times. ?They also set the table most meals now and do not need the place mat templates anymore, so those are gone, too. ?The girls have really become aware and appreciative of beauty, so I try to keep beautiful clippings from the garden that the girls arrange on our dining table.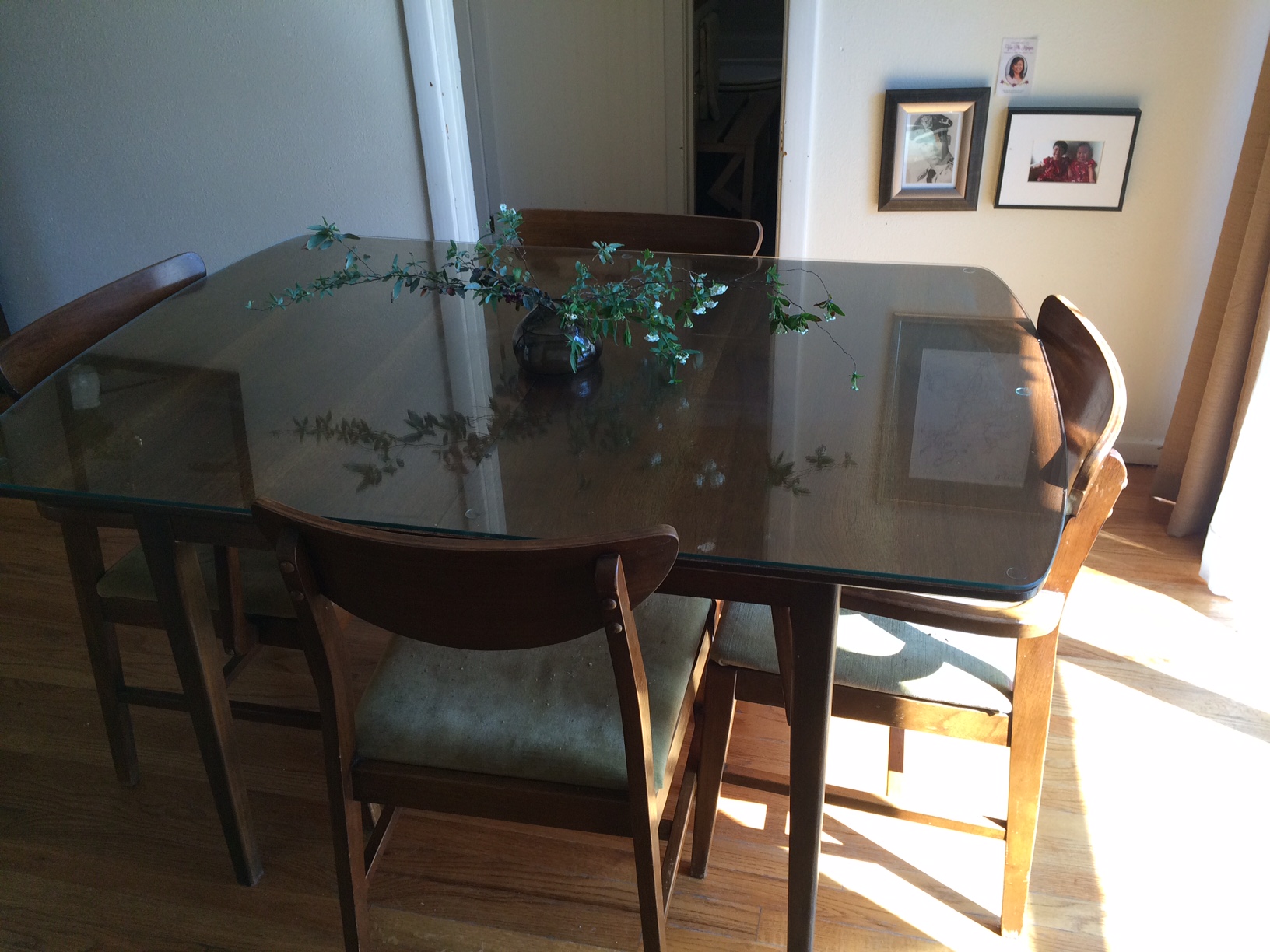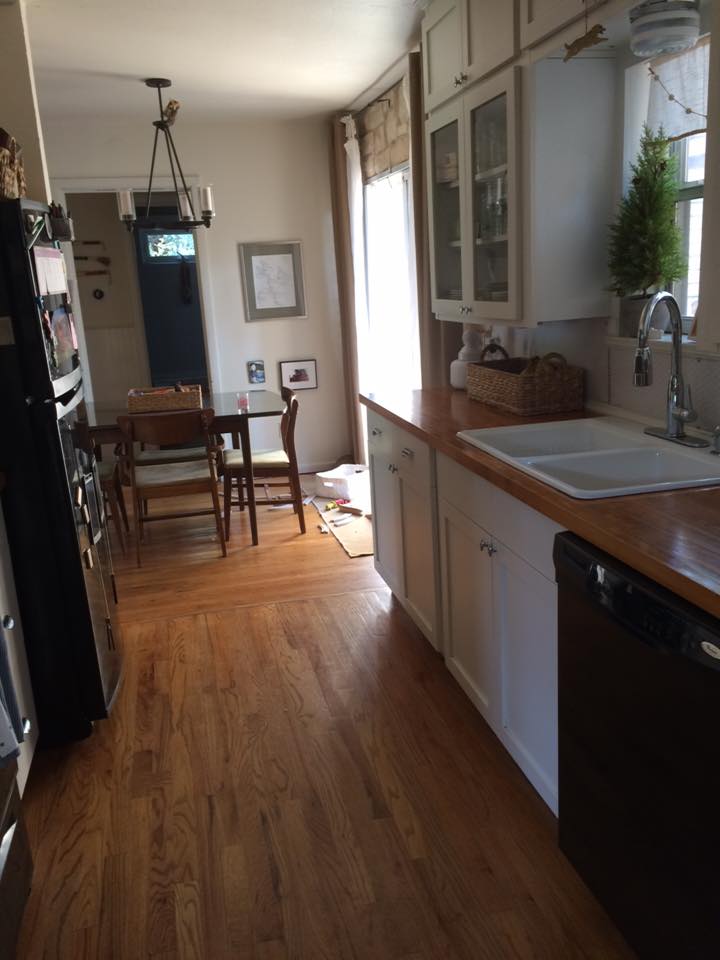 This is where my kitchen/dining is. So instead of learning tower, they pull over chairs and flip then around – which is also how they eat with us unless they want to eat at their ikea table in which case they pull it out to the dining room themselves. ?UPDATE: They no longer flip chairs around to eat at the table and pulling the child's table for eating is only a treat when we have company. ?Otherwise, we all eat at the table together for every meal and snack.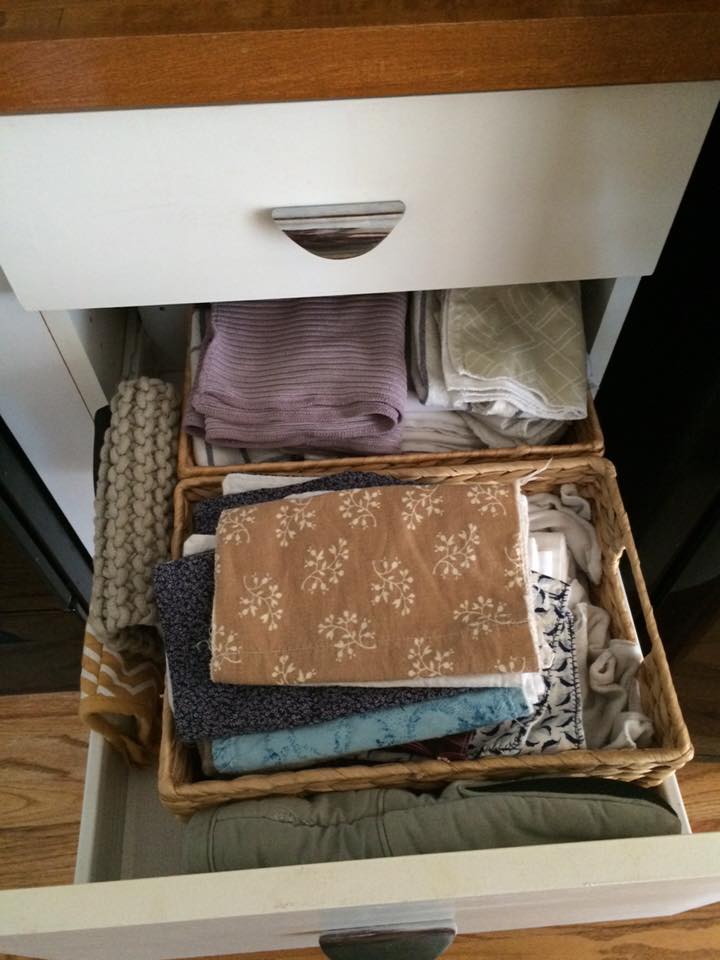 Linen drawer in kitchen. They grab as needed, but also these are their folding cloths when I do folding. They are actually the burp cloths I sewed for them as infants, but they work great for learning folding because I sewed two seams in them way back when! They get put away "neatly" and folded pretty well.
UPDATE: We added one fold and our drawer was transformed! ?We also have started using bathroom hand towels more frequently for messes, so I placed those on a low shelf in our linen cupboard for easy access.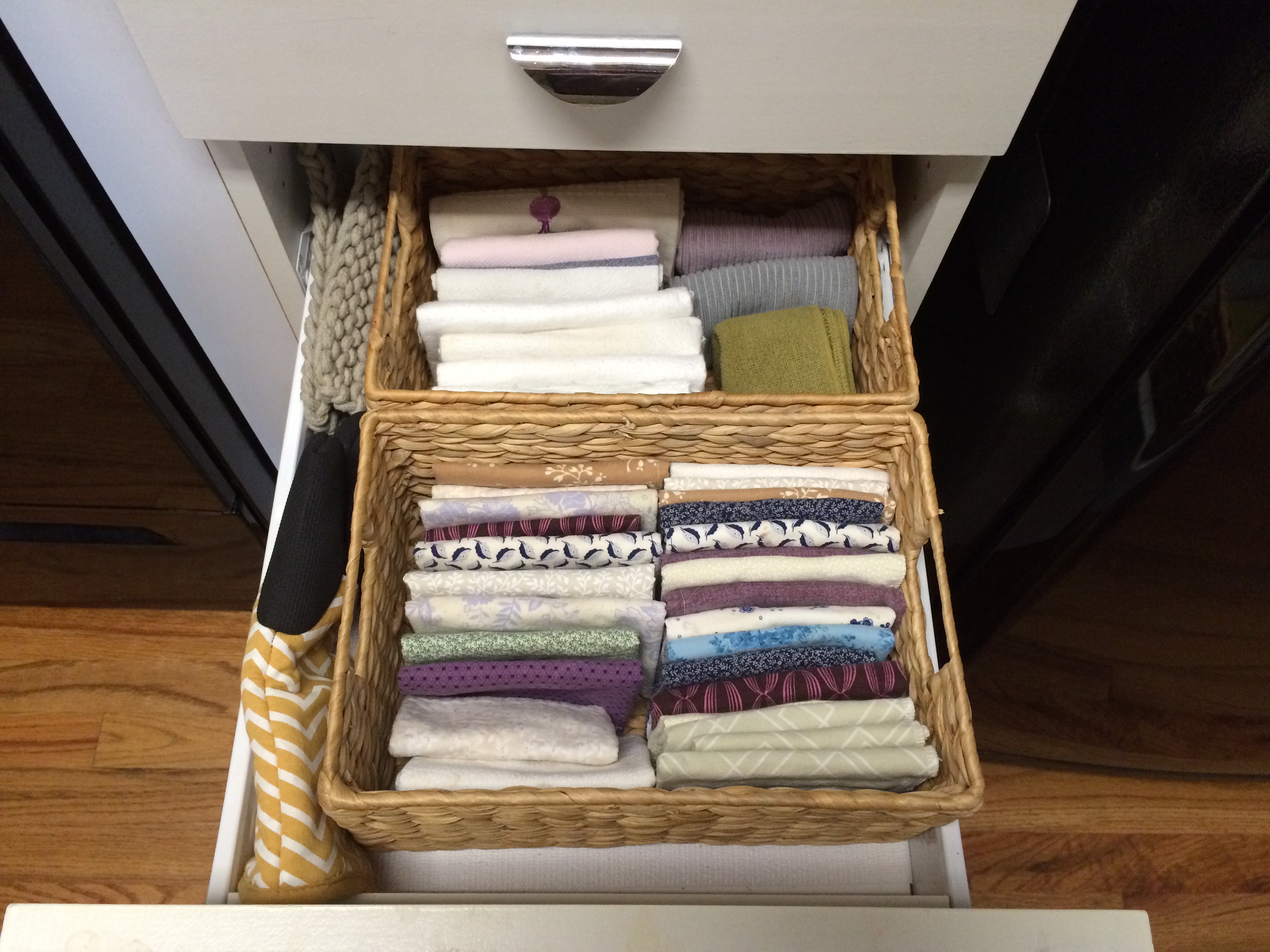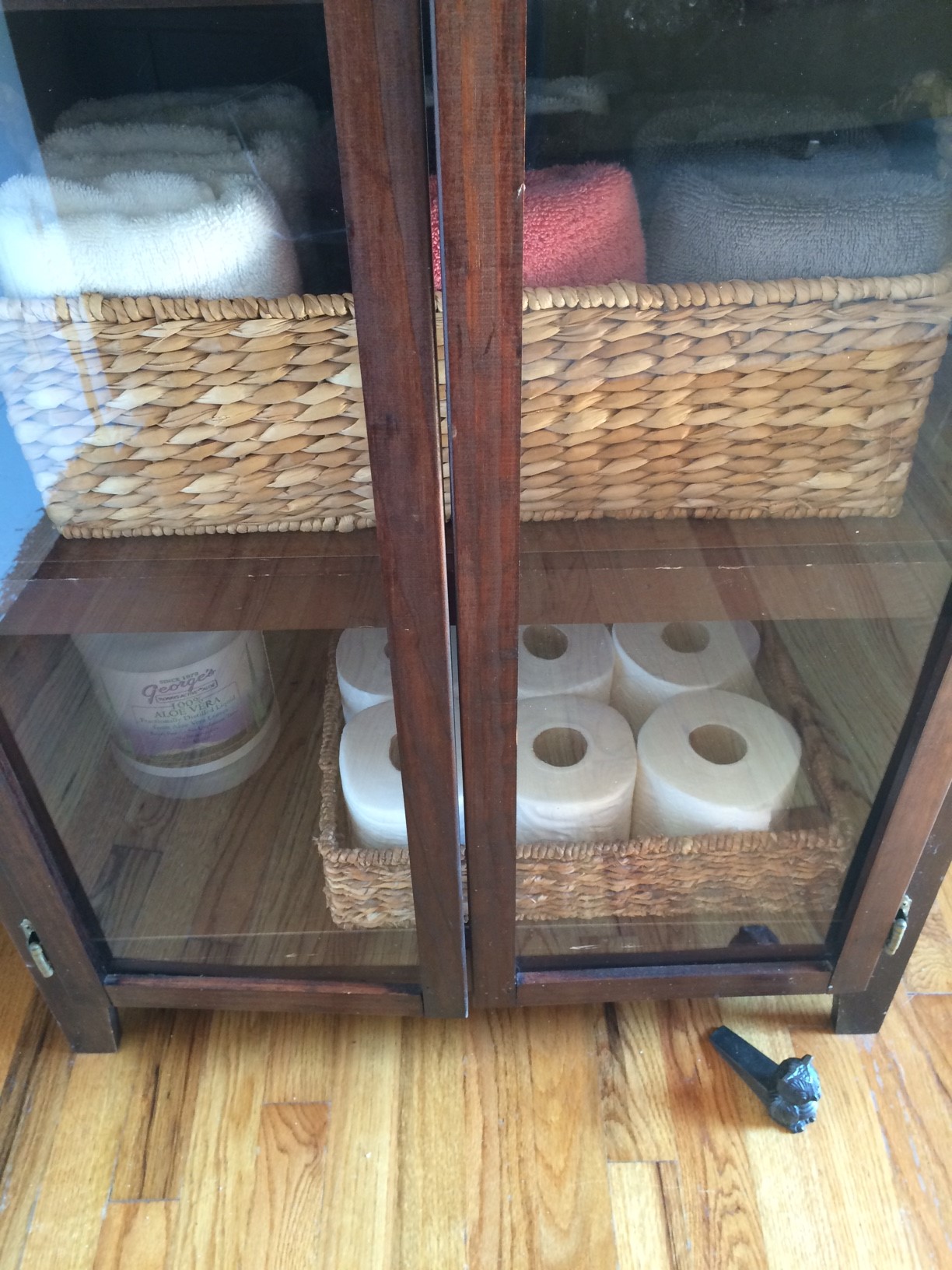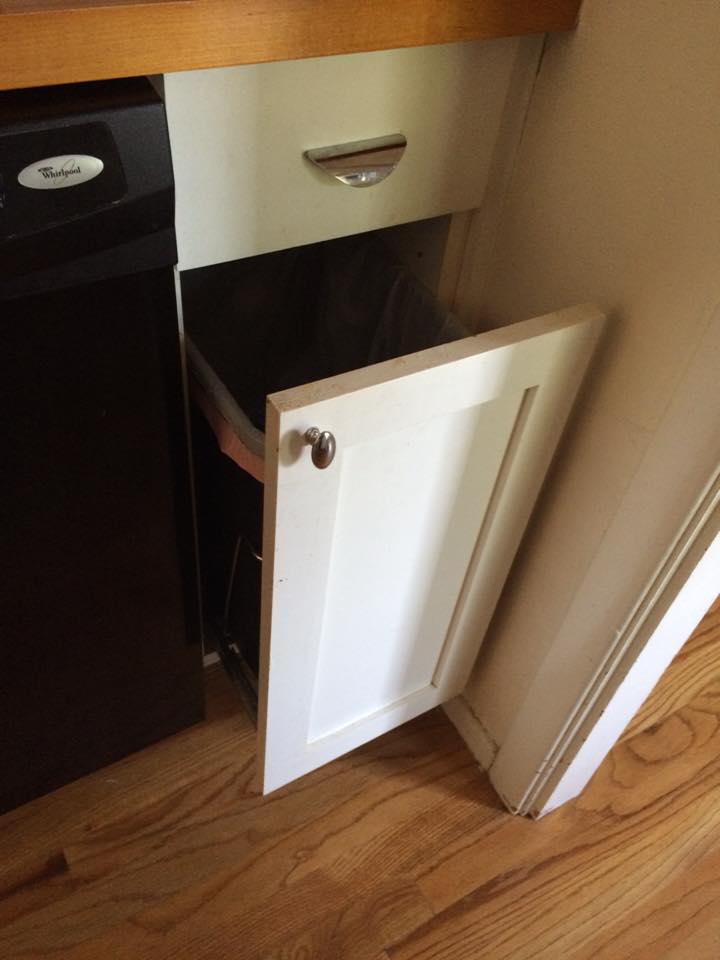 Pull out trash can has been fantastic! I've always had this but it's really good for kiddos. ?UPDATE: the girls now put new trash bags in themselves. ?I don't yet have a place for them to access the new trash bags, so I have to get it for them. ?But, it's still pretty cool!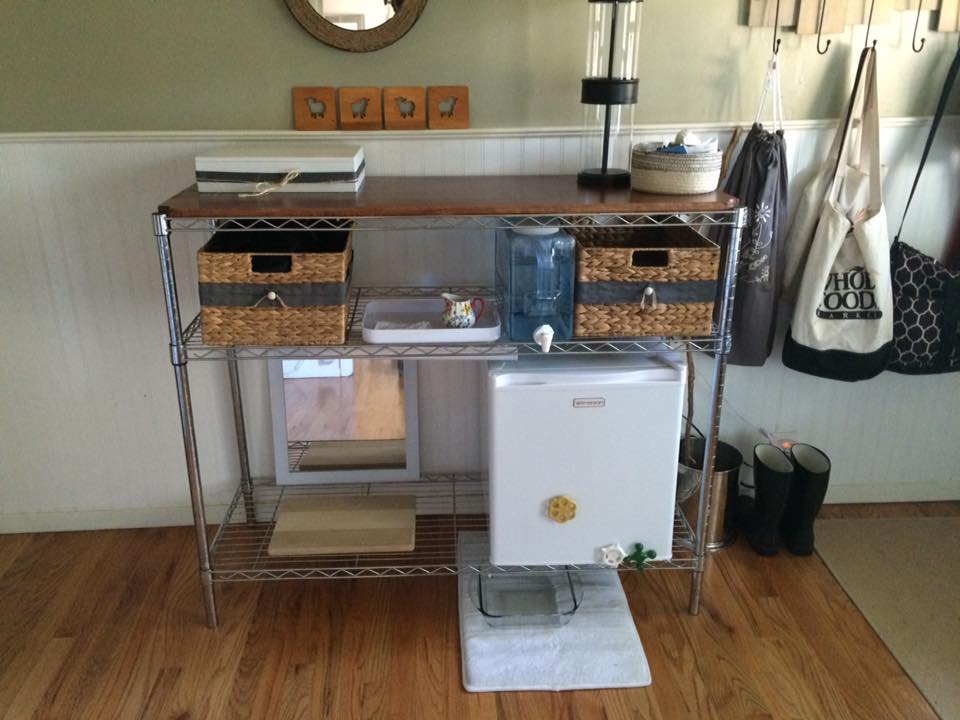 Where they get water (with pitcher if desired) and make snacks and breakfast accessed from their fridge.
The large baskets hold winter and summer needs. A low foldable stool is in the room for the girls to use and access basket as needed. There is also a toggle light on the shelf that can illuminate the snack prep area below.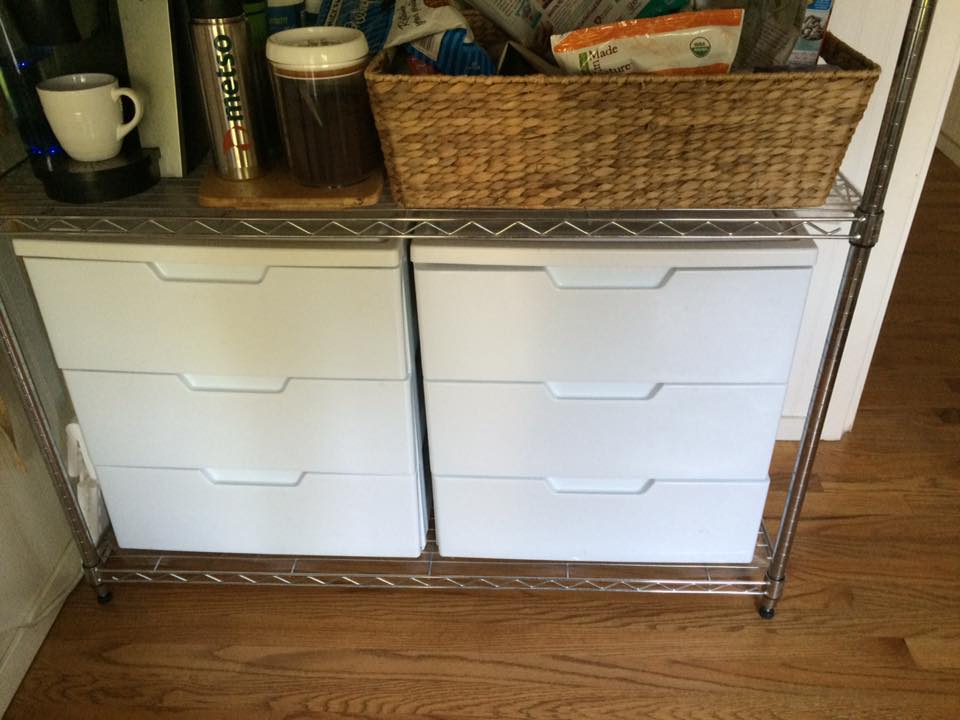 Drawers in pantry house some of my things and some of theirs – food prep stuff, cups, vases, etc.
Top drawer holds our coffee mugs and they love setting out Daddy's mug on the machine each night!
UPDATE: The little fridge is gone as they can easily access our large kitchen fridge now. ?The water has moved to the food area as the coffee maker died and will not be replaced. ?I've added a drawer/sock divider from The Container Store that does a great job of keeping child-sized glasses in place as the drawer opens/closes. ?Dry snacks are also still accessible in the low basket and there is fruit in there, too. ?Sometimes they get their little stool to access it.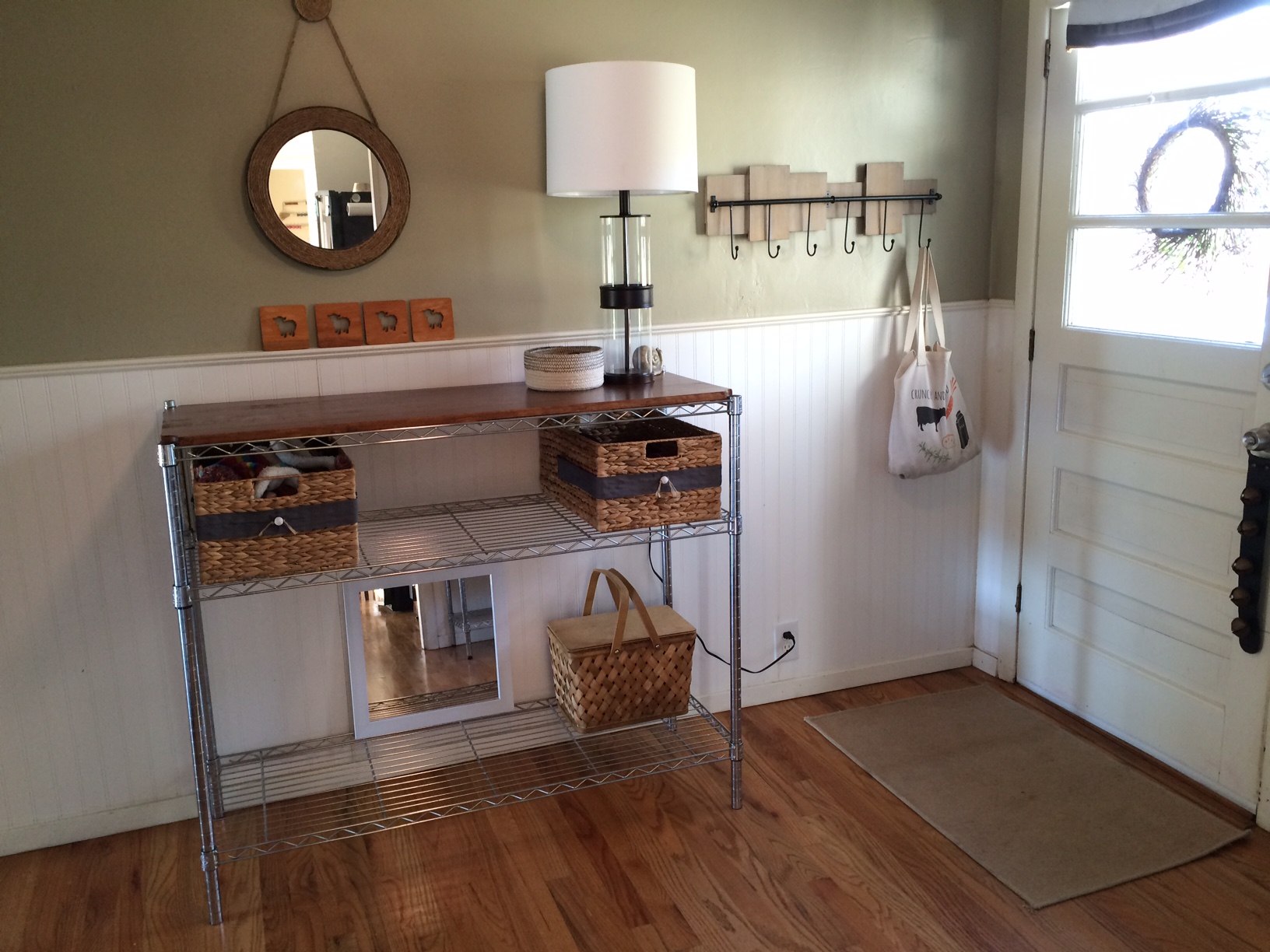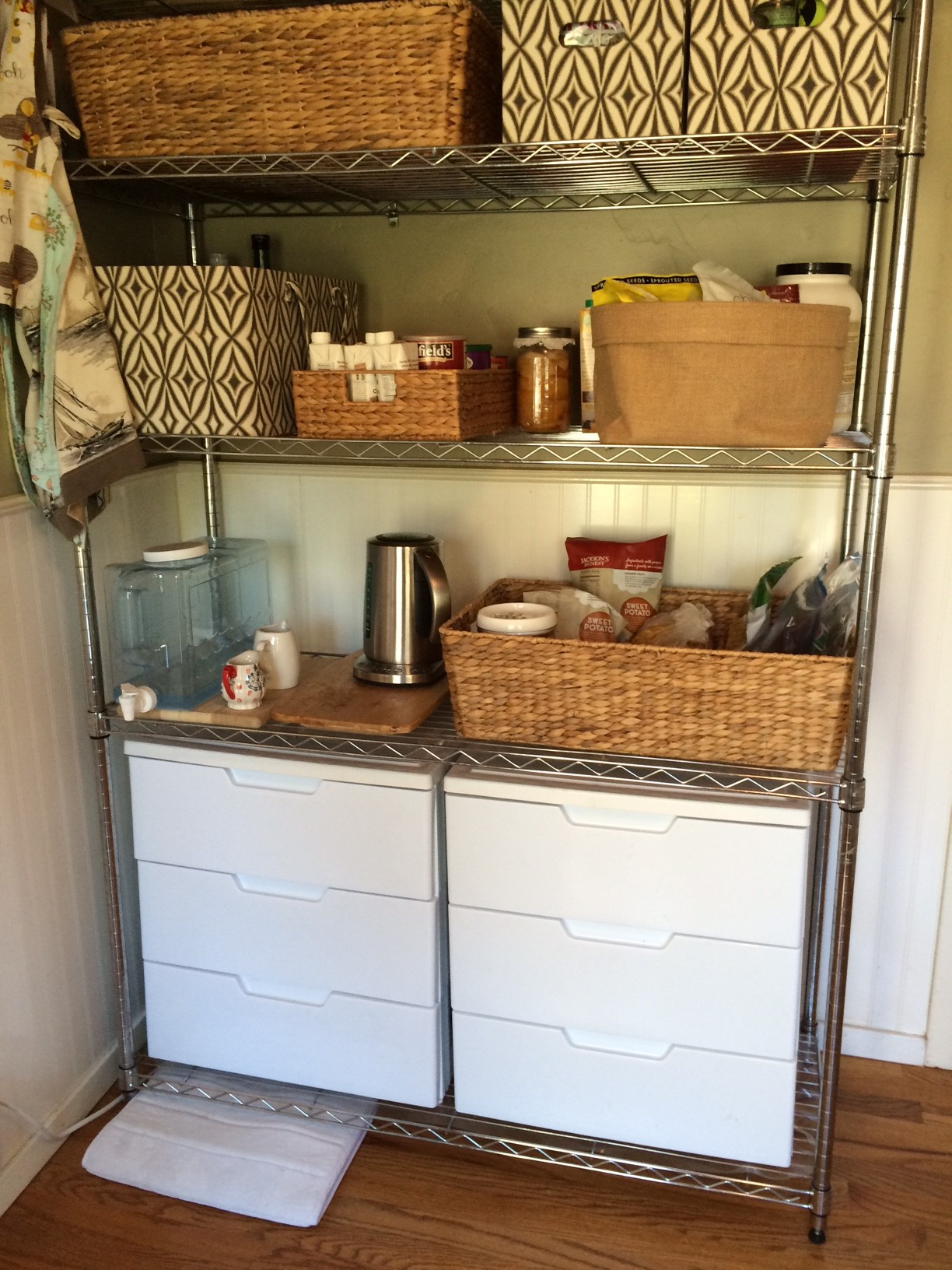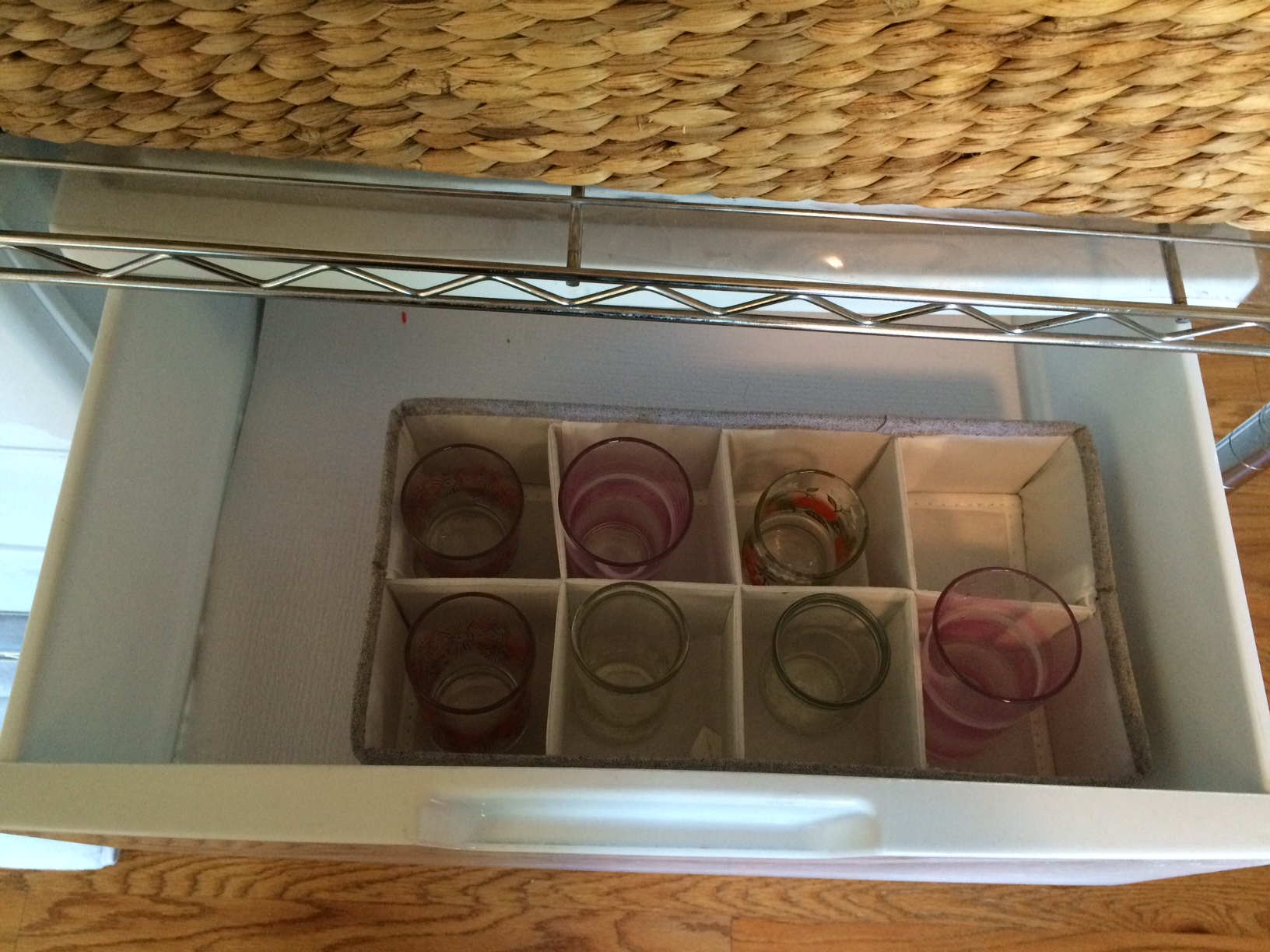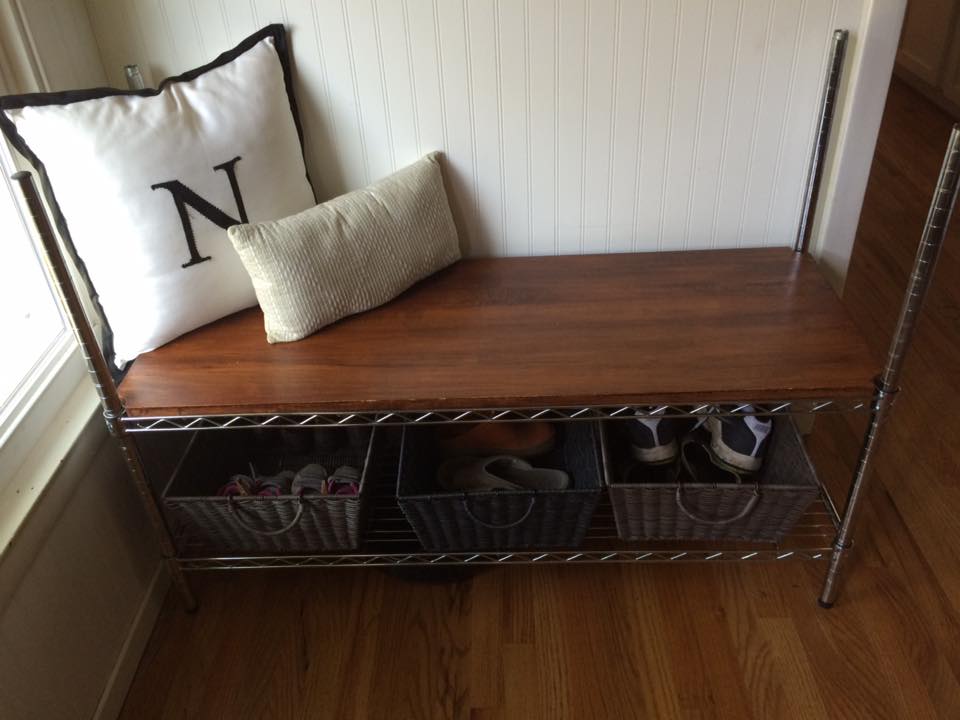 Shoe baskets – shoes are clipped together with clothes pins as I have twins and figuring out which shoes they should grab is still a challenge.
UPDATE: Shoes are now kept in everybody's closets, except for Dad's work shoes (I'm not sure why, but it's important to Dad, so we support it.) ?The empty space on the bottom of the bench is now where Dad's work bag goes.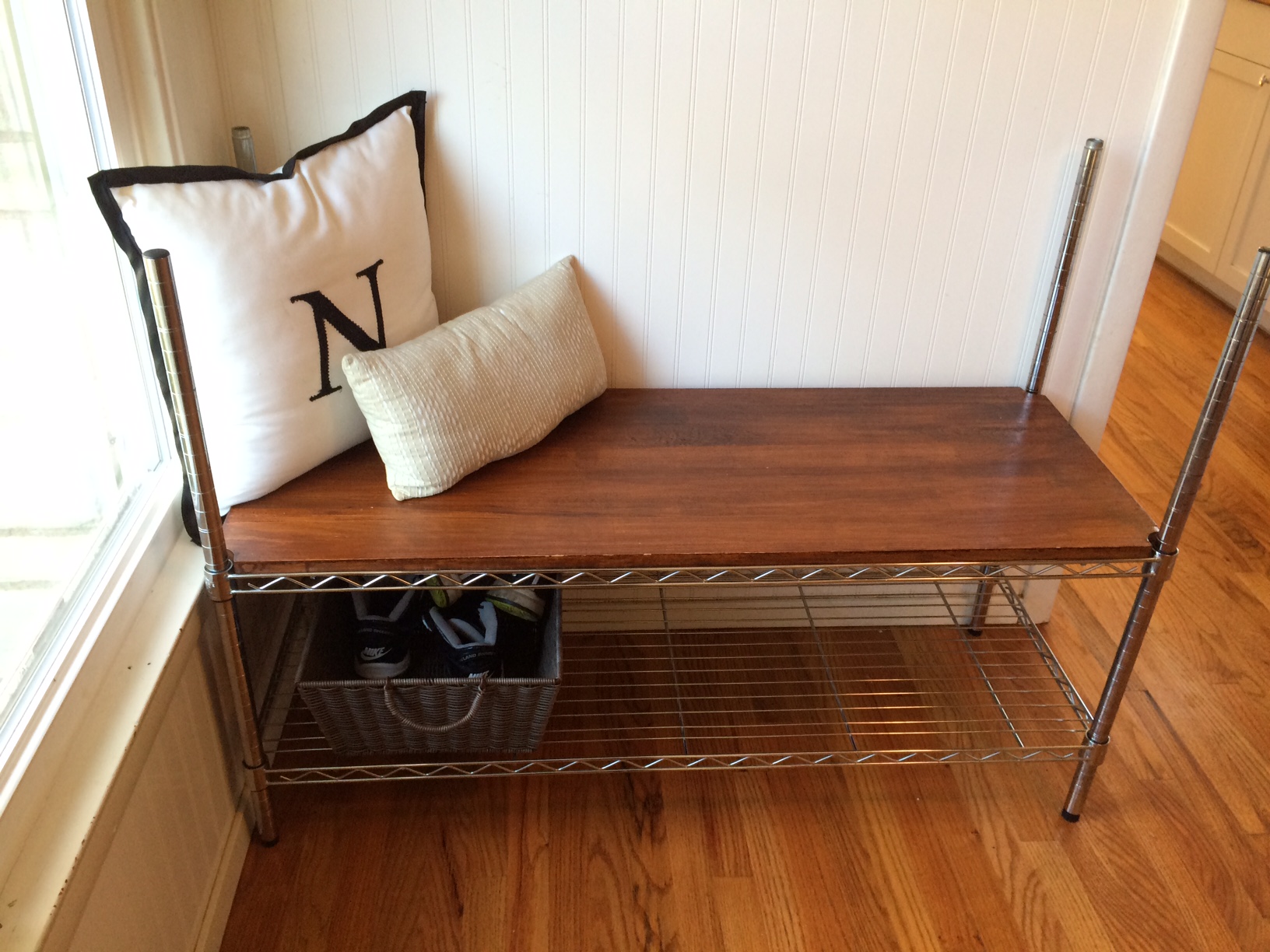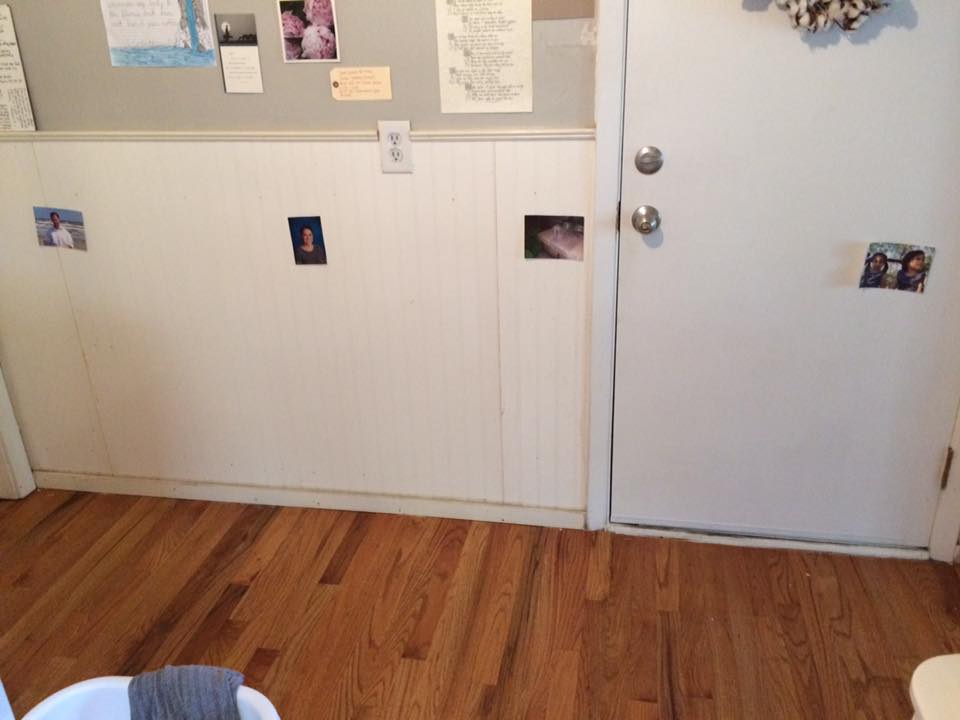 Photos taped to utility room wall help with sorting laundry to people/house.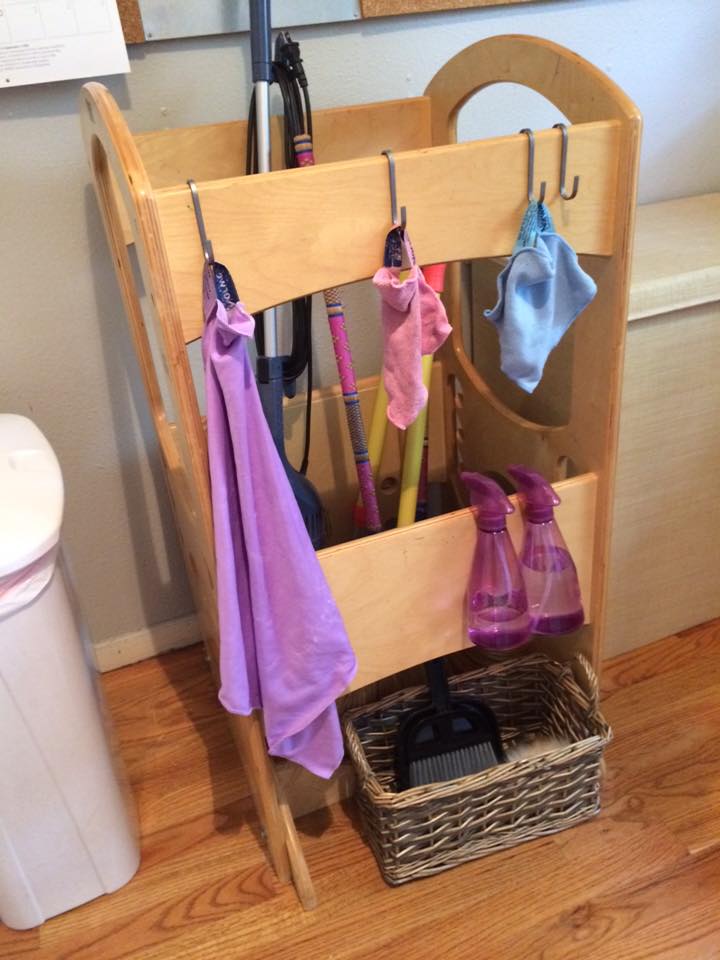 Best use of monstrous learning tower yet – cleaning cubby! I need to replace ikea hooks with screwed in hooks, but I'm hesitant because I may sell the thing (our kitchen is way too small to store it there)
Girls can access everything except vacuum – which I need to plug in for them anyhow.
UPDATE: ?The Learning Tower is in our garage and I only pull it in for gloomy days where we need to make a slide, obstacle course, or additional fort. ?I've probably gotten the most use out of it for those things! ?As for their cleaning supplies, they are now readily seen in their cleaning cabinet where our dog food used to be. ?I am ordering them child-sized long handled brooms to hang next to mine. ?Their Norwex mops are still a hit (and the string mop is still a disaster) and those are stored on the side of the washing machine next to mine. ?They do LOTS of cleaning!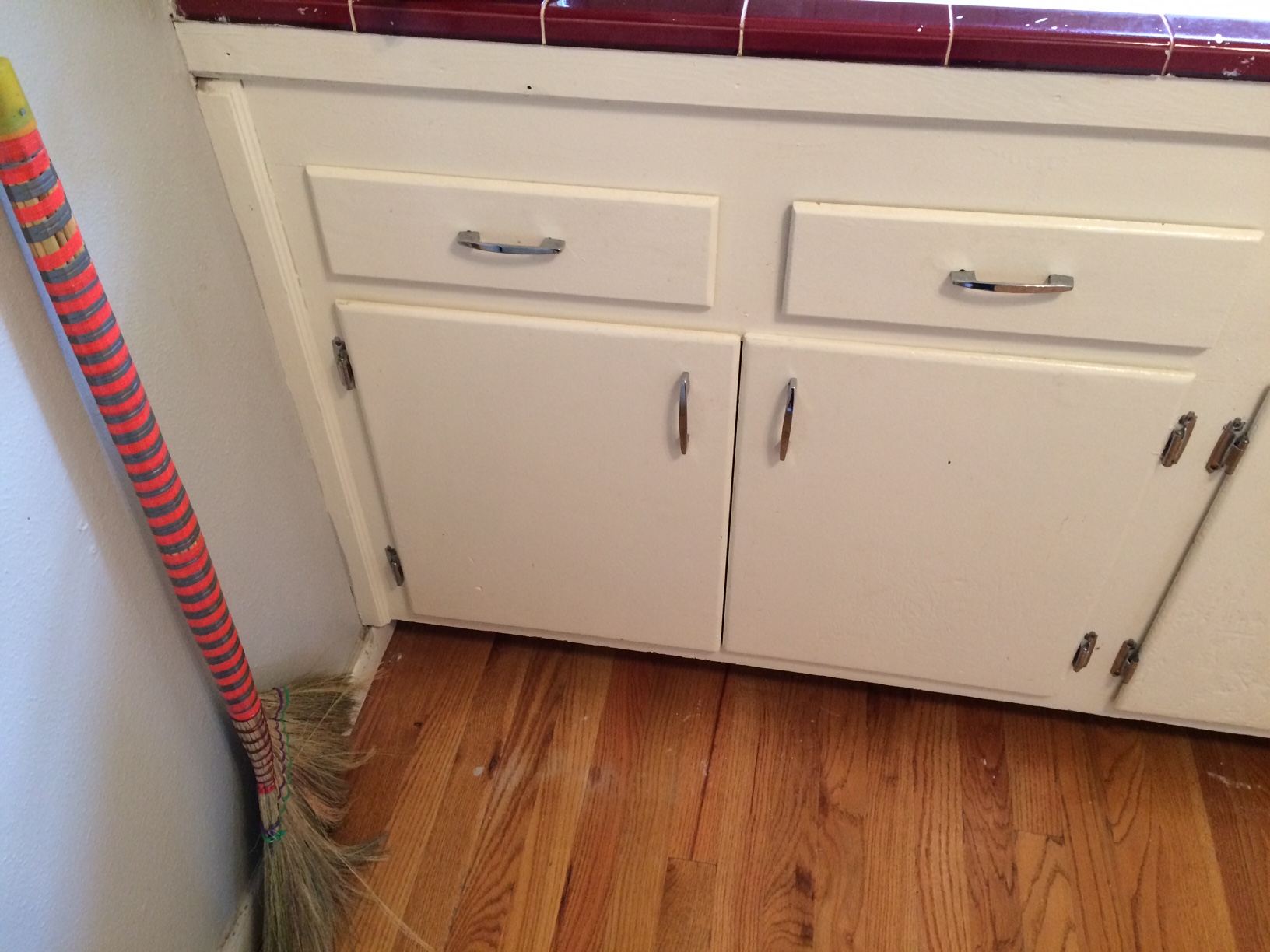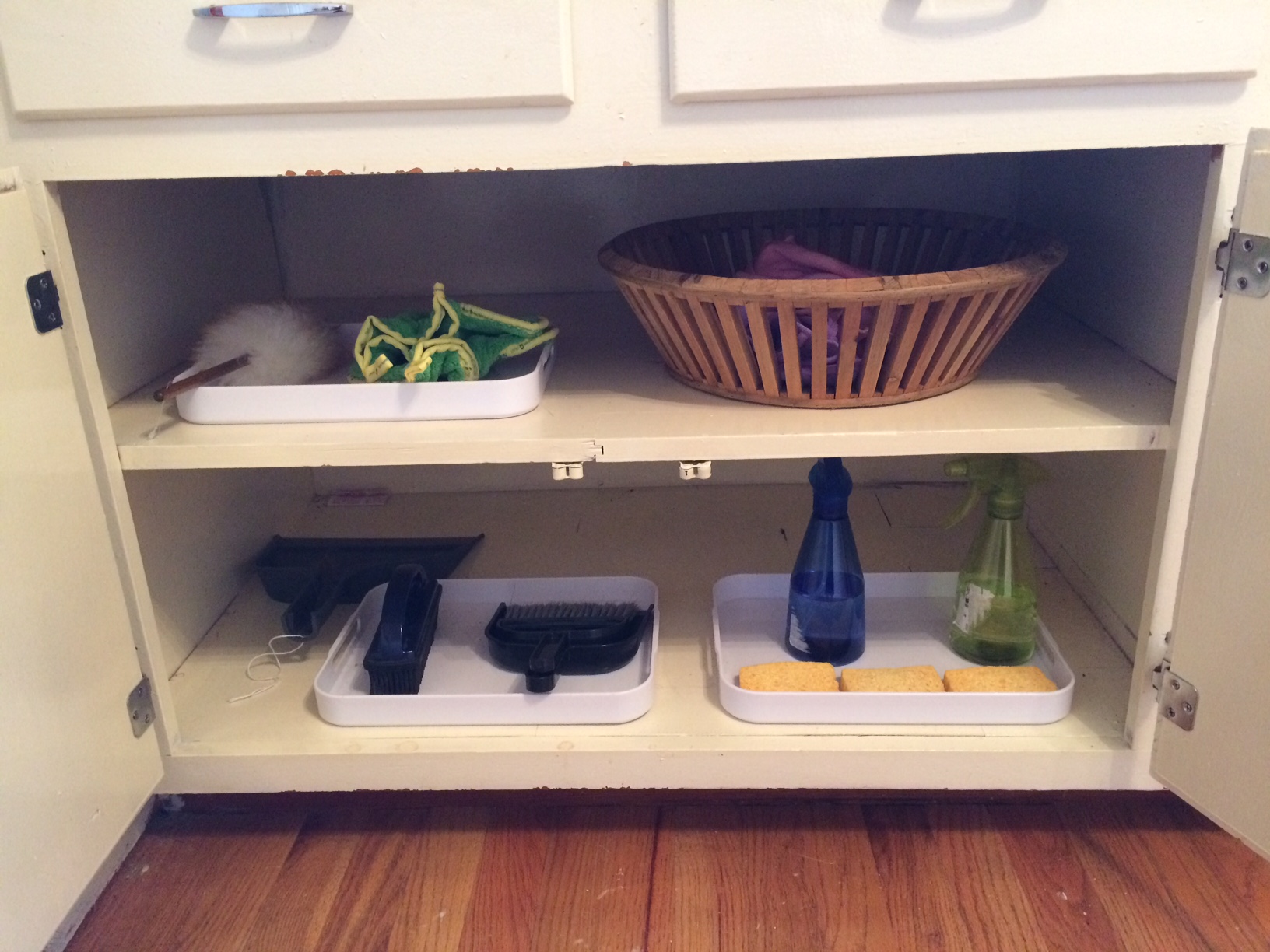 Clockwise from top left: A child's wool duster and Norwex child dusting mits, child sized Envirocloths and window cloths are in the basket, spray bottles of water along with pop-up sponges, a child's dustpan/hand broom and the rubber brush for our Norwex mops. ?My large sized dust pan is also in this cabinet.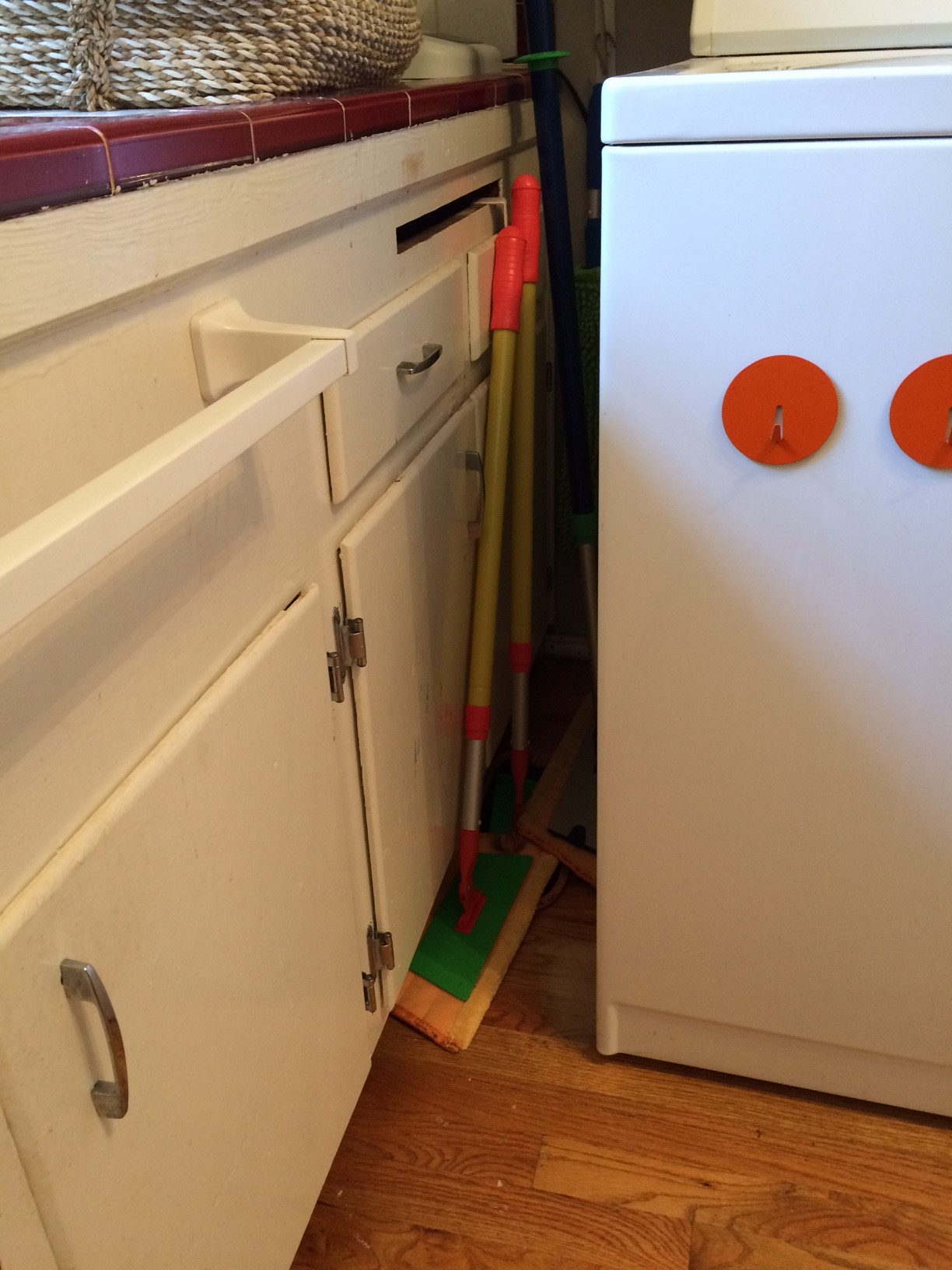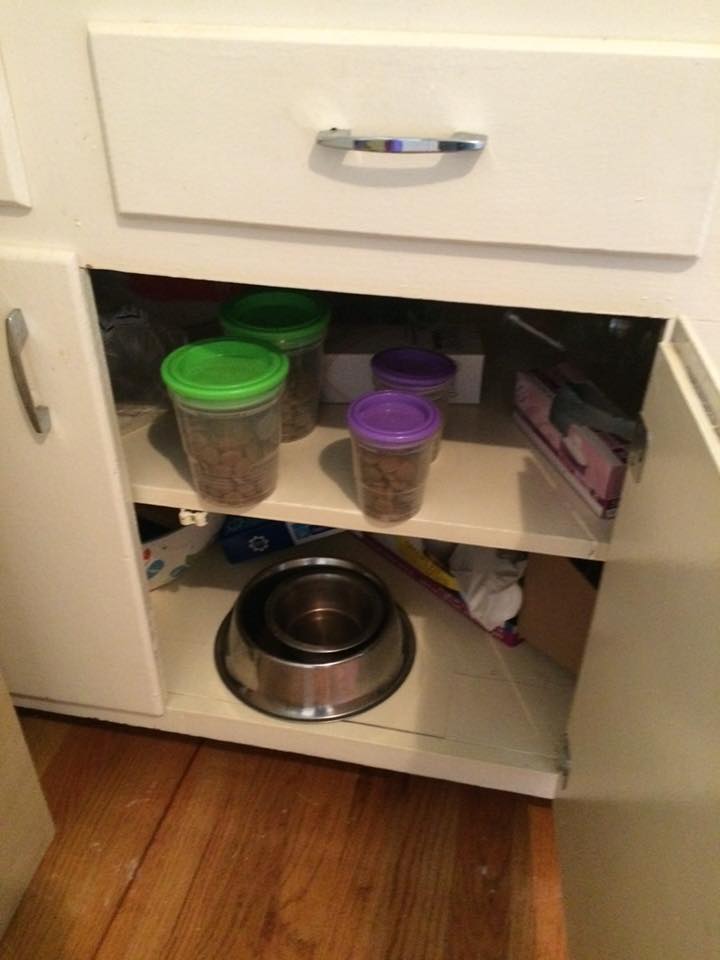 Dog feeding. They could scoop it from large bucket, but this way I can have the dogs' enzymes and mineral stuff in there, too. So I do have to refill these containers nightly. (Big dog gets big container; little dog gets little container – 3 stage lesson, anybody ?UPDATE: We no longer feed the dogs kibble; rather they are fed raw food. ?So it is kept in our fridge and weighed out on a scale. ?In the near future, I hope to preportion it so the girls can serve it, and ultimately they will weigh it themselves. ?But for now, I'm back to feeding the pups and the girls just serve it.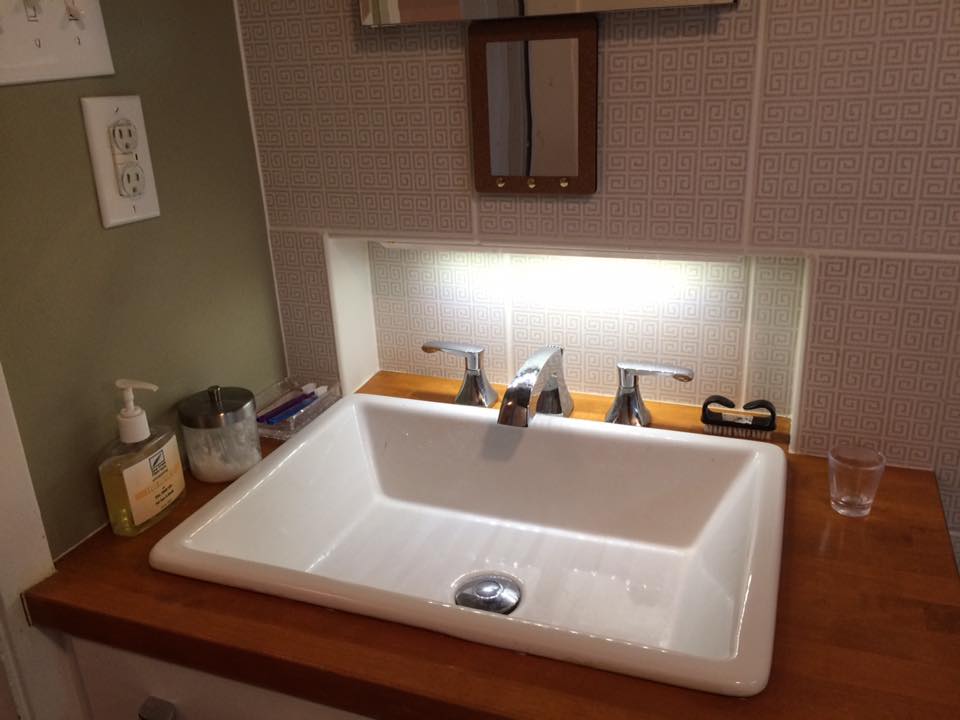 Sink – offered pump soap here since they wash themselves with bar soap in bath (jar is toothpaste as we make our own). I got a small locker mirror at target and taped it to my tile so they could view themselves.
UPDATE: They can finally use a foaming soap dispenser (they're harder to pump!). ?They can also reach into the medicine cabinet, so we keep toothbrushes, cups, and paste in the cabinet.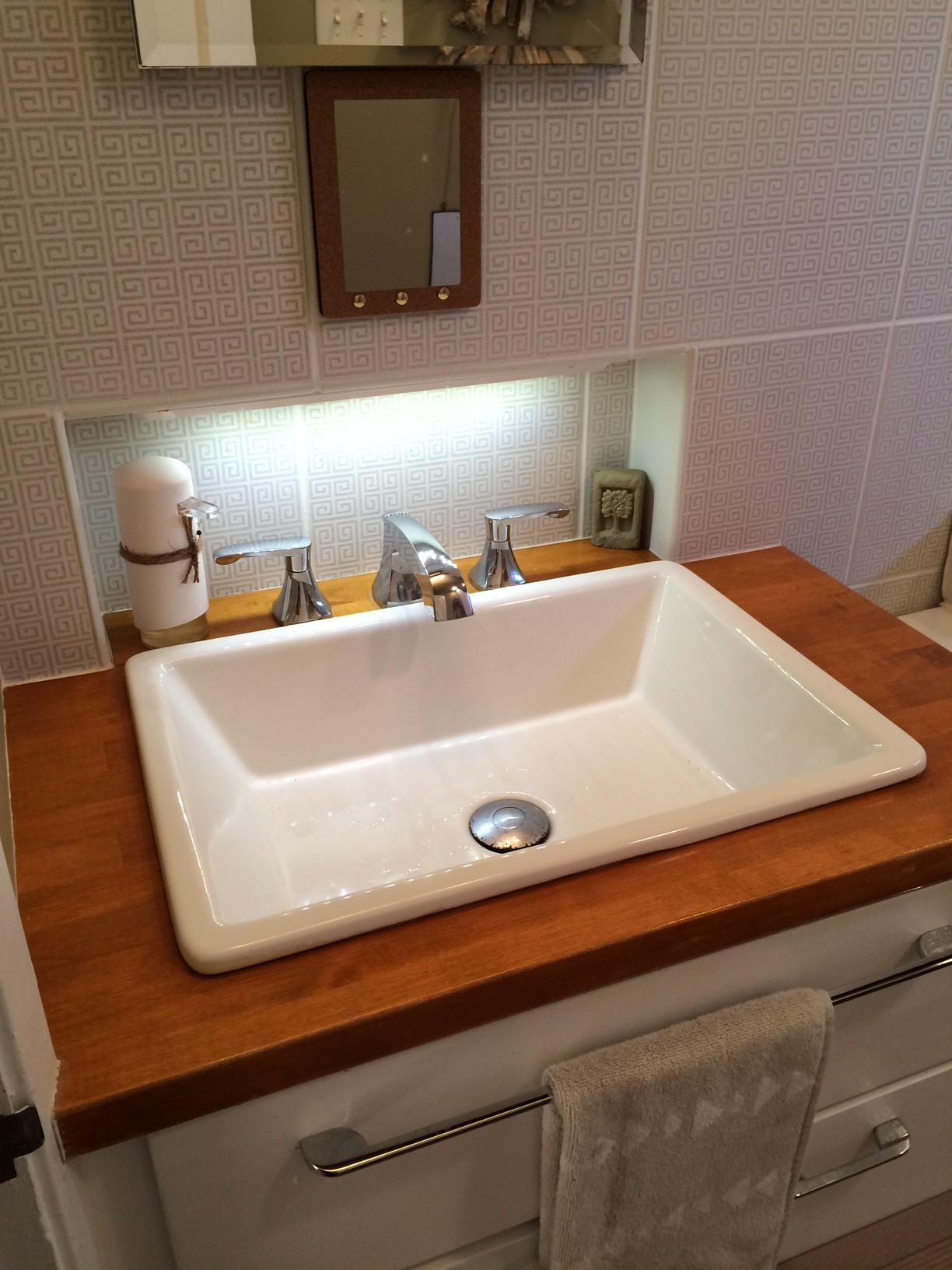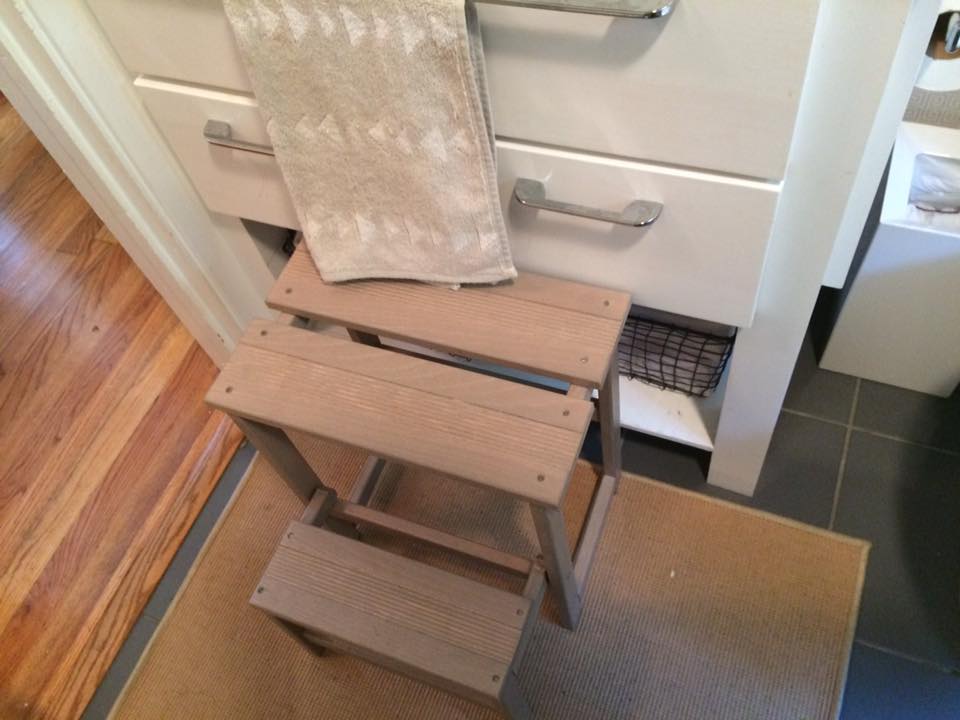 Stool that has a fold up step – perfect for small bathroom. Basket there also houses their panties/diapers and is accessible from the side.
UPDATE: The mat is gone as it is no longer needed for catching spills and the second folding stool has been moved into the bathroom. ?The stools keep the door from closing, so we remove the stools when guests come.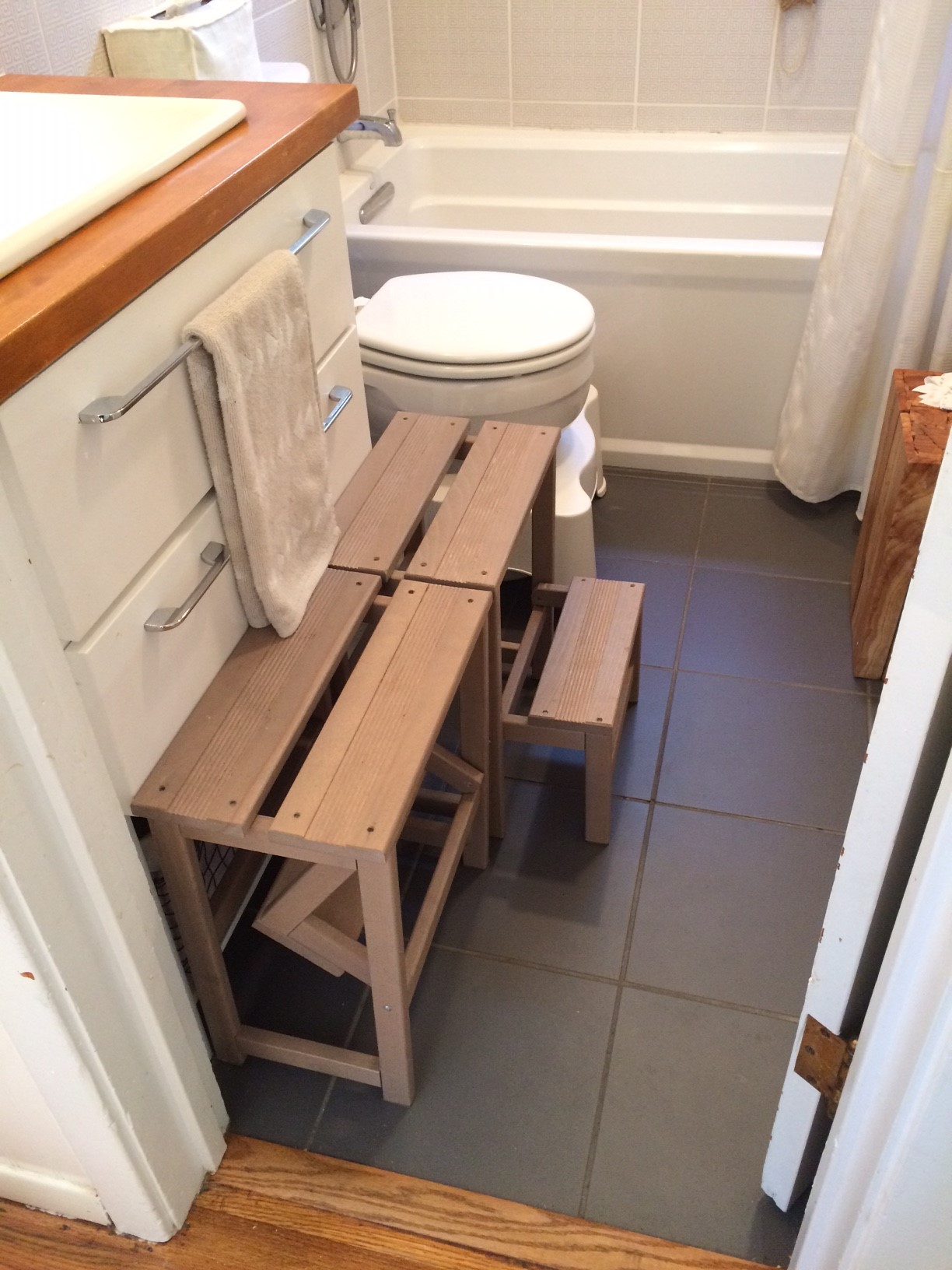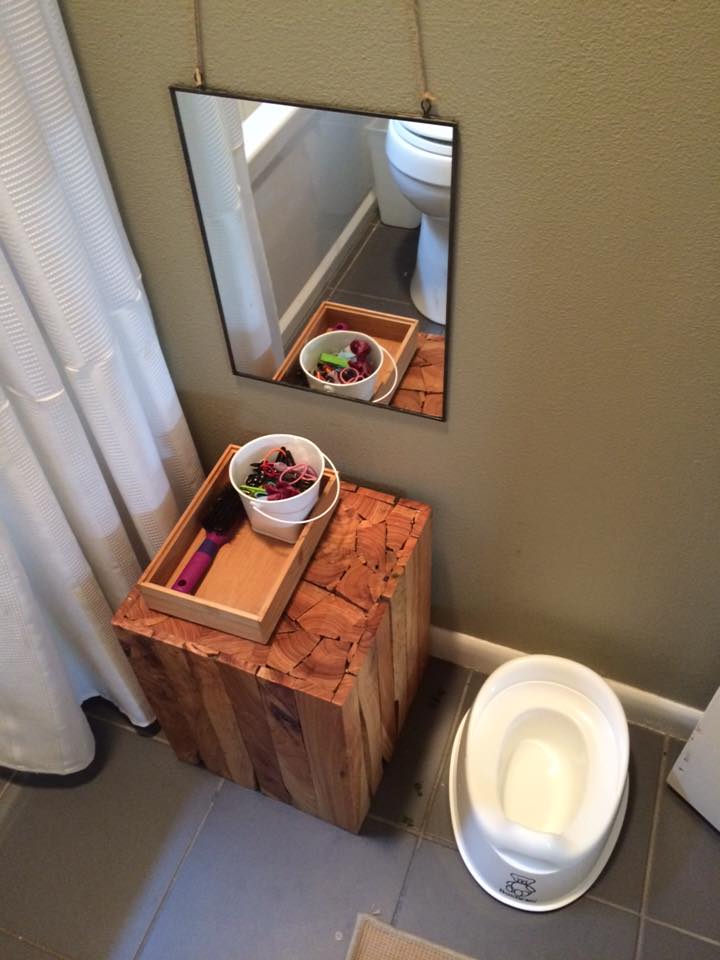 Hair care (brush and twisties) and small potty, though they more often use the large potty in my bathroom that has a stool and small seat (can't fit toilet stool in this bathroom) – see next photo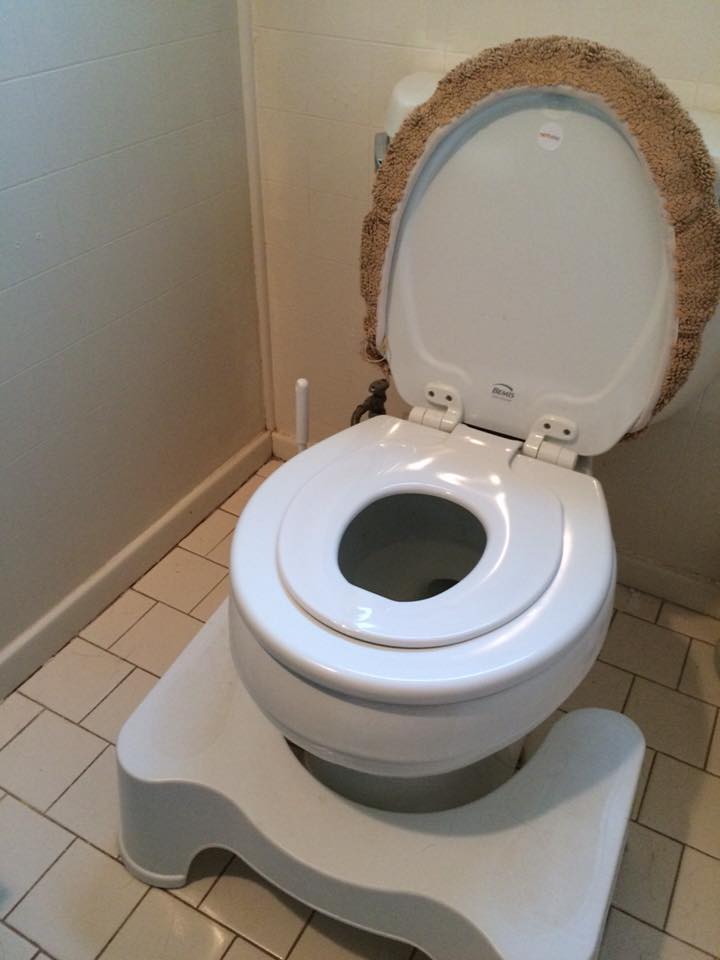 Toilet seat with child inset and squatting potty stool (for us and them). This is their preferred toilet. Additional panties/diapers are in this bathroom vanity, too.
UPDATE: ?Small potties are a thing of the past and hair care includes a jar of twisties and a jar of clips – also a brush that was being used on a horse during this picture. ?The nifty toilet seat above has been moved into their bathroom. ?I would still love to have a child-sized porcelain toilet installed, but I'm sure hubby would say no way.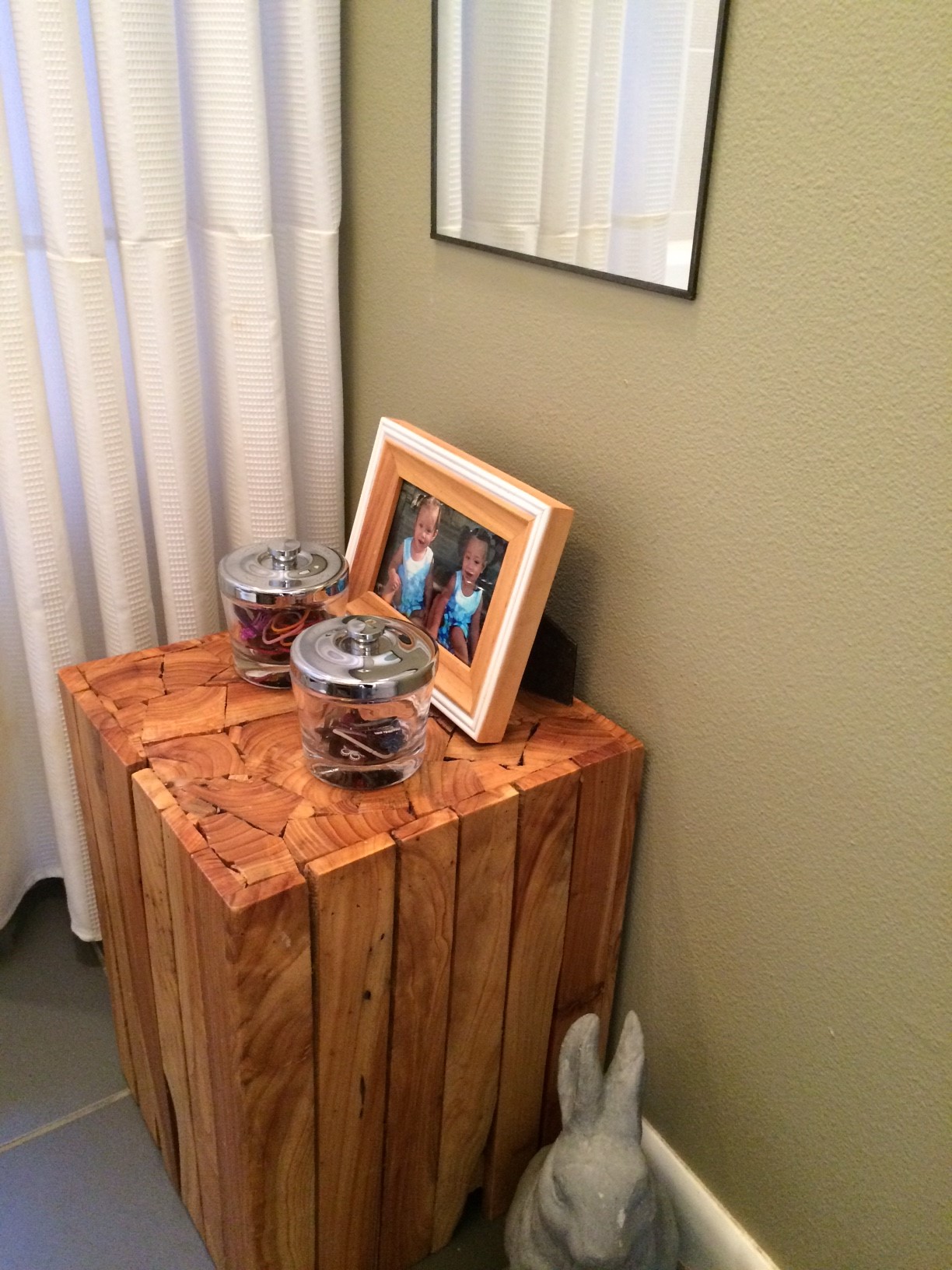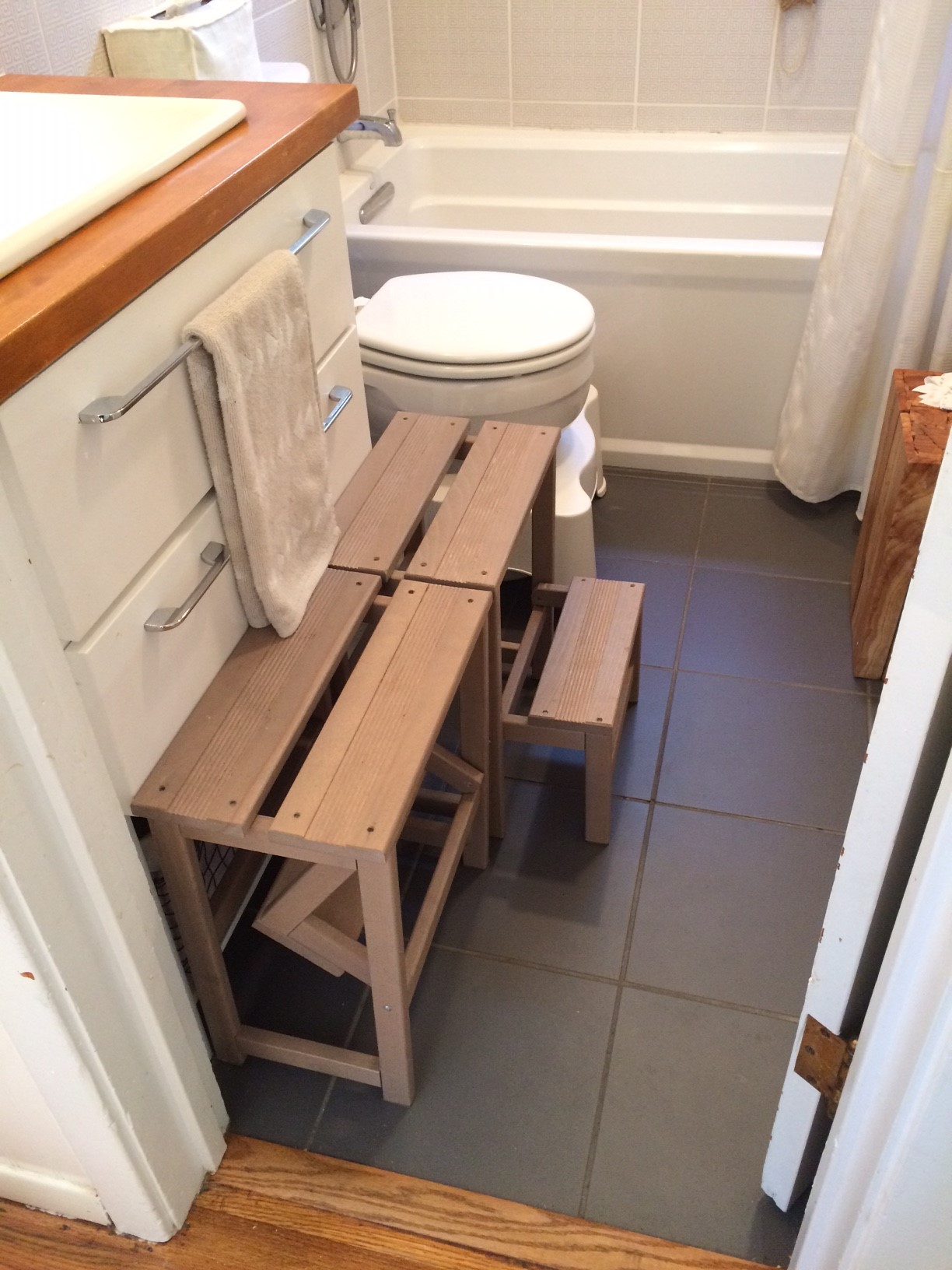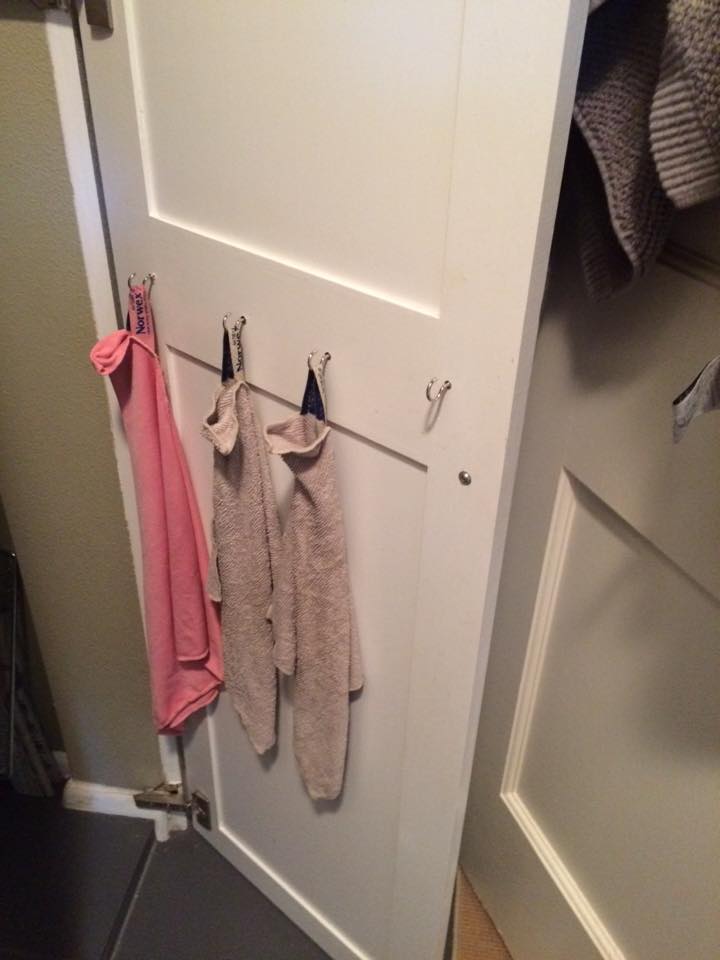 Inside linen closet door holds their wash cloths and a cleaning cloth. Will possibly add low towel hanging if I can figure how in the small bathroom. ?UPDATE: Cleaning cloth not kept here anymore. ?I still have not modified the hanging for a low towel.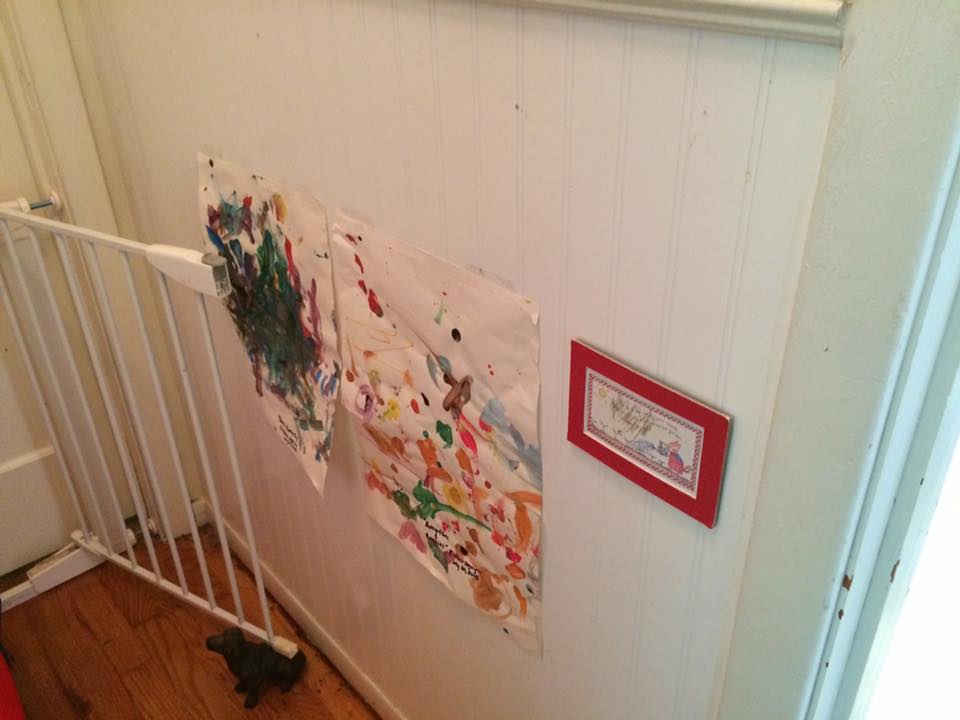 Hallway outside their room with their art ?rotates. ?UPDATE: ?They have learned to dispense tape! ?Art is taped to every wall all over our house inside and out. ?It's a joyful site!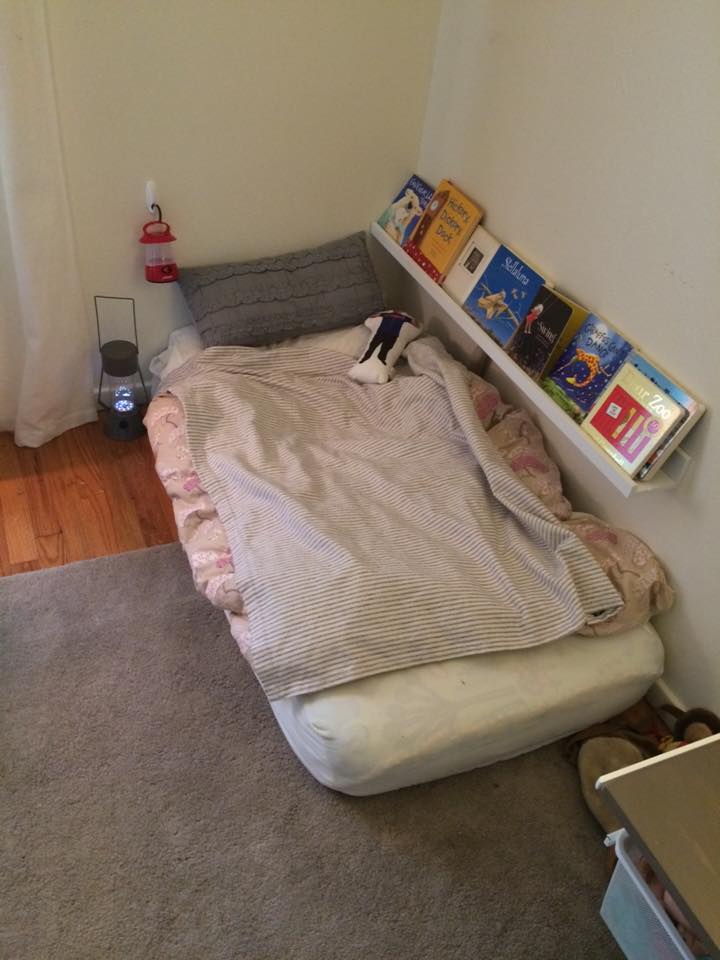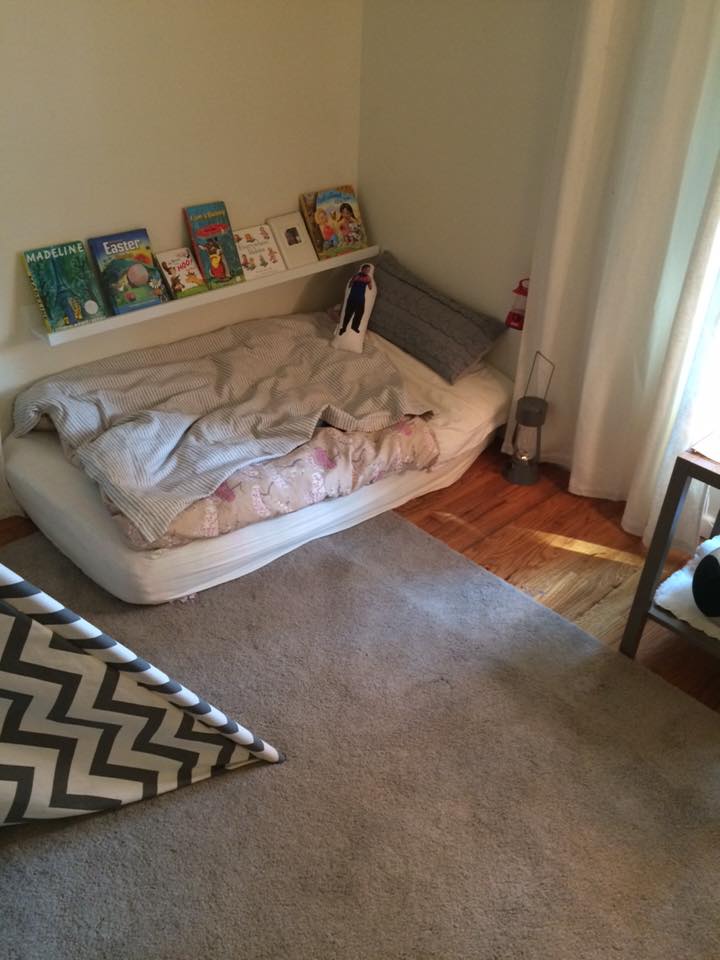 Beds have?two blankets that are easily pulled up to make, two lanterns, a book ledge. I'll be adding a couple photos of herself above the bed.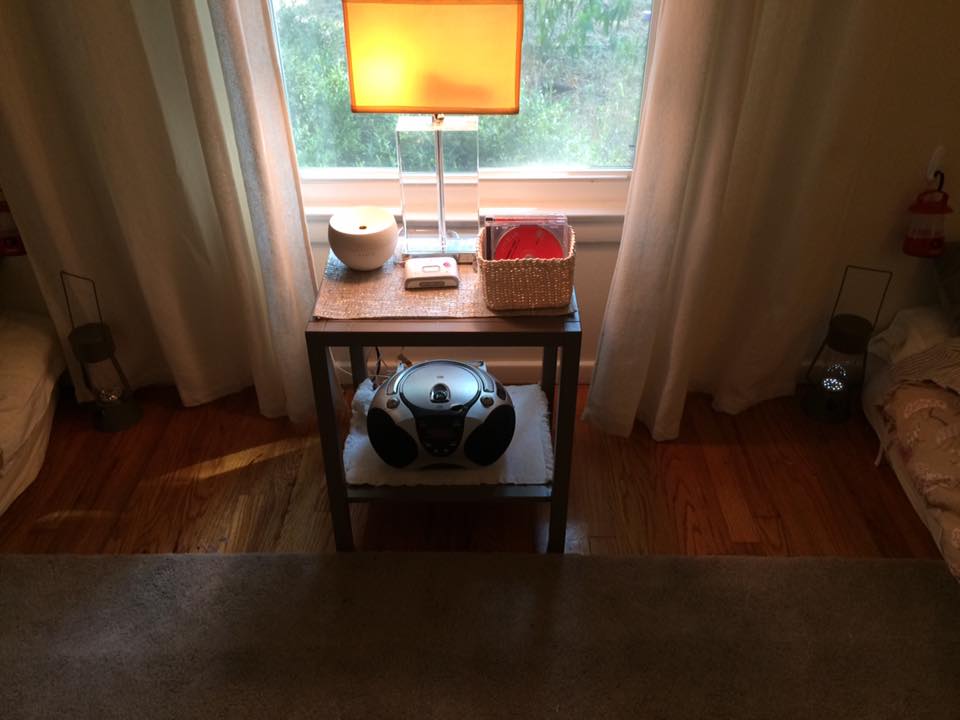 Table has pull chain lamp, diffuser (they fill and add oil under my supervision but do know they can turn on/off as desired), 4 CDs, a CD player with the buttons sharpied red/green for stop/start.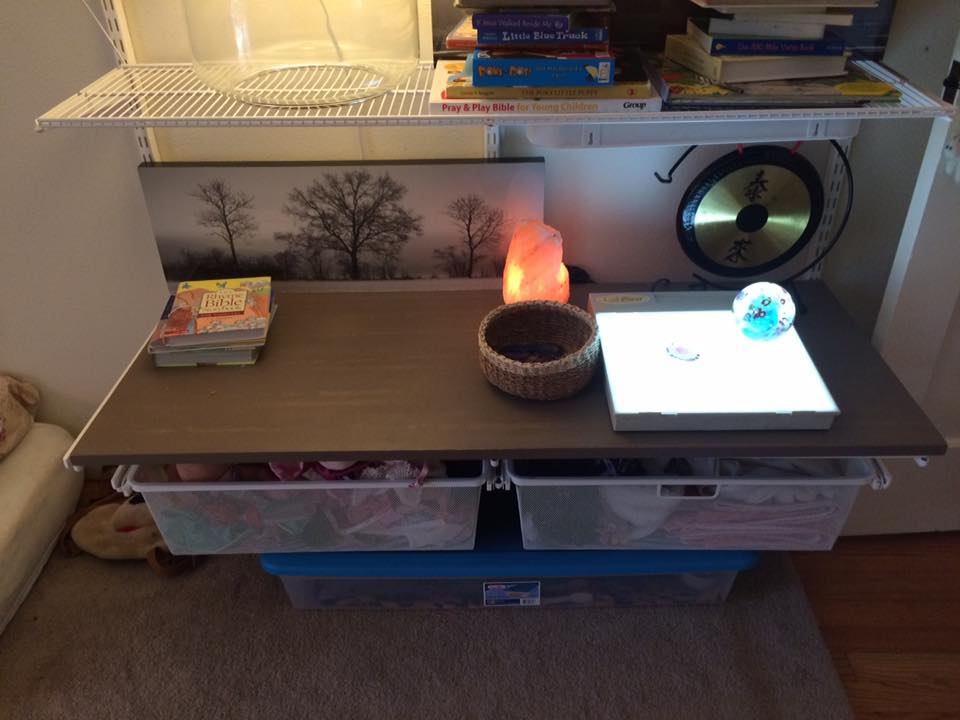 Elfa shelving storage all the way to ceiling (baskets conceal stuff at top though I am still sorting through books obviously). Desktop is really for standing not sitting. Holds gong, light box, light box funsies.
Drawers hold all things baby dolls on left and extra blankets on right.
Sterilite container holds noodles and beans and scoops and bowls and all sorts of fun – they can access anytime. It actually works best to do this on carpet because the rest of the house is only wood and beans bounce.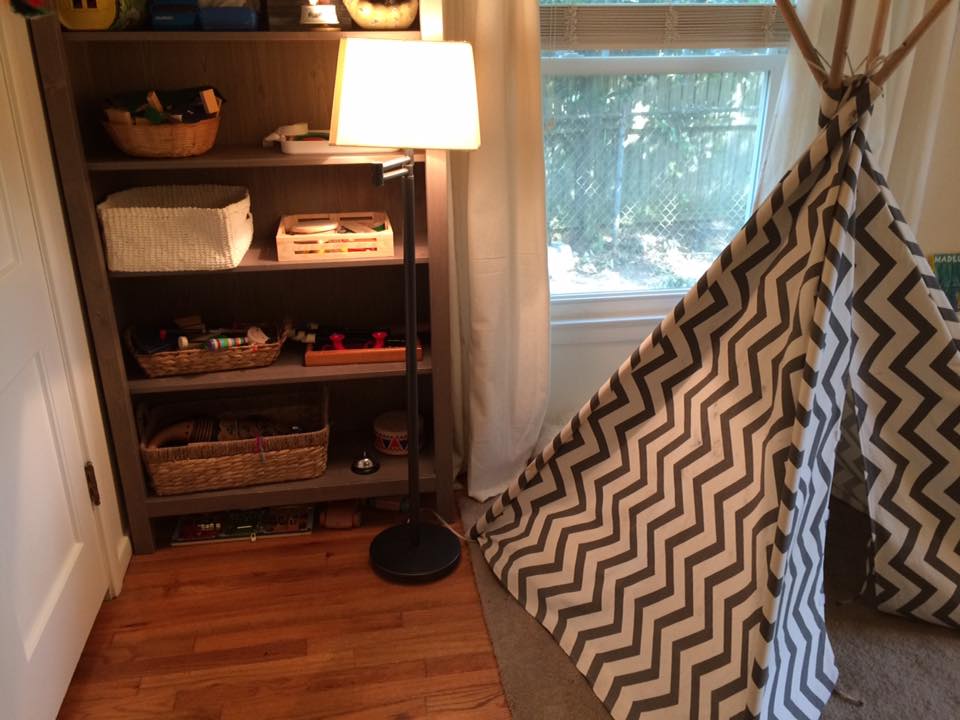 Play tent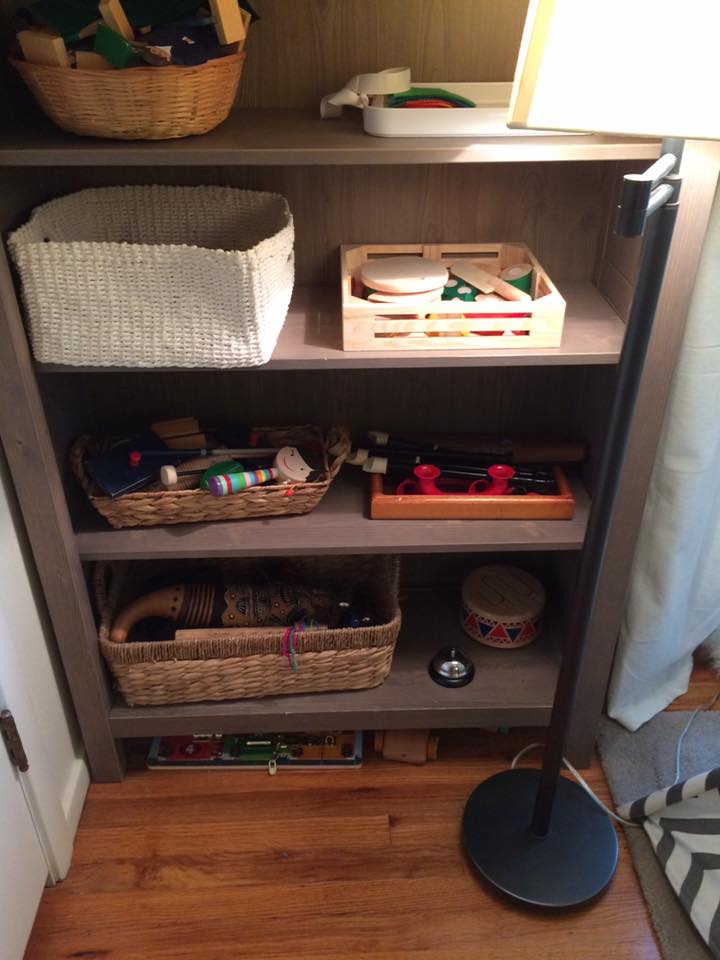 Bedroom shelf has more instruments and storage up top of toys/works I rotate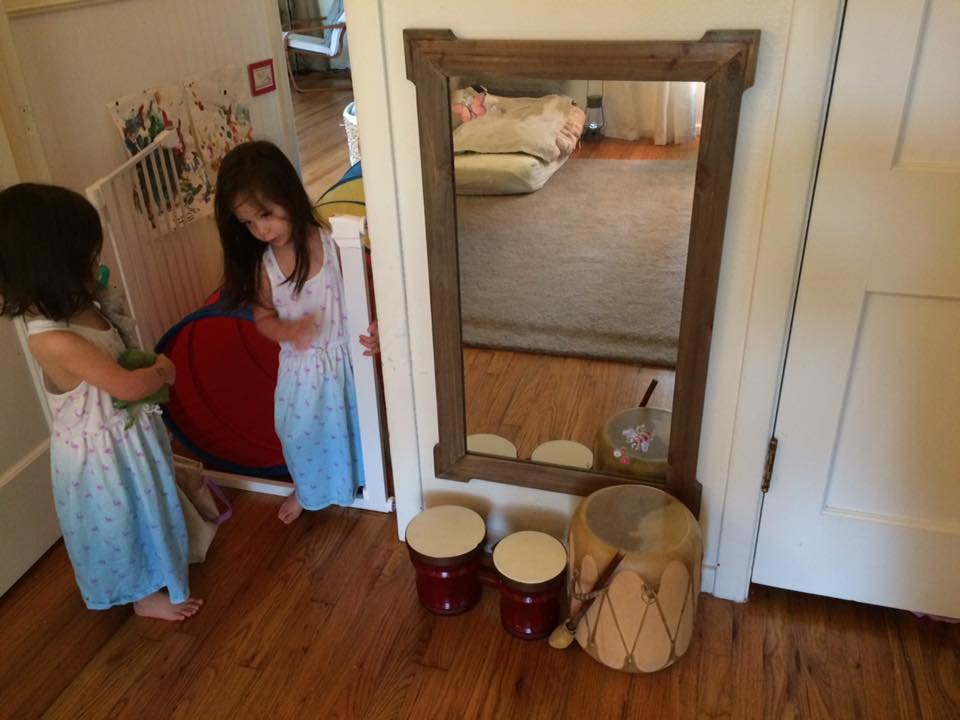 Large mirror and percussion. FYI gate is to keep pups out when we aren't home. We don't close any doors in our home completely as they may not open again! #oldhomecharm
UPDATE: One daughter has decided to have her head at the other end of her bed, so she makes the bed that way now. ?There are also stools by each bed that they pull out for sitting on to get dressed. ?I attempt to keep a minimum amount of books on the ledge, but besides reading, books are good for stacking, so they usually have more than four on their ledge. ?Lanterns are on shelf, but they prefer to have flashlights hanging by their beds now. ?Toys have rotated including a basket of dollhouse items for the dollhouse on their desk. ?They have a large wooden dollhouse, but right now it is in the garage as the horses are in the room (these two items trade often). ?The lightbox has been put up for another time. ?Balance boards are kept in the room. ?When I attempted to remove them, I was met with protests about the need to have them available to jump from balance board to bed. ?The musical instruments are now in their schoolroom. ?The rocking chairs from the living room are now next to each bed and they use them multiple times a day for reading and rocking babies. ?Funny how the change in location made them so much more appealing!
Finally, they want beauty everywhere, so we have replaced their succulent?(that also kept losing leaves!) with seasonal arrangements created by the girls.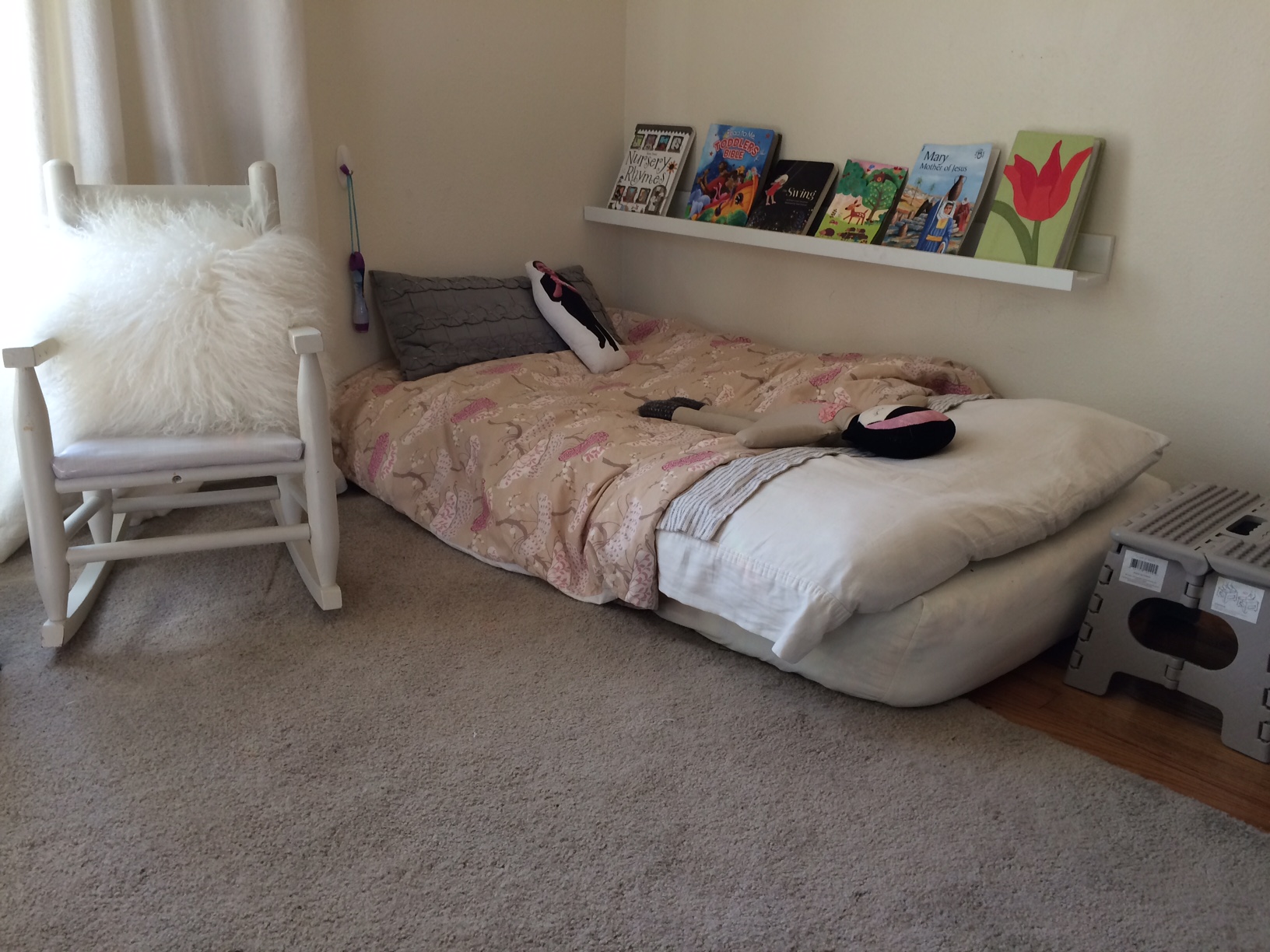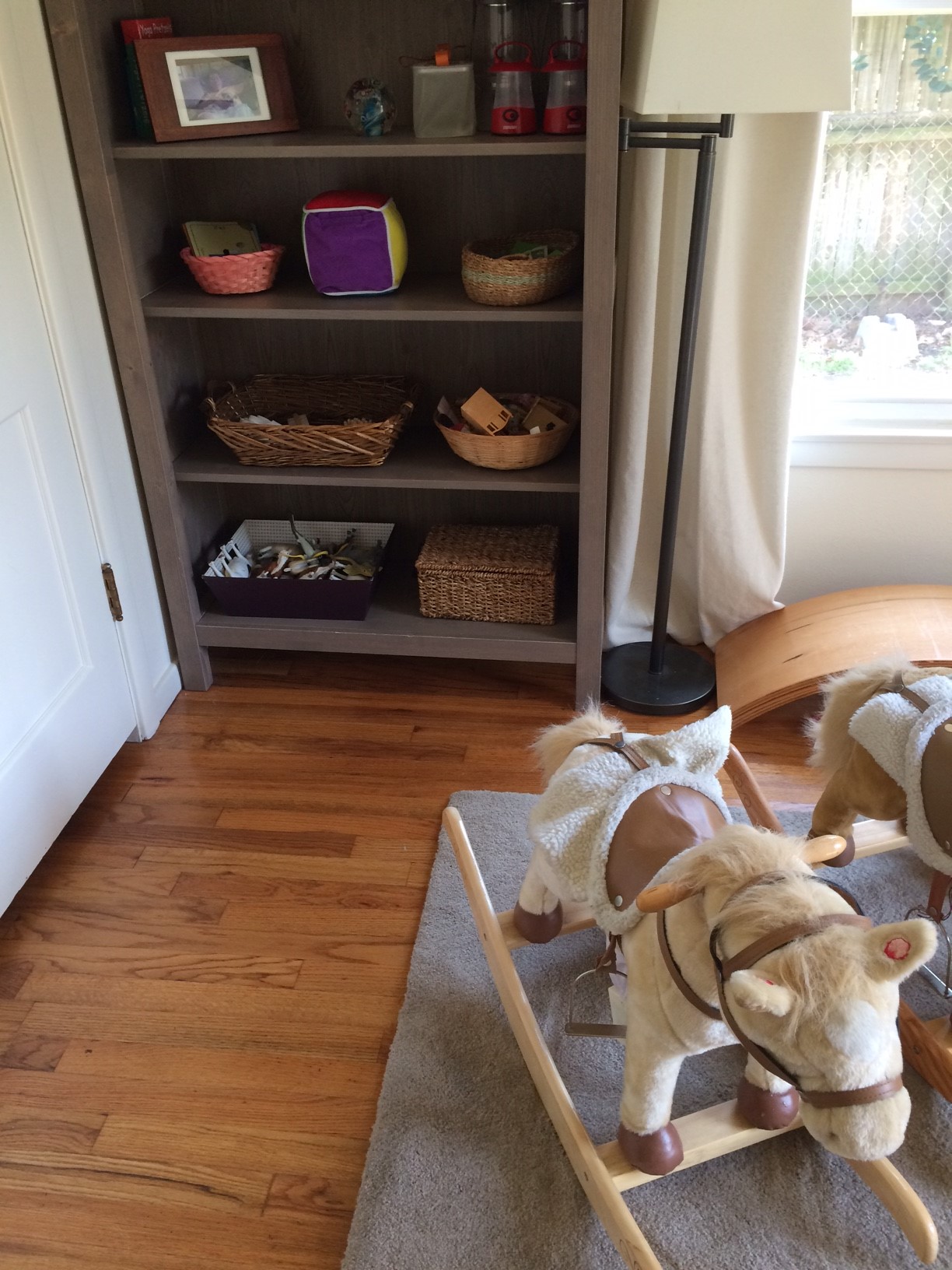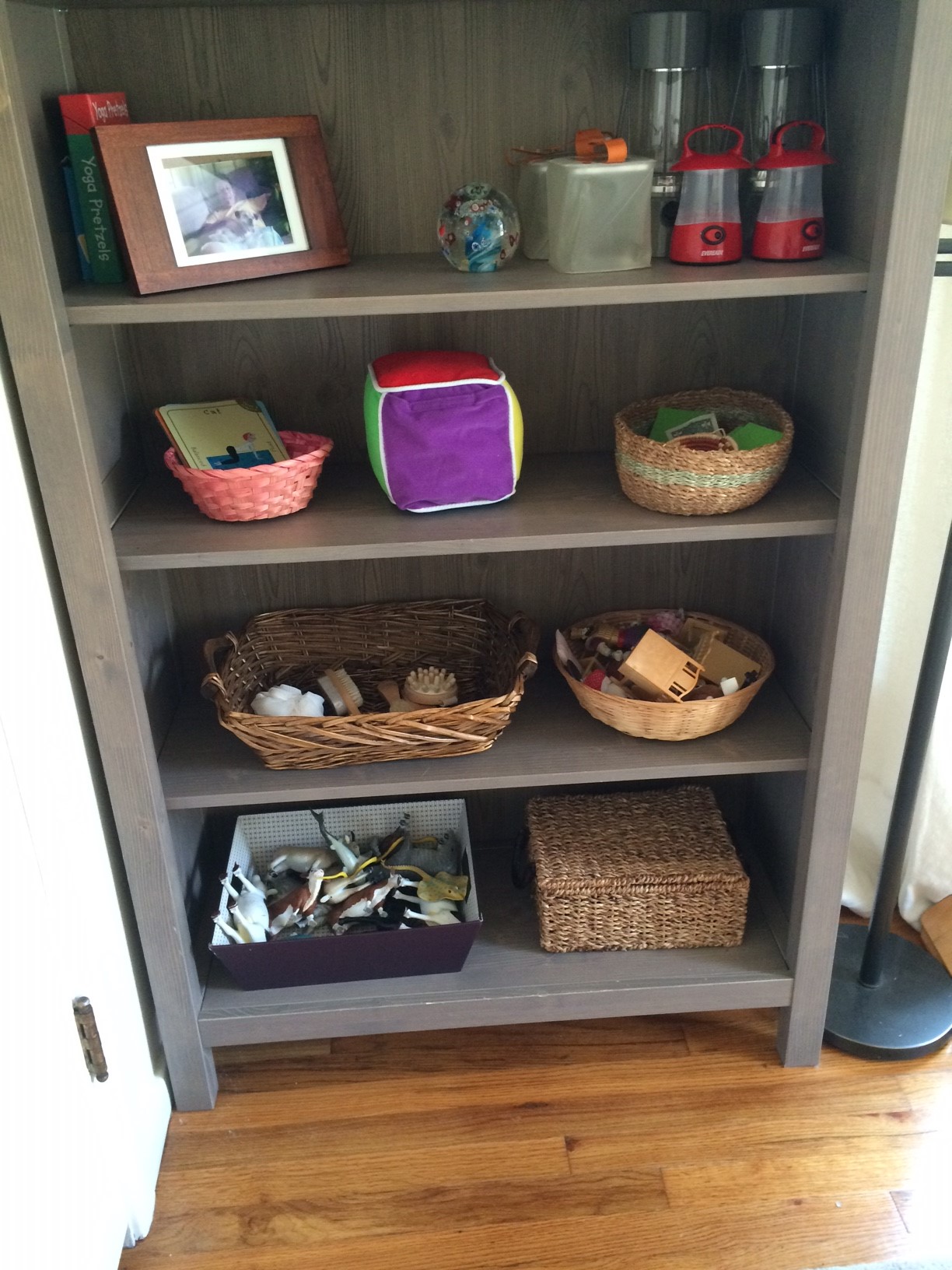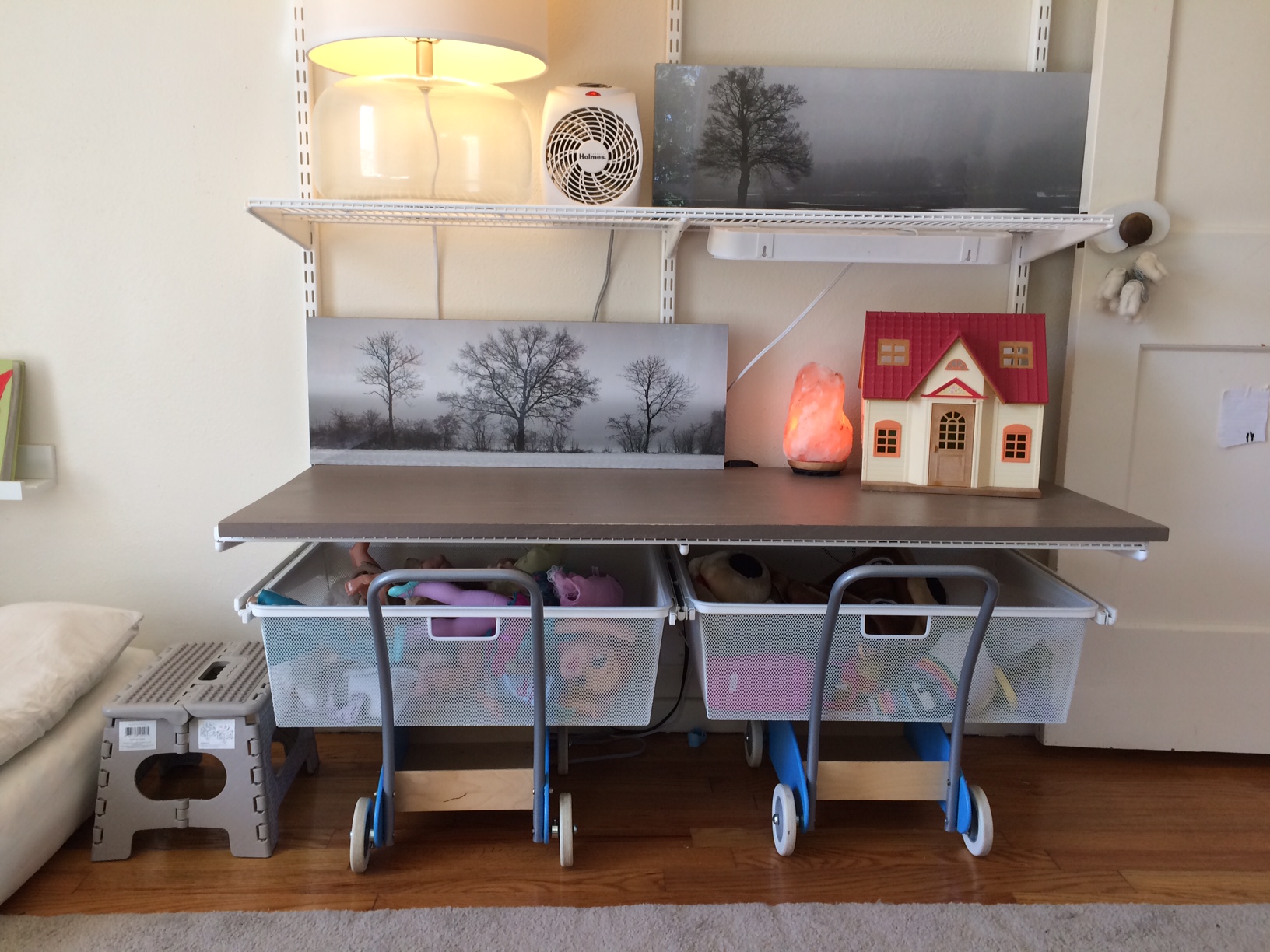 Drawers hold all things baby/doll and all containers/bags.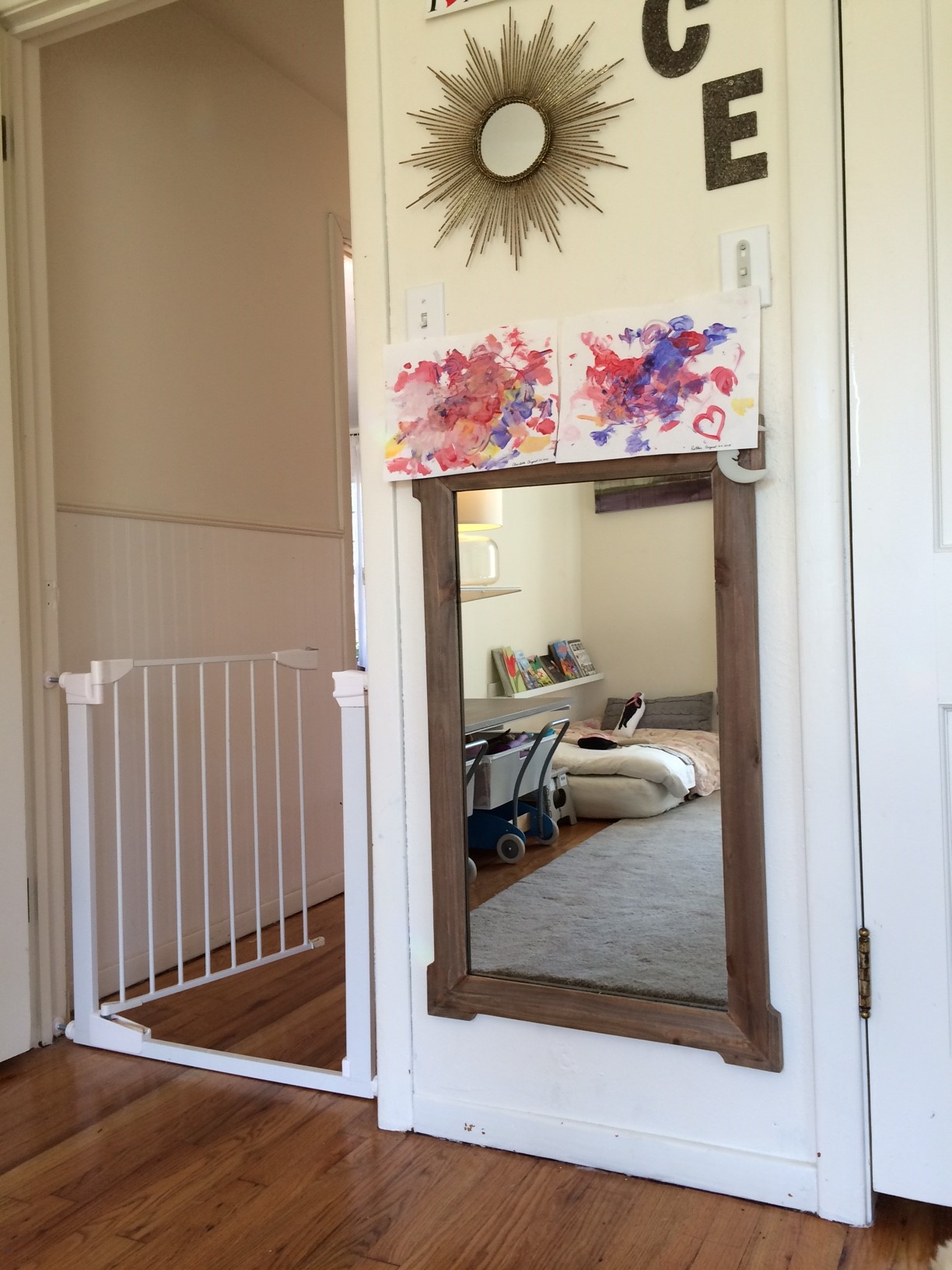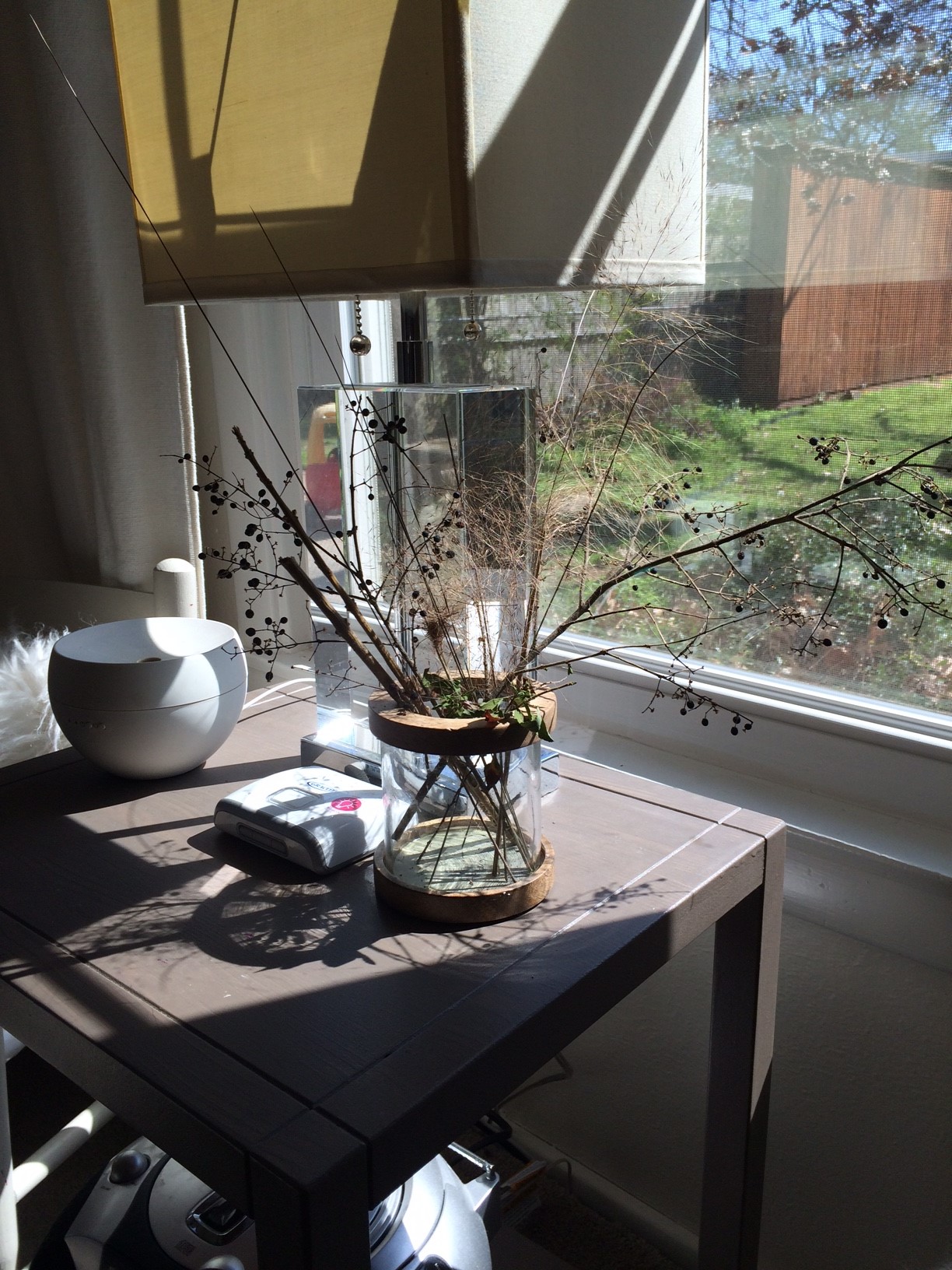 Old closet: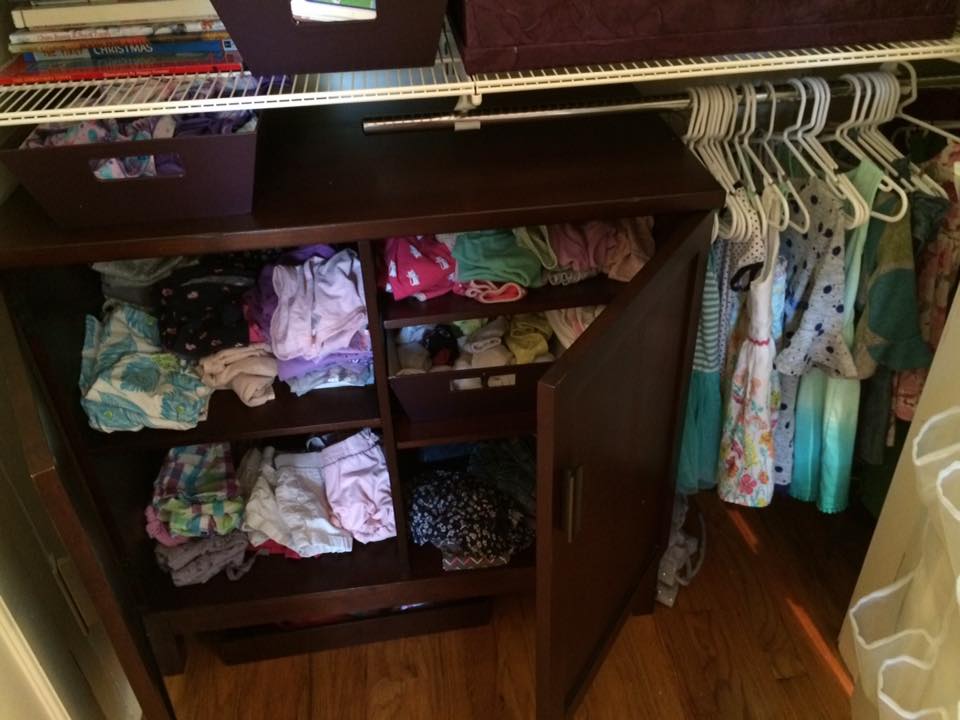 Closet holds a cabinet they access for clothing and hanging. The rest is storage of art supplies and rotating elements that only I access.
I'll be editing their clothing down now that I see this picture!
First Konmari closet (isn't it pretty!):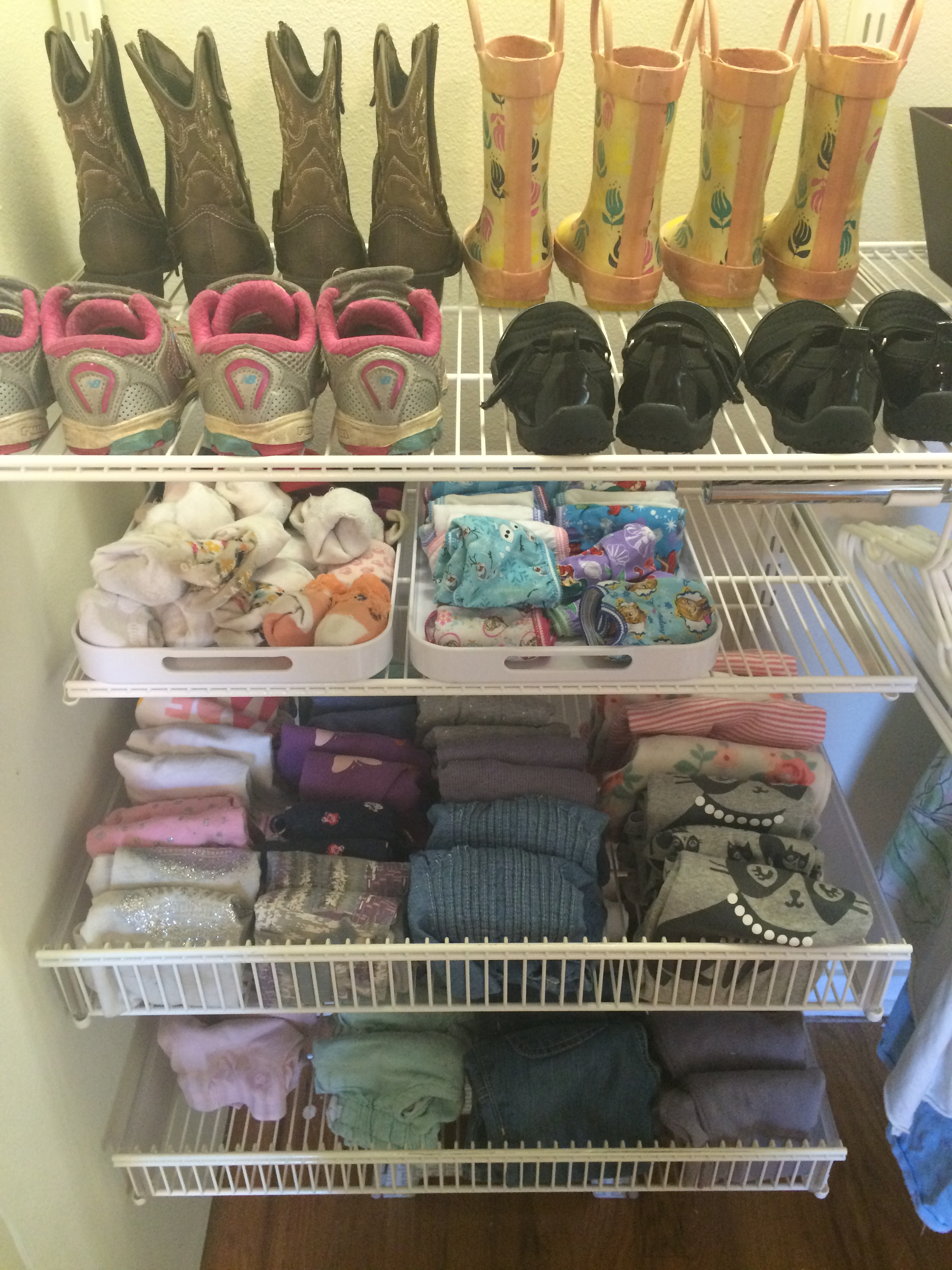 Post Konmari closet because the girls having access to all clothing meant they played "mission" daily and stuffed a box with all their clothing to drop off at the local mission. ?That meant I was folding a lot of clothes way too often! ?So, I placed it higher and inaccessible to them. ?This has worked out much better. ?I hold up two items and ask which of the two they'd like. ?They also have all their dress up stuff accessible at the lower level.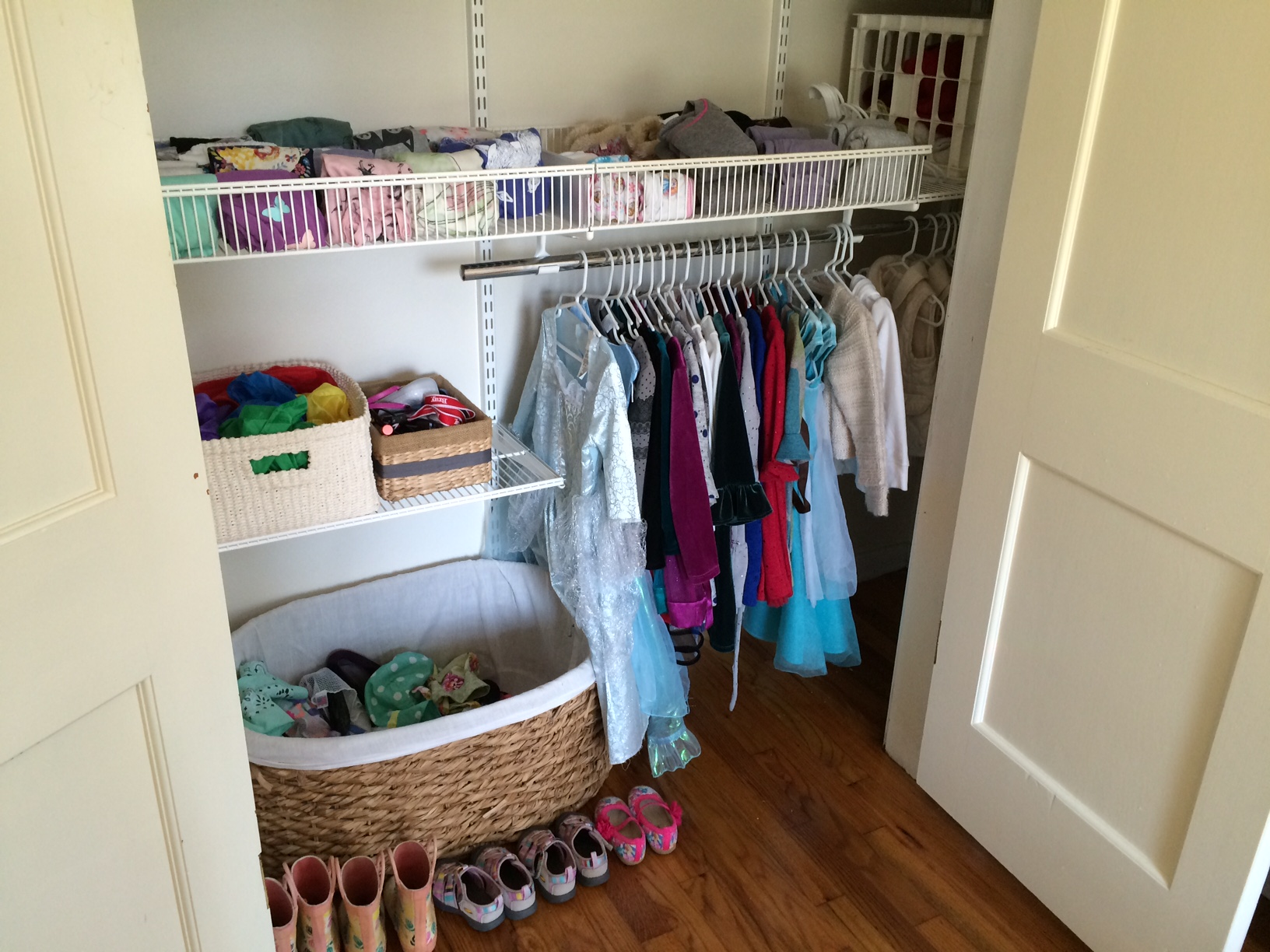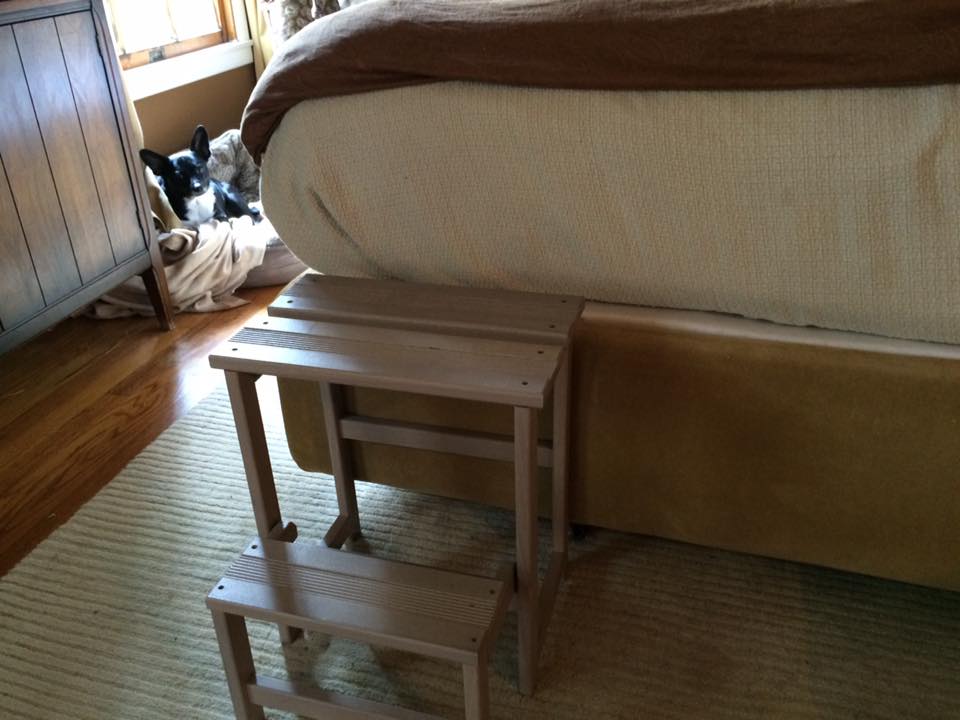 Foldable stool so they can access our bed in the middle of the night without disturbing us. ?UPDATE: This stool was needed in the bathroom, and they are able to climb up on our bed like ninjas without it anyhow.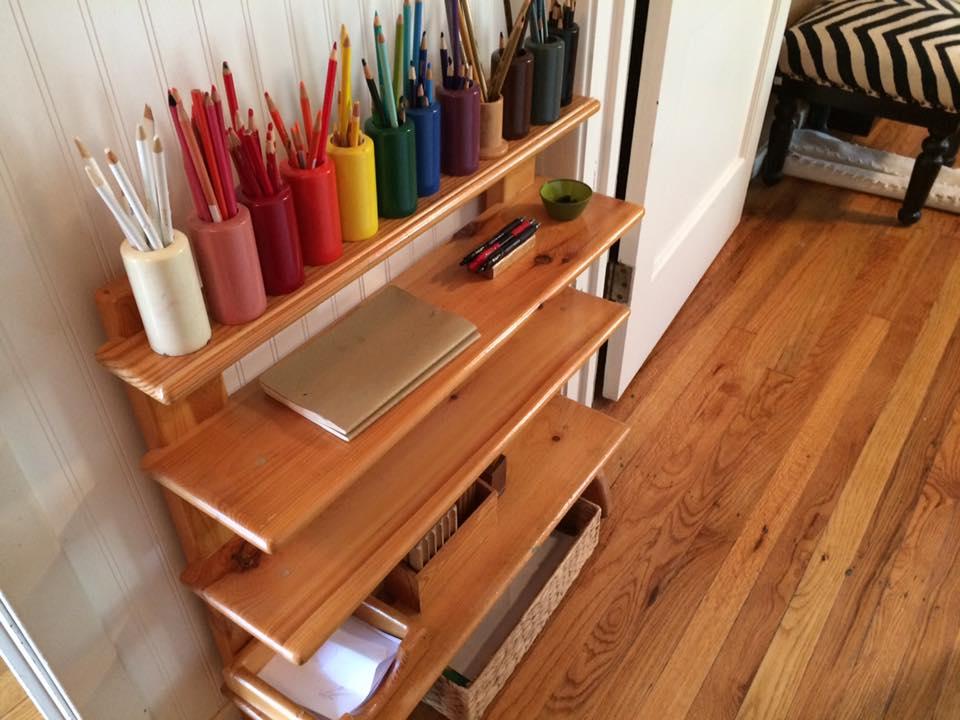 Future metal insets home acts as a drawing supplies station currently (their favorite blank notebooks are on second shelf and the basket on floor holds other paper/notepads). We only have colored pencils and pens – no crayons or markers due to lack of pressure/too much pressure in utilizing. ?UPDATE: The colored pencil cups are put away for the future and they have access to one each of primary and secondary colored pencils. ?(They were collecting them and stuffing them places thus frustrating me!)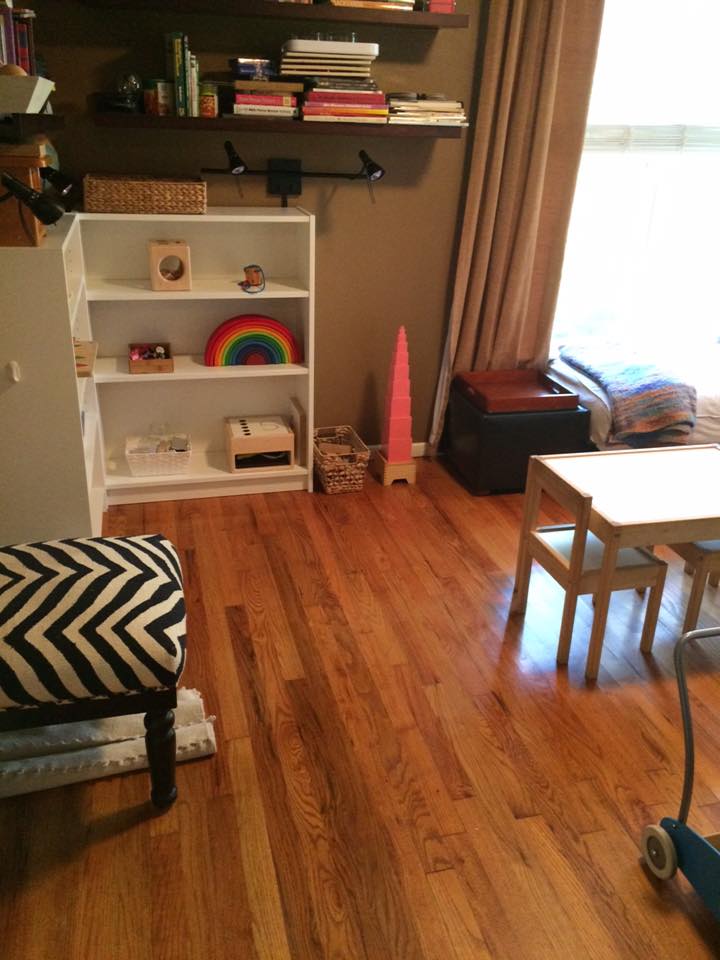 Walking into our playroom – lots of things I'd like to change in here but we are either moving or switching rooms around next year, so I'm not even going to bother painting at this point (needs to be the same linen as the rest of my house). This room also shares running our business and our personal books – it's a hard working room.
There's the ikea work table in there but it's not an exciting picture, as well as their push carts and two rocking horses. ?UPDATE: We consolidated our home office to one cabinet in the closet, so the room has been rearranged to be all schooling.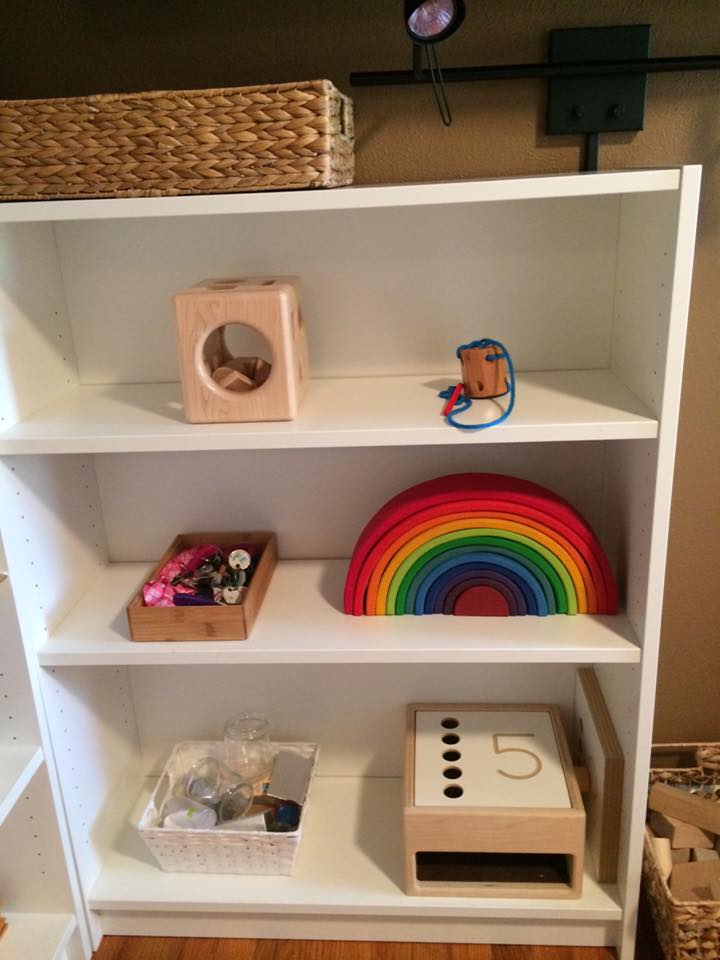 Shelf 1 (current items include shape sorter, sew'n'sew, tray of keys/locks, nesting rainbow, basket of containers to open/close, tumble down number peg) Up top is stuff for me to rotate in.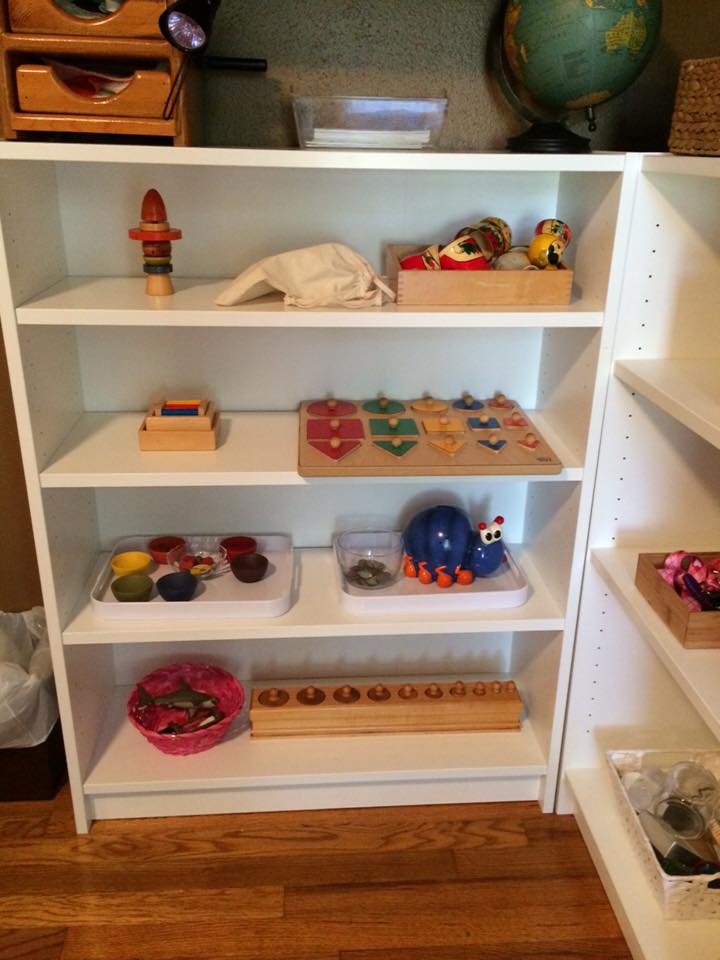 Shelf 2 (current items include Pavel our favorite stacking man, mystery bag, Russian nesting dolls, Color Box 1, knobbed puzle, color sorting bowls, coin bank/coins, basket of objects, knobbed cylinders) Up top is stuff for me to rotate in.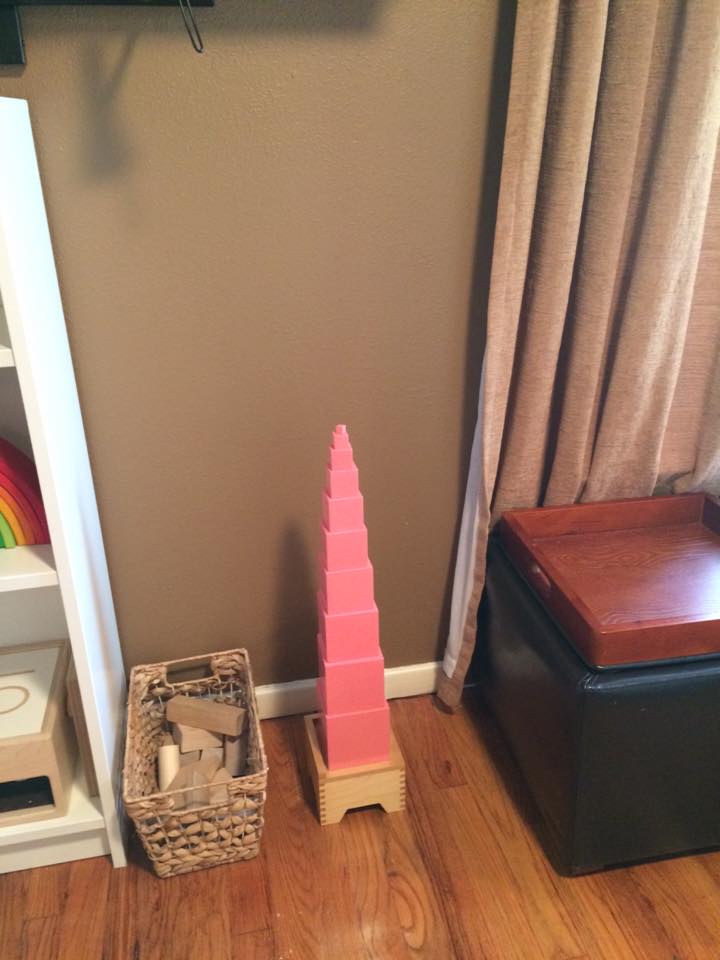 Their new favorite joy in life – the pink tower – this is the best I can do for three-sided display right now.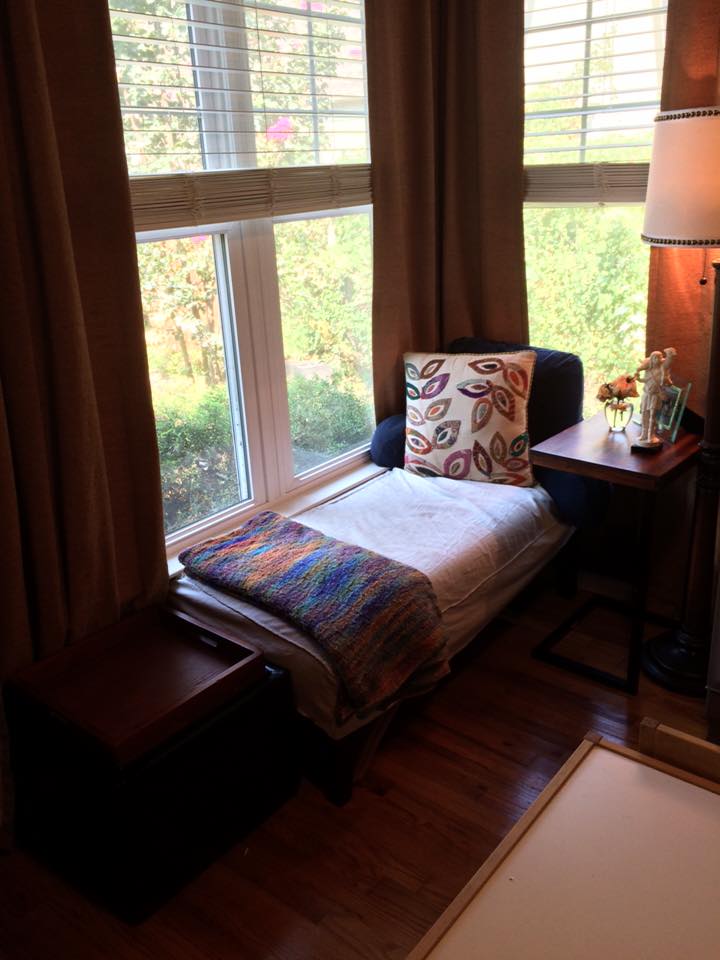 Reading nook/my observation deck. The lamp is a pull chain lamp so they can turn it on/off.
Two balance boards also live under the bench that can be pulled out anytime.
UPDATE: The schoolroom will always be changing. ?While there are some big changes I'd like to make, it's silly to do so since it will be a particular way only for a short time. ?Here are pictures how it looks today. ?I rotate displayed art on the ledges up high and we get it down to discuss and look at closely pretty often – it would be better down low, but I don't have any wall space. ?We added a small wall calendar and we each have a plastitak ball that serves as our marker and we move it each day. ?The shelf items have changed (most of our school materials are put away after our school time is over). ?I lost my window observation bench because it was a better work spot for their table. ?Almost daily I get out their karaoke machine to sing hymns (Hymns for Family Worship by Steve Demme is WONDERFUL!), but then I put it away and they have access to their little kitchen again. ?I'd love to have their little kitchen in my kitchen, but as you saw, there is no room for that. ?I am considering moving it back to our pantry, but right now I enjoy not having child stuff in there.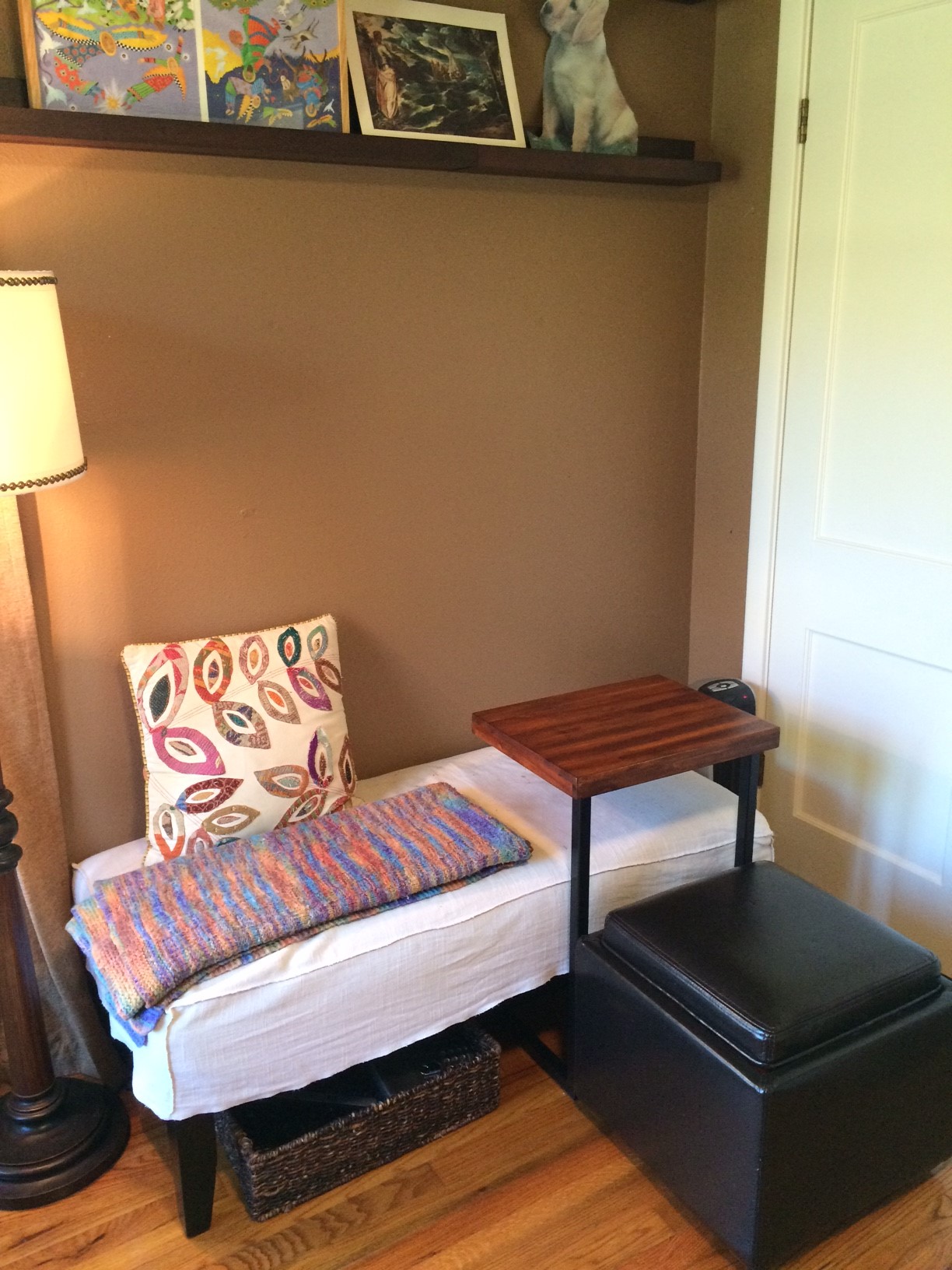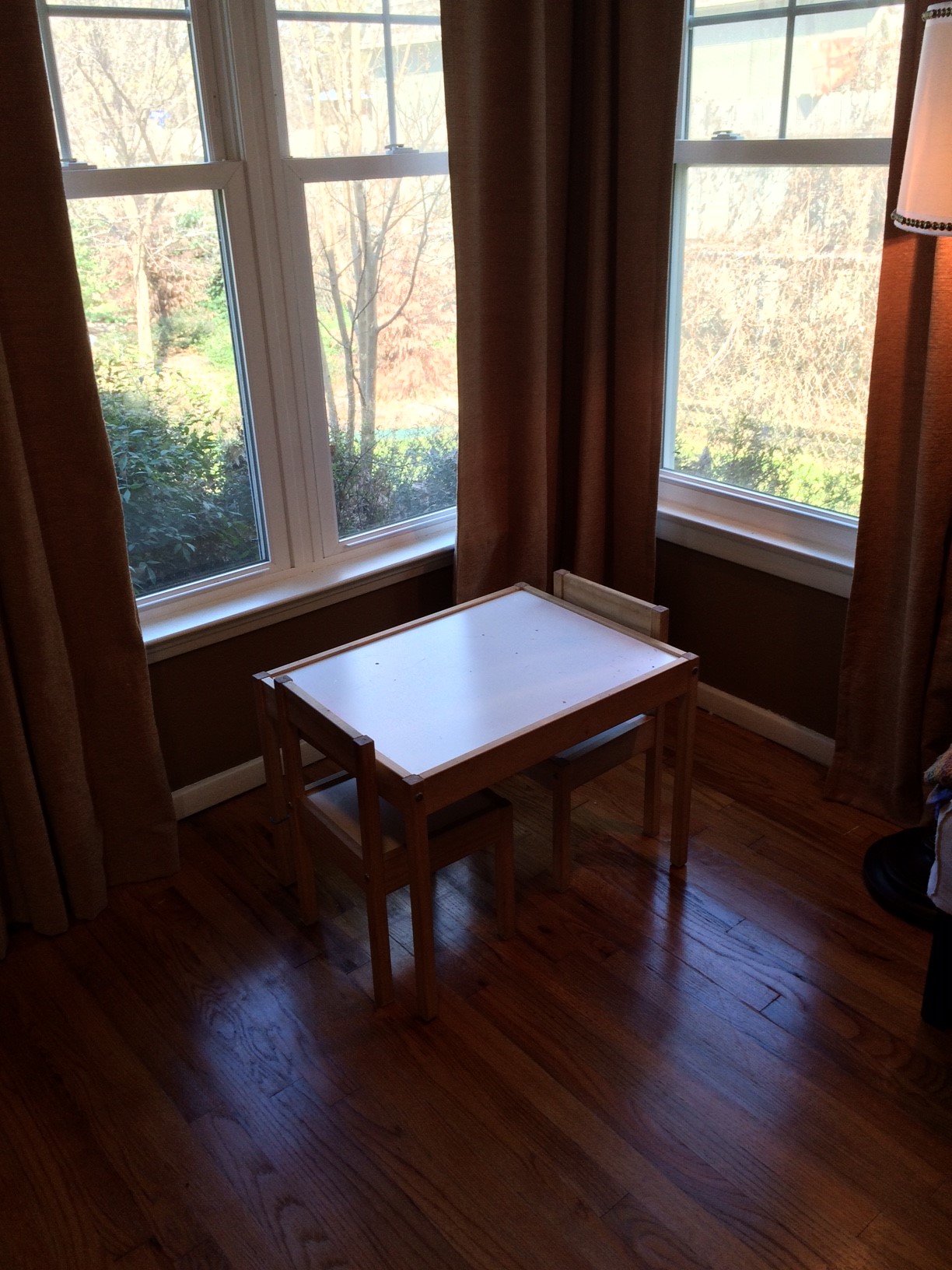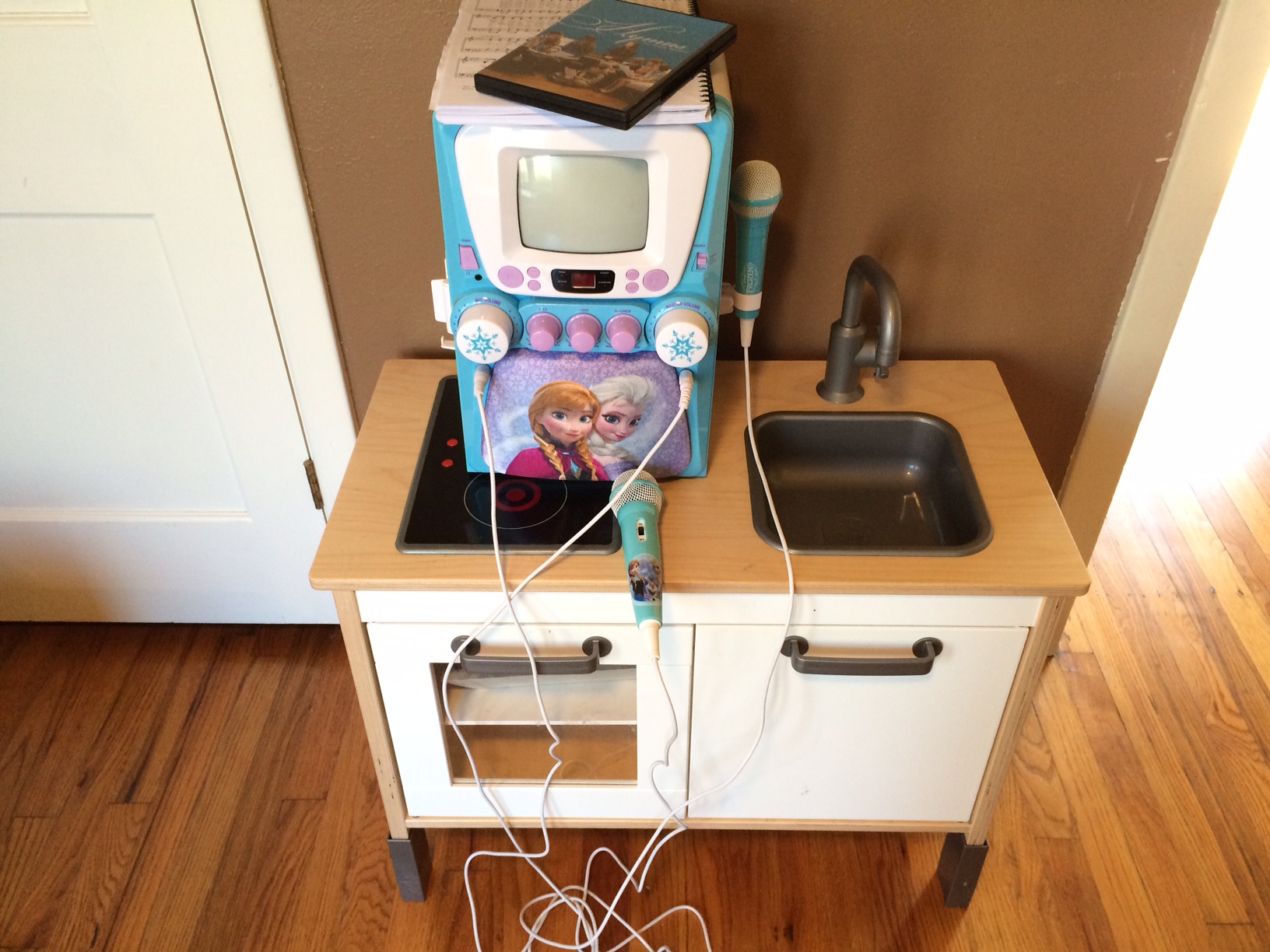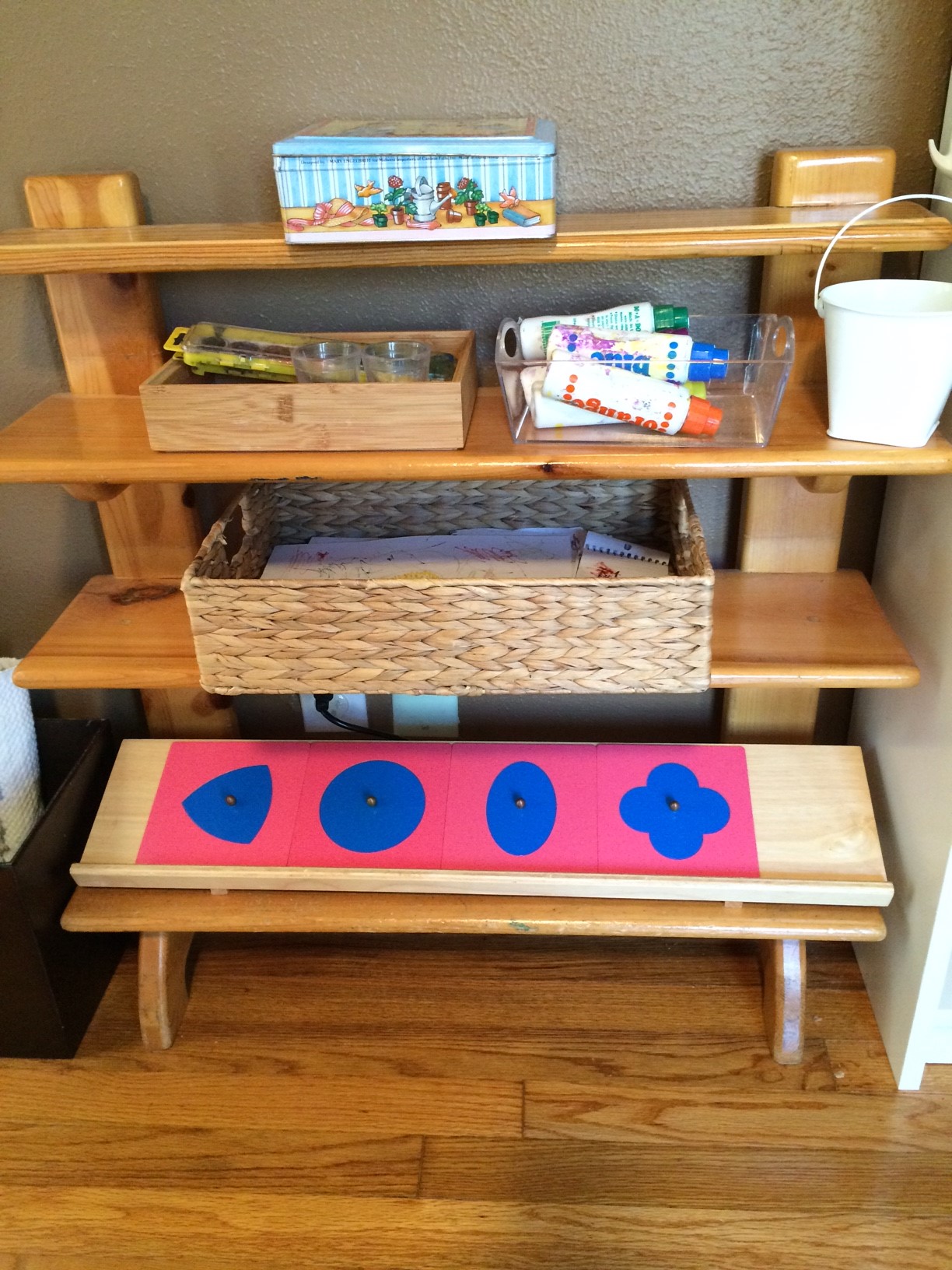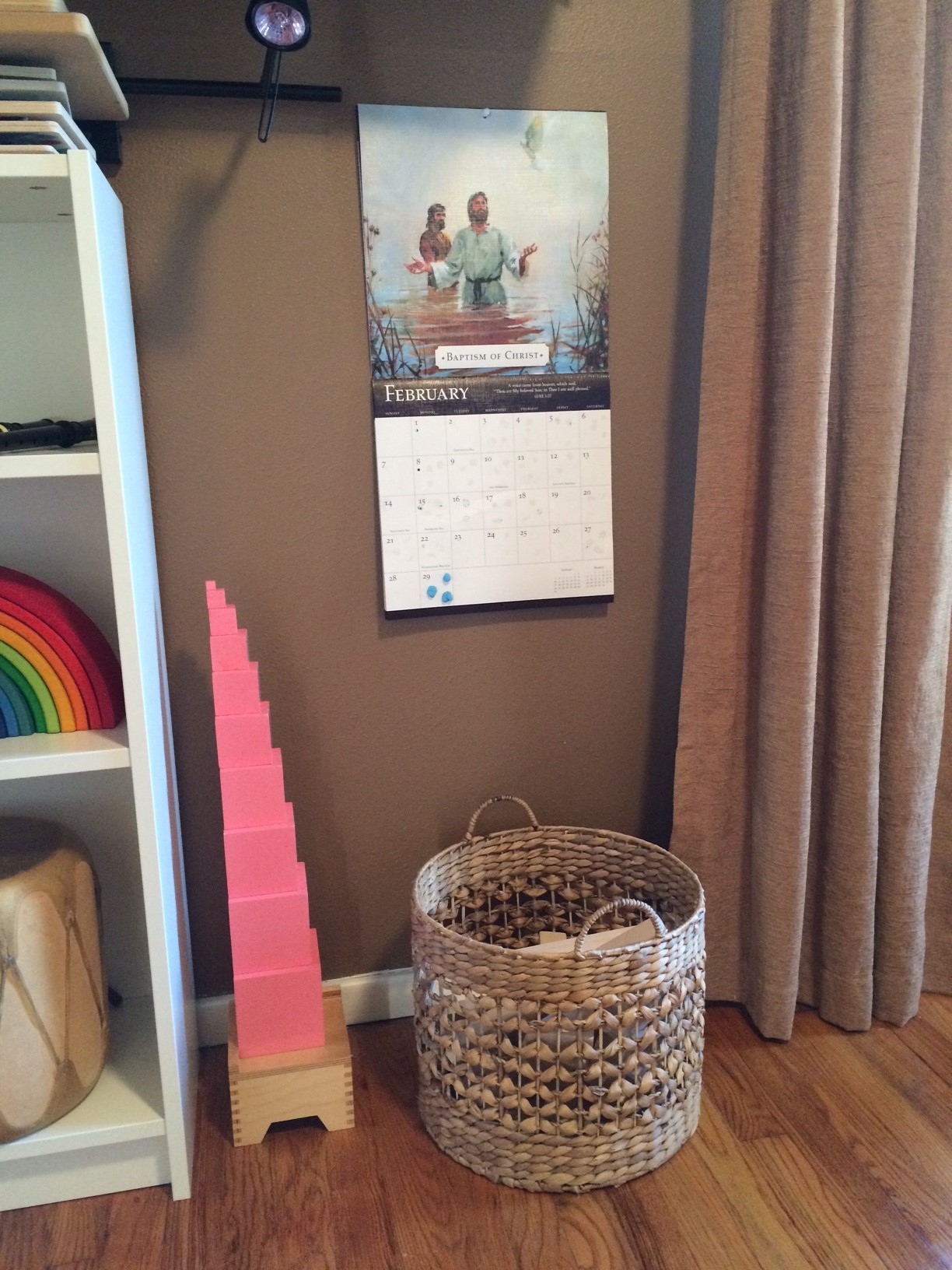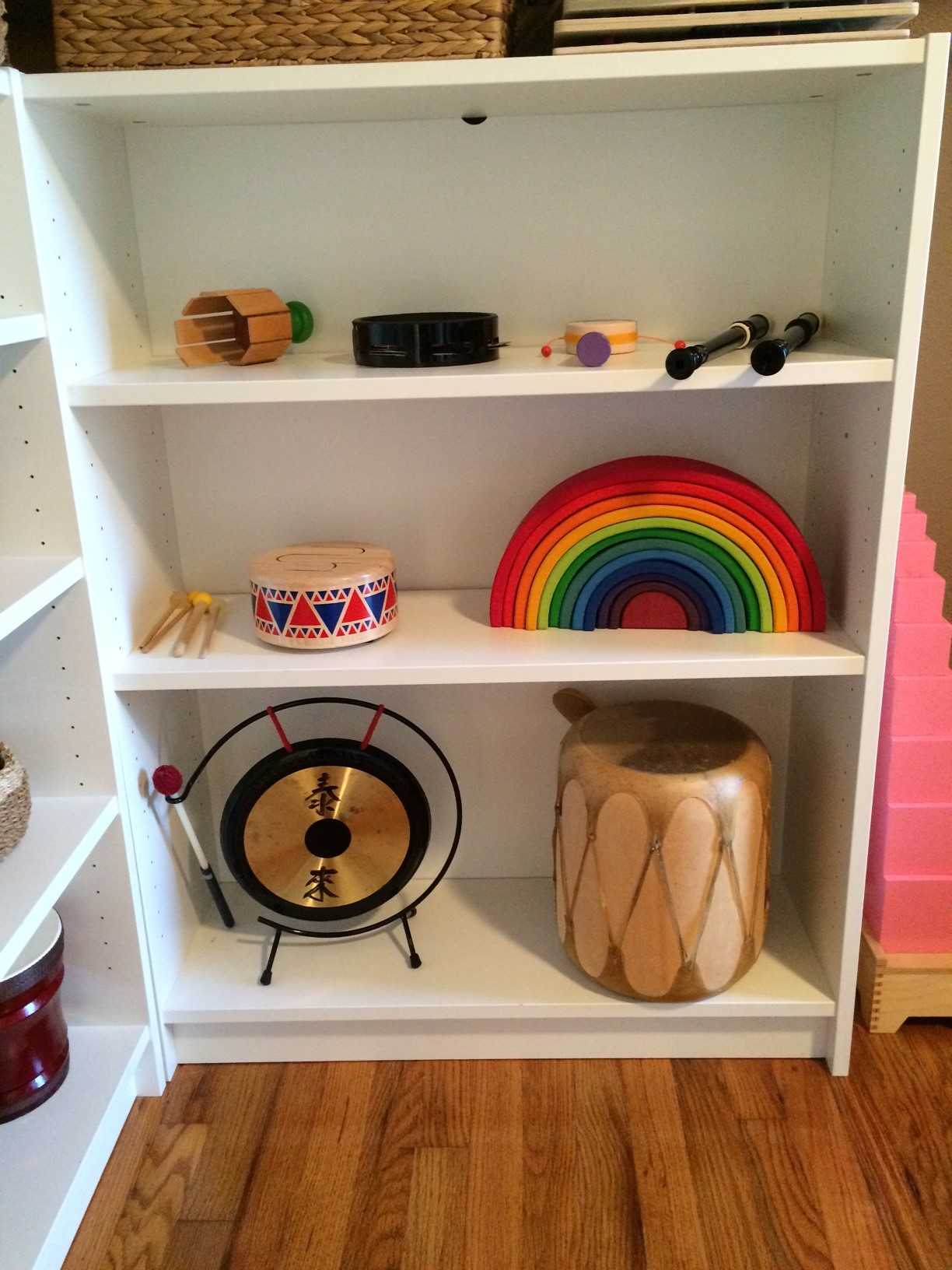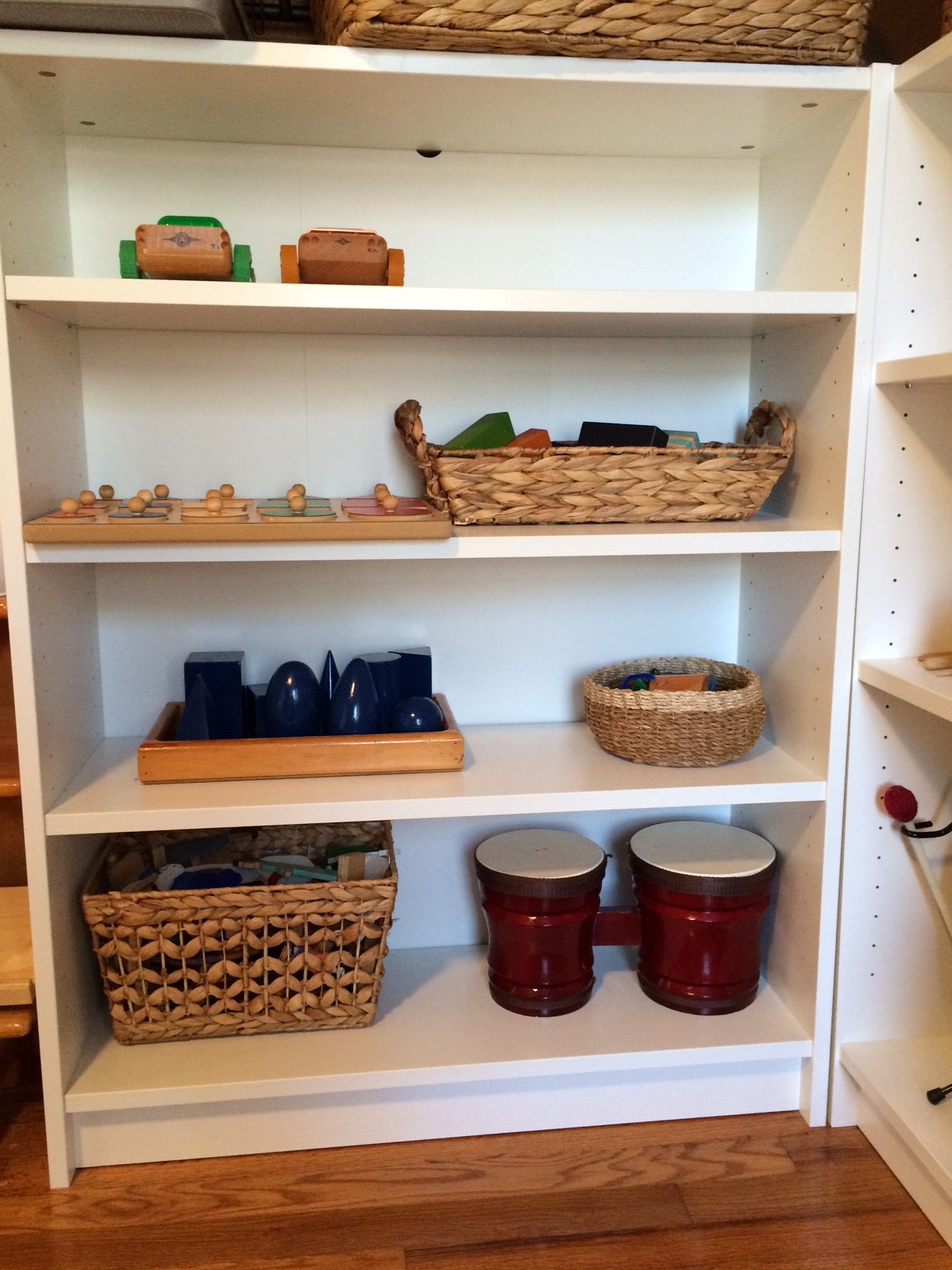 There you have it! ?Our cozy Montessori home. ?It's always changing and I already have ideas for staying put when we welcome our next set of twins!