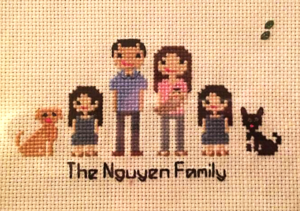 The Nguyen family has experienced lots of successes with homeopathy treating various illnesses and conditions! Even my own csection included homeopathy! Listen to m Moms with Moxie podcast with Joette Calabrese where I talk about birthing with homeopathy!
This is certainly not an exhaustive list, but highlights how powerful this medicine is. (ps – I can only treat these things because I'm prepared! Check out my medicine cabinet!)
Chronic canine itching
Colds
Flu
Rashes of known and unknown origin
Injuries including falls and lacerations
Burns
Surgical pain
Tooth extractions
Dental procedure pain and healing
Hormonal imbalance
Skin yeast infections
Vaginal yeast infections
Cystitis/UTI
Conjunctivitis
Anxiety
Anaphylaxis
Fatigue
Hemorrhoids
Anemia
Insulin Resistance
Food Poisoning
Temper Tantrums
Food Sensitivities
Bloating/Gas
Diarrhea
Vomiting
Hyperemesis Gravidum
Perianal Abscess
Paronychia
Ear Infection
Tonsillitis
Constipation
Jaundice
Well, I have to add on here now that my little meningioma brain tumor has been decreased by homeopathy. 🙂 Read more about what God did with that on my Radiation Ramblings.
I'm adding more victories to the list each day as I care for my family and friends. If you want to learn how to handle your famil s healthcare needs with homeopathy, study with me!