I feel like my medicine cabinet is well-stocked so that I can handle whatever comes up at home. And when we travel, I know exactly what to pack. But what about just running around town?
I don't need a survivalist kit. We are usually 5-10 min from a hospital. What I do need is a kit to allow us to either trek on with our errands or help manage injuries until we get to a hospital. For example, motion sickness can be a real downer and mean I must return home. Or what if one of the kiddos flies off the swing and breaks her arm I'd need a splint to get her to a medical facility.
So, the Mom-Around-Town-Kit is born. I hope this inspires you to put together an around-town kit for yourself!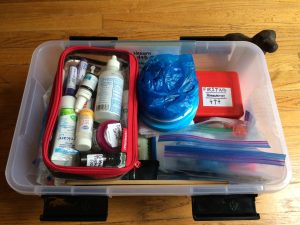 This kit lives in my car. In the summer and cold part of my Texas winter, I take out the homeopathic remedies and keep them in my purse. But the rest of the year, they stay in the kit. (I don't carry a purse most of the time, so leaving them in the car is easiest.) I do have a second homeopathic first aid kit that lives in my diaper bag, as well (but I also rarely carry that!).
You can download my First Aid Supplies Chart?to see exact contents, but here are pictures of everything laid out.
Items included are specific to my family. For example, I don't personally think we need Arnica gel (we've got oral Arnica), BUT my kiddos "feel" so much better after applying the gel. So, in the kit it goes. Also, I leave out things other people may include like matches or a headache remedy. We just don't have need of those.
And perhaps other people wouldn't find the cooling towels necessary. But after driving home shirtless from a no-AC Costco whilst pregnant due to severe overheating, I decided they were a good addition for us! (I almost pulled into the ER I passed!)
Interesting tidbit I learned from my last delivery: breast milk bags are sterile! So they can be used for MORE than breast milk – anything that needs to be in a sterile environment! Duh! I hadn't ever thought of this until I used one to save a piece of my placenta. When might I need these No idea! But I'm glad to have them.
Chopsticks Probably not what other people need, but they are our go-to tool! I can't tell you exactly what I'd use them for in this kit, but rest assured, some MacGyver situation will come up and a chopstick will save the day!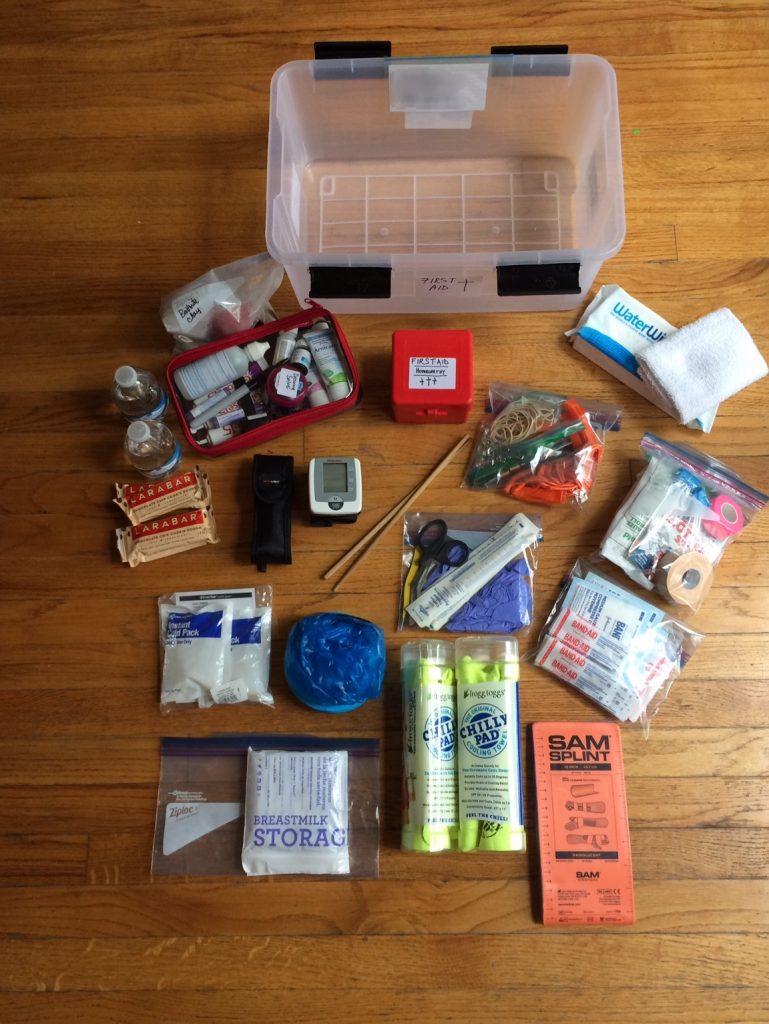 You'll notice single homeopathic remedies here and probably wonder why they aren't in my red kit. Simple answer: space.
Most people probably don't carry around Glutose15, but a close family member is diabetic. I remember watching him melt one day while he helped me run errands (he was 14). I scrambled to Jack in the Box for packets of syrup. Yikes! So, Glutose15 is an easy carry.
Two other notes: If I'm fighting infection, my calendula tincture would be a 1:4 dilution. This 1:10 dilution is all about soothing kiddos. We've learned that sometimes the calendula ointment can't be applied (like when a scab on the knee breaks open), so carrying a 1:10 dilution works.
What's in the drawing salve, you ask Coconut oil, Shea butter, Infused olive oil, Beeswax, Vit E, Activated charcoal, clay, honey, lavender eo. It works beautifully to pull out splinters! It may take awhile for the intruder to exit, but once the salve is applied, the wound is soothed and life (and errands) can continue! (might apply with a glove and cover with a bandage because it makes a mess!)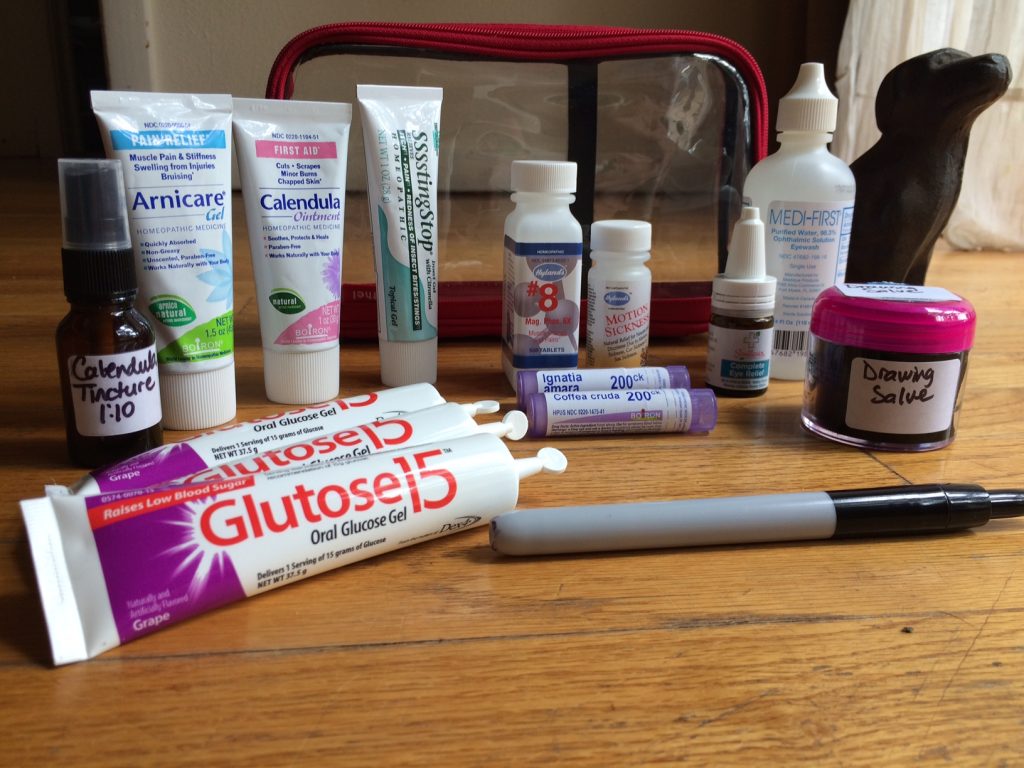 Finally…the?creme de la cr?me of all first aid – homeopathy!
I have friends who carry no remedies, friends who carry 10 remedies, and friends who carry the Top 100 Kit. You have to figure out what works best for your family.
My strategy was to write down what situations we may encounter and what remedies I would want for those (see First Aid Supplies Chart). Then, I tried to narrow it down to just 25 remedies – very hard to do! And, I actually didn't. That's why you see my medicine bag above has Mag Phos, Coffea, and Ignatia. I just couldn't leave them out!
The chart taped inside the kit is simplistic as a reminder for my mush-brain during emergencies and I wanted it easy for my husband to be able to use if I'm not around. Obviously, remedies can be used for much more than what I listed there.(note: Arnica 10M is missing on my chart, but printing in this house is a whole ordeal – so that'll get updated next time I have a big print job.)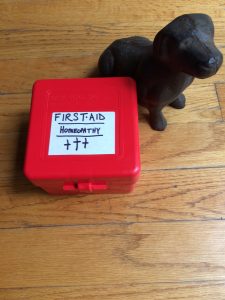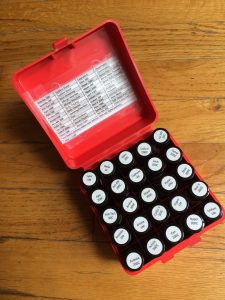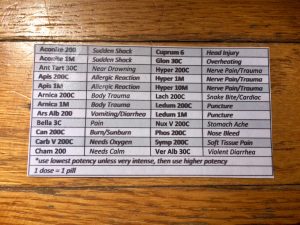 Here are some final tips to help your build your own around-town kit:
Everything is labeled with our names and phone numbers (blurred out for privacy).
?I have crosses on the first aid labels for two reasons: easy identification for kiddos to grab and a reminder that Jesus is our best first defense – so we better be praying when we are getting into that kit!
Items are grouped into Ziplocs in a way that makes sense in my head for quick grabs.
I made a second kit for hubby's truck – not as involved because he "doesn't have space for that" and gruffily informs me he "sees no need" for it. Ha. So it's a truncated Dad-Around-Town Kit. He'll thank me one day.
Building this was costly. I've spent months putting it together just adding an item here or there to my Amazon orders. Take your time and plan well.
British compan Helios makes a beautiful First Aid Kit for homeopathy if you're inclined to buy ready-made. Making this was cheaper than buying a kit because I already own a million glass drams and lots of remedies. I did order the red box (a 20 gauge case) and labels (printable AND clear so after I printed, I added the clear on top as protection for the ink to not smear or wear down).
Within hands' reach (not even in my console!), I keep a bottle of Young Living's Peace and Calming essential oil. Sometimes this is a necessary mom supplement in traffic or with fussy, contained children!
Also within reach of each seat in the car is an emesis bag – experience is a great teacher!
Remember, all of this is just to sustain us until we get home or to a medical facility! That's the purpose.
There you have it – my Mom-Around-Town Kit. What will you include for your family Leave a comment below with your family's must-haves!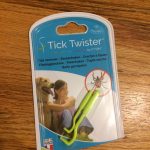 Oops! Packing for a trip tonight, I realize I forgot to include this tick removal device! I keep this in original packing because it has great illustrated instructions on the back.
Added to my kit since this post:
Nail File
Nail Clippers