Giving
Every month, we receive a newsletter from Samaritan?s. In addition to wonderful articles and testimonies, we receive a daily prayer guide for other members (9/1 pray for John Doe?s back surgery, 9/2 pray for Sally who is expecting a baby, etc.). In the newsletter is also our monthly share assignment. We're told that David had an ER visit and subsequent surgery for a broken femur. We're given his address to send him our monthly share of $495. OR, if his need was over $250k, we might be told a higher amount to share with him like $560 (though thus far we haven?t been called upon to share more than $515.) Our family prays for David, we draw and decorate a card for him (part of the way our young children participate in ministering to David), and mail him a note of encouragement and prayer along with a check for the assigned amount (or more if God led us to send more!).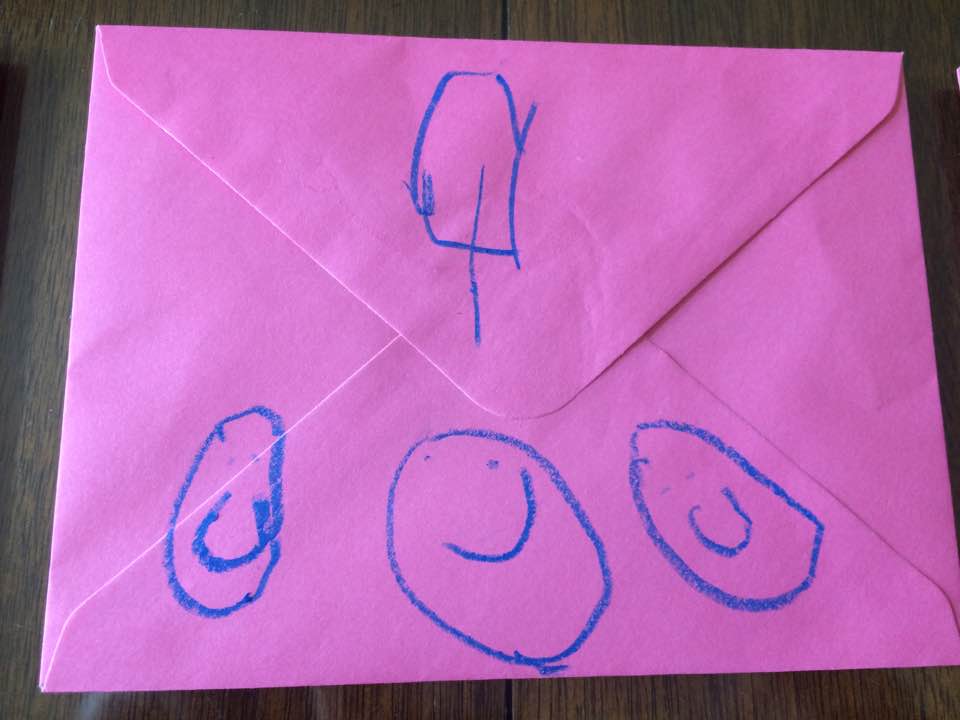 We also receive in our newsletter packet the Special Prayer Needs list. These are needs that do not qualify for automatic publication and sharing (for various reasons). We read each one and pray over them and ask God to tell us who, if any, He would have us send an amount to. In over a year of membership with Samaritan?s, He has led us to send money and encouragement to least one need per month. Some of the special prayer needs we?ve read are due to immoral acts. Some are from being higher than the $250k need and the family isn?t in the Save-to-Share program. Some of the needs are pre-existing needs. No matter to us, we lift them all up to God with an open heart and He allocates His funds.
Receiving
When we have a need arise, we simply call Samaritan?s to start the need. They ask some very basic questions and then tell us we are good to mail in or upload bills. (We upload everything, so I don?t know specific details about mailing bills.) Something else neat about this is that the need is the entire event not simply one practitioner bill. For example, if you went to the ER for a broken leg, then to an orthopedist, then had surgery, and had medication for a month, that?s a lot of bills. But since it is all for the initial event broken leg – it is all one need. Members are responsible for the first $300/$1500 (Classic/Basic) of a need. So if the total need for that broken leg was $7800, the family would pay the first $300/$1500 and Samaritan?s members would mail a total of $7500/$6000 to the family. (Amounts differ based on either Classic or Basic membership)
Some real examples from our family
One of our daughters had some blood work come back concerning. We decided which practitioner we wanted to pursue and made the appointment. We called Samaritan?s for prayer. We took our daughter to the practitioner and paid cash for the visit requesting an itemized receipt. The itemized receipt was uploaded to Samaritan?s website and ?in review for a couple of weeks. The next month, it was published in the newsletter to a few families. Each family sent us a check with a note of encouragement. ?And it was so encouraging knowing other people were praying alongside us strangers! for our little girl.
Several months into being members of Samaritans, I became pregnant. We negotiated a 49% discount off services with my practitioner. However, the practitioner requires the bill be paid within a certain time frame in order to keep the discount. This means that publishing the bill and waiting for money to come wouldn?t work for us. We secured a credit card we call our baby card. At each visit, I pay the discounted rate on our credit card. I then upload the bill to Samaritan?s and the next month it is published and people send us money we then use to pay down the baby card. I also contacted the hospital and negotiated a flat rate of $5800 for facility usage for my c-section. I uploaded the contract to Samartian?s not yet paying the hospital anything. Over the following two months, members sent us $5800. I used that money to then pre-pay the hospital the negotiated amount. As for the $300 per need incident for which we are responsible, since I negotiated such deep discounts, that $300 is considered part of the very first bill?s negotiated amount, so it wasn?t actually cash out of our pockets. And, of course, with each check comes a note of encouragement and praise to God for our new little baby. We love collecting these cards and can?t wait to send them a thank you with her little picture when she is born!
If we had an emergency and needed to make an ER trip, we wouldn?t hesitate to go. I would explain to the financial person asking for payment that we are members of Samaritan?s and would like to receive an itemized bill. I would pay them nothing at the time of the visit. When we receive the itemized bill, I would call the hospital and negotiate it down. Then, I would submit the newly negotiated itemized bill to Samaritan?s and wait for members to send money to help cover the cost.
I had awesome prenatal care and a c-section ($$$) without medical insurance.
This is a stack of $18,448.19 in checks and cards of prayer and encouragement through Samaritan Ministries.
Huge blessing!