I really love organizing. ?And The Life Changing Magic of Tidying Up by Marie Kondo really was life changing for me. ?I read and applied it almost two years ago and haven't looked back!
So last week when my sister-in-law flung open her pantry bemoaning the cramped appearance, I knew just what to do!
Here is my pantry a few months ago: ?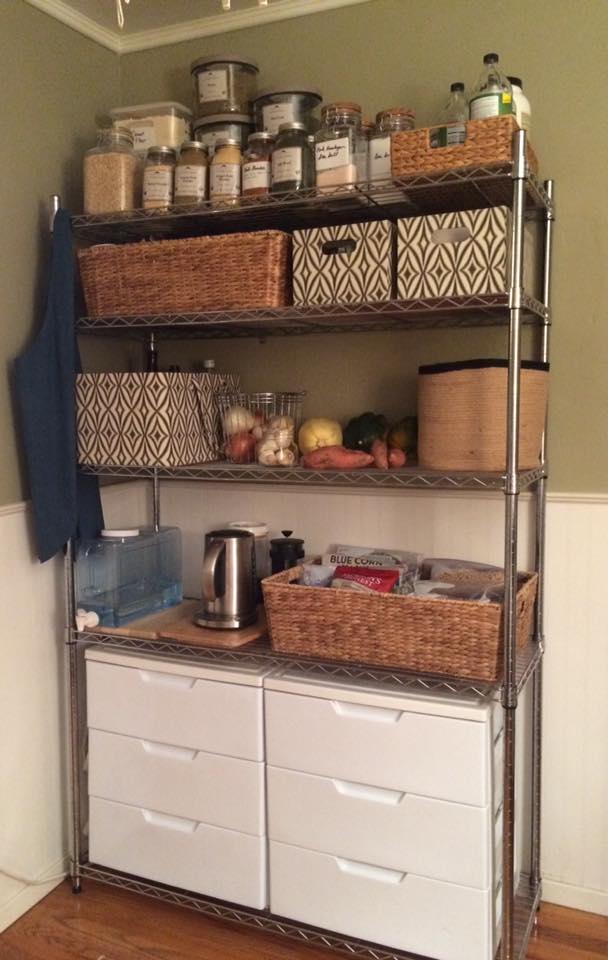 We had a blast pulling out everything, working some kon-mari magic, and reorganizing. Mostly, we got to speak about our mothers and what they taught us. That was the best.
I may not be in your pantry, but you can make it beautiful and well-working, too! ?Whether your pantry is a closet in your kitchen or your blessed with an entire room, these ideas can get you started!
Organize your food by type. I feel this is incredibly important so that my children get an innate sense of understanding how to cook. ?Take the freedom to keep some foods in other areas as well. ?Instead of my pantry, all my fats are in a cabinet next to my stove and small containers of spices are also by my food prep area.
Produce – I also freeze as much as I can for convenience. ?Instead of a rotting bag of lemons, I always juice and freeze cubes of lemons and limes for the freezer. ?I also freeze large muffin tins full of orange juice. ?These are convenient for cooking and keep fruit from rotting without use. ?You can also freeze juice for your kids and give them juice cubes in water instead of the other way around! ?Less bulk to store! ?(Be sure to check on proper storage methods for your foods. ?For example, don't store onions and potatoes together and make sure foods that need it have proper circulation!)
Herbs/Spices together in families (I am not using nutmeg and oregano in the same dish, so they would not go together).
Fats – ALL your pantry fats! (If you use butter frequently enough, put it in the pantry with your other fats, too! Otherwise, fridge.)
Flavorings – for us this means all our vinegars and coconut aminos.
Sweeteners (honey, maple syrup, ?molasses, sugars)
Salts (I have many salts, so they have their own area next to my herbs/spices)
Specialty Items (for me, this means specialty baking like food coloring. ?For my sil, it means specialty Asian ingredients)
Snacks (I keep my dehydrated fruits in here, too)
Beverages (We just have teas and coffee)
Canned goods (divide by type: canned meats, tomatoes, coconut milk, etc.)
Food storage items (ziplocs, wax paper, etc.) this could go with your non disposable food storage items elsewhere in your kitchen, too. That?s probably smarter. ?But if it is in your pantry, then make a spot for it.
Eliminate extra foods and only make them as you need them. ?Some examples:
Baking powder Make it with 2:1 ratio of cream of tartar to baking soda.
Brown sugar 1 cup sugar with 1 tablespoon molasses
Hot chocolate mix Cacao powder, sugar, butter
Jello Bovine gelatin and freeze dried fruit and fruit juice (frozen of course!)
Powdered sugar Maple sugar and tapioca starch
Etc look at the things you don?t use often and google your heart out seeing how to make ?x at home. I suggest verifying with several sources before trying.
Organize foods via frequency even when already grouped by type. Put frequently used items in the front and seldom used items in the back. For me, that means within my fats section, coconut oil goes in the front and red palm oil in the back.
Consider ditching original packaging. I empty all my flours into ziplocs and write the type on the outside. Same for my nuts. Same for my herbs/spices. Snacks are pretty much the only items that stay in original packaging because we just go through them too frequently to bother.
If the original packaging is flapping open back and forth, it?s not pretty put it in a ziploc! ?If you keep original packaging, when you rip it open, do it in a pretty way. ?Think about the cardboard container of ziplocs you punch the perforated piece and leave it hanging on, don?t ya Rip that sucker all the way off! ?See how clean it looks now!
Eliminate words. I got this from Mari Kondo, and, man, she nailed it. We can?t help but read words, and being compelled to read ?tomato sauce and "CHEETOS!" is not relaxing. All my labeled items are turned to the least verbal part of the container. This is another reason I advocate ditching original packaging. I know Pinterest wants you to label your baskets, but, really, it?s your house do you need that on everything Unless you have quadruplets with helpers in your kitchen daily, I?d say forego the brain burden.
Uniform containers can?t be beat. ?I have all my herbs and spices in mason jars; the re gorgeous. Use your canisters throughout your whole kitchen instead of saluting you from the counter top. ?Maybe a sugar in one canister with the sweeteners, another canister with the grains for rice, and another one holds cashews. ?Don't limit yourself to kitchen containers either. ?Lots of options out there!
Baskets. Baskets. ?Baskets. ?I like to store my food groups in baskets yes even if I have a canister or jar of something. It?s a container within a container. I know. But really it?s so pretty. They don?t need to be matching but coordinate them. Home Goods, Tuesday Morning, and Container Store and World Market Clearance are my favorite basket places. At last count, I had 98 baskets throughout my small 1200 sq. ft.home. Since having Montessori children, I?m sure that amount has almost doubled. I really love baskets. ?Don't overlook the idea of drawers either – sometimes some foods just don't package or store well, but concealing them in a set of drawers keeps the pretty going!
Consider a beverage station either in your pantry or elsewhere. For my sister, we put the coffee in the pantry (in a basket) and placed the grinder, French press, and cold press next to it. At my house, we have my husband?s coffee right next to the French press and our electric hot water kettle and water dispenser. My teas and strainers are there, too. (We also store our tea cups and coffee mugs and lidded water bottles here.)
If you have small appliances in your pantry, put them together but leave enough space they don?t seem jumbled. Also try to hide the cords. Look on the bottom of your appliances many of them have cord housing. Remove the cord from your Instant Pot and put it inside the pot! If you have seldom used appliances in original packaging, consider throwing that out or turn it so the words are limited.
Make it pretty. When I was growing up, everywhere in my house, my mom made functional beautiful. I distinctly remember opening the linen closet daily and being greeting by the sweet ceramic bunny holding an offering of qtips. In the kitchen, we opened the cabinet to find dried german status hanging. Little doo dads go a long way – even if it?s just your just married salt and pepper shakers or a beautifully embroidered towel peeking out under a basket.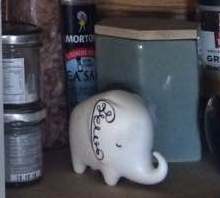 When you?re done, turn on a soft to see what you've done and think of your mama. ?I know that's what my sister -in-law did with her new pantry.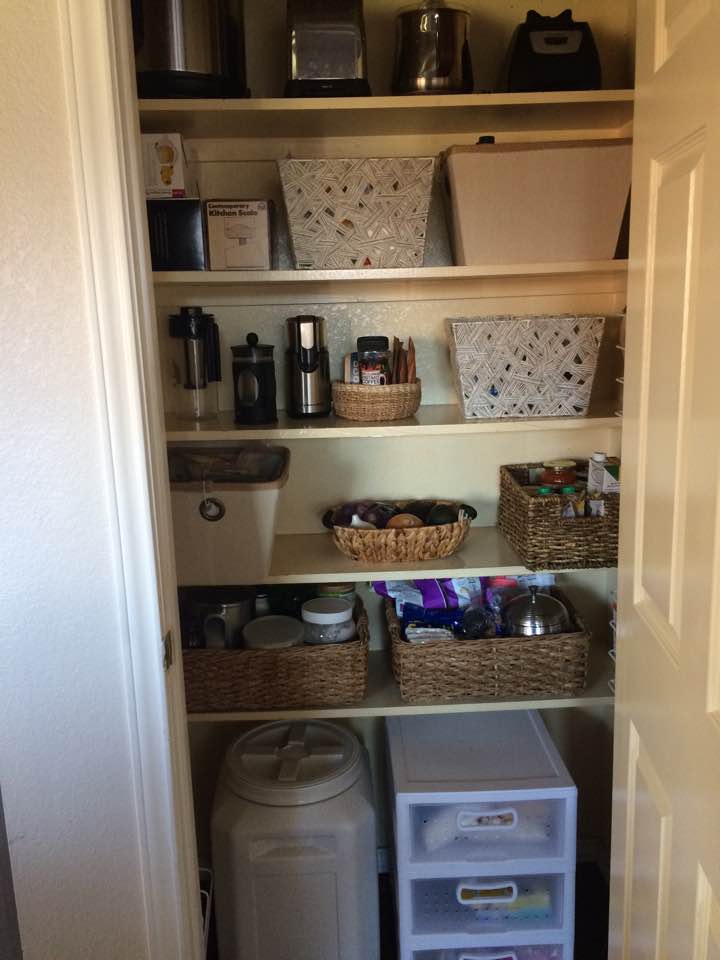 PS for the love of all things holy, THROW AWAY THE PLASTIC BAGS. I promise you do NOT need 473 target bags stuffed into your pantry! If you must keep some and my sister?s Vietnamese heritage requires it keep it in the single digits. At first, I told her she could keep 15, but then I counted them out, so I just gave her 9. Figure out a way to make it pretty, too. Because stuffed inside another Target back isn?t it!
(If you feel you need more plastic bags, then store them for their function. If you use them as trash bags, put them by your other trash bags in the utility room.)